The Instagram live feature is a live video broadcast in the Instagram app and is accessible through the Instagram Stories section. Using the Live story feature, you can make more engagement with your followers at the same time and respond responsibly to their comments. Instagram Live Story is one of the easiest and most enjoyable video recording and streaming tools available today.
This feature is very popular among users and especially celebrities. For example, a well-known character can pre-define time, talk with his fans alive and answer their questions. Also, Live Story has an extraordinary capacity for advertising and marketing on Instagram. By the way, as an additional support for the live session, you can buy real instagram live views to increase coverage and engagement. This is a great boost for those who plan to get the most out of the PR tool. This article is supposed to bring you everything you need to know about Instagram live.
Before going to the main topic, if you see any errors on Instagram, check this blog on how to fix Instagram couldn't refresh feed.
What is Instagram live?
How to use this feature depends on the type of activity you do on Instagram. For example, if you own a business, when you introduce a new product, you can share live videos to attract customers to your audience. Or you can get live from the background of the activity you are doing. This creates a warm and intimate relationship with the audience. It's important to know how to use Instagram live for everyone using Instagram.
How to start a live video on Instagram?
Touch the camera icon on the top left of the Instagram homepage or drag the page from right to left to display Instagram stories. Another way to access this section is to touch the plus icon on your profile photo.
Click on the live option which is on the bottom of the page and then touch start live video. (If you cannot find this feature, means Instagram live has not been activated yet for you and you should wait). You can find the live audiences at the top and the comments on the bottom of the screen. For sending the comments or make them more visible for audiences, touch the comments and hold. Then you can pin them for more visibility.
By touching the live icon, you can see who is viewing your live.
If you want to forbid sending comments by your audiences, click on the gear icon on top of the screen and then select "Turn off commenting" option. Keep in mind that every change in setting section for comments, will be applied to the live story too.
When your live story is over, click on the "End" option on top of the screen and go to the next steps. Confirm your live story. You can save your live story in your camera roll.
How to view others' live?
When one of the users you follow on Instagram starts a live story, you'll see their profile photo appear while the colored circle with the word "Live" appears at the top of the Instagram feed. Live videos are always ahead of stories (from the left side are the first circles). To start watching live video, just touch the colored circle.
While you are watching Instagram live, you can select the comment option and send your insights. On the hand, by touching the "heart icon" on the live video you can like the live. Note that the person who shares the live and all the people watching live on Instagram can see your comments and your likes as well as logging in to the live video page. If the comment seems to be inappropriate, you can tap on the live video page and select the "Report comment" option.
If the user who sends the live story on Instagram has closed the comment field and you couldn't send your comments, you can send your insights to him in direct.
How to see Instagram live's comments?
When someone is Live on Instagram, by default the comments are not shown. However, with some very simple steps, not only you can see the comment but also you can leave one if you want to.
Go to the live video you want to watch.
In that live video, you will see a three-dot icon at the bottom right-hand corner go ahead and tap it
Now it's time to press turn on comments. That's all.
How to remove comments on Instagram live as a viewer 2022?
Go to a live video.
While the live video is being broadcasted, press the screen and hold it until a menu or tap pops up.
Now press Hide Comments.
Why can't I see comments on Instagram live?
The main reason why you can't see the comments on Instagram live is that the account owner has limited sseing the comments for you only or for all other users. To check this, you can watch the live with another account. Most Instagrammers nowadays are spending their time viewing others' posts and stories and commenting on them. But sometimes, you see a strange problem with your Instagram, and you cannot comment as usual. What should we do? Before trying to fix the problem, we should find out why this error is happening. Here, we have listed some of the main reasons for this phenomenon;
Number 1: Instagram app is down
The most common reason is that glitches trap you, and there are some bugs with your application or browser. To solve the problem, you can;
Restart your phone
Check out your network
Reinstall your application
Try to use another device or browser
Clear Instagram cache
Update your app
Number 2: You Are Blocked From Commenting On Instagram
The second possible reason is your blockage from Instagram servers. I know it seems strange, but maybe you have done at least one of these actions, so Instagram decided to block you;
1-Instagram limits violation
There are some limitations in commenting, and if you violate them, Instagram will send you a pre-ban message to warn you. If you ignore it, your actions get limited for 14 days, during which you can't comment on Instagram. If you don't change the path, you are blocked forever.
Here are some of the limitations you need to consider;
There have to be a 350-second break between each comment
The number of daily limits should not exceed 500
You shouldn't comment more than five times an hour
The number of daily comments should not exceed 30
2-Acting like bots
Note that Instagram does not appreciate bots, and if you act suspiciously, for example, using more than 30 hashtags or like your comments over and over, you are blocked from commenting on Instagram.
3-Your words are harmful
You should know you are not allowed to write anything in your comments. If you are using curse words or encouraging self-harm, for instance, you will get blocked. Furthermore, Instagram claims to filter certain words and phrases to help people follow the Instagram Community Guidelines, so you must obey the rules.
As Instagram says:
"We want to foster a positive, diverse community. We remove content containing credible threats or hate speech, content targeting private individuals to degrade or shame them, personal information meant to blackmail or harass someone, and repeated unwanted messages. We do generally allow stronger conversation around people who are featured in the news or have a large public audience due to their profession or chosen activities."
How long am I blocked?
A typical block is 24-48 hours. If it's your first offense, your block may be as short as 2 hours. If other users have reported you, your block could last as long as a week or even a month.
Number 3: Settings of the particular post
If you don't see any comments under a friend's pic, maybe the account owner has blocked the comments on that particular post. Instagram users can disable the option to receive comments on their pictures.
How to get unblocked on Instagram
If you are sure Instagram blocks you, then we should attempt to solve the problem. According to Guiding Tech, if Instagram has blocked you, it could be that Instagram has blocked your IP address and not your account. So, firstly try to use VPN or change your Wi-Fi connection.
On the other hand, you have to wait until your block timer finishes. If you think you are blocked by Instagram forever, you can ask for a reason from Instagram or, finally, create another account.
In general, most error cases happen because of simple bugs, and you can resolve the problem with only some easy techniques, as mentioned above. Furthermore, if the servers block you, in most of the cases is temporary you will be relieved soon.
How to see comments on Instagram live after posting?
Unfortunately, comments on someone's live broadcast on Instagram are not saved. So when someone posts their live broadcast the comments that were left on them are not shown in the post.
However, I have provided a good solution for you that you can see the comments on live broadcasts even after they end and that is through recording those live broadcasts. So let's get right to it.
How to screen record an Instagram live on iPhone
So if you want to see comments on live broadcasts even after they come to an end, you have to record them with your iPhone. Here I'll walk you through some easy steps and show you how to do that.
Go to the Settings
Tap Control Center and then tap Customize Controls.
Scroll down to where it says Screen Recording and tap the + sign to add it to your Control Center.
Now you have the Screen Recording option in your Control Center.
If you have an iPhone 10 or later, you don't have to do all that. You can simply get access to Screen Recording by swiping down on the upper right corner.
Now go to the live broadcast on Instagram and in your Control Center tap on Screen Recording. I'll start to record the Live broadcast on Instagram.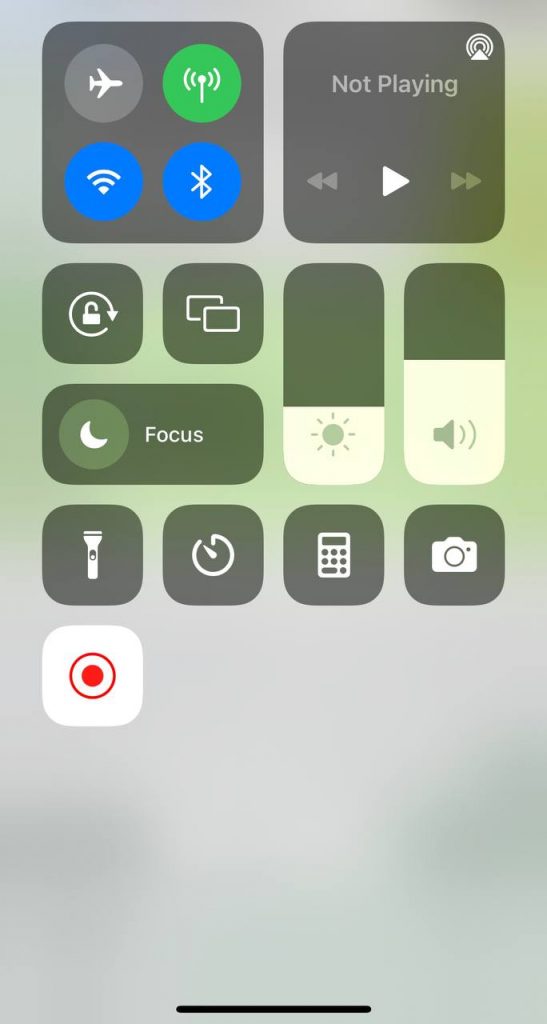 How to screen record an Instagram live broadcast on Android
On Android devices, things are a little different because there is no built-in screen recorder.
There are many different apps that you can use to screen record, however, what I'm going to show you is XRecoder.
Go to Google Play and download Xrecorder.
After you've downloaded it go ahead and open the app.
Hit Continue.
Hit Allow.
Now hit that recording icon you see in the photo and then hit allow
After you've done all that hit Start now.
After 3 seconds the app will start recording.
Now go back to the live broadcast you want to screen record.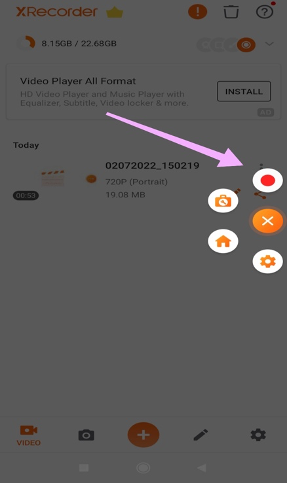 Instagram Live common questions
Here are some of the frequently asked questions about Instagram live. If you are on PC, you can use "Ctrl + F"to find your issues.
How can we disable Instagram live notifications of our followers?
If you don't want to be informed of your followers live stories, just go to your page and click on the gear icon on the top right. Then enter "Push Notifications Settings" and set "Live Video" option to off.
How to make a live video with a friend?
One of the new features in the newest updates of Instagram is "Live video with a friend". There are two ways to make a live with your friend:
You can invite one of your friends to join your live.
You can apply to a friend of yours who is recording a live story, to join him in his video.
How to invite someone to your Instagram live?
Touch the icon on the top left of the home page (or you can drag the screen from right to left) to reach the Instagram live page.
2- select the "Live" option on the bottom and touch "Start live video"
Select the icon
Choose the name of the user that you intend to make Instagram live with. Notice that you can only choose the people who are already watching your live story.
If your invite request is accepted, your live story with the user will be applied in a split-screen. Also, if your request is denied, you will notice.
Eventually, you can delete your live story partner by touching the "X" symbol on the top right of the screen.
To apply and join one of your friends live on Instagram, follow the steps below:
If you see the Request option in the Instagram live of the person you are looking for, touch it.
Then submit the request. (Send Request)
If your request is accepted, you will be notified to join the live video.
How to send your Instagram live to your friends in DM?
You can send your live story to your friends as well as the live stories that you watch.
To do this, follow these steps:
Select the icon in the bottom right corner of the Instagram live screen.
Choose the name of the user that you intend to send your live story.
If you want to direct to one person, select "Send Separately" option. If you want to direct to your groups, choose "Send to a Group".
You can also send live videos of others that are publicly released to your friends in the direct as described above.
How to download Instagram live?
As said before, Instagram does not save your live videos and you will not be able to watch them again. So the question is how to download live video? The answer is simple! You can use one of the programs that capture your phone screen (Just like the screenshot does when taking pictures from the phone screen).
For Android users, this can be easily done, but users with an iPhone or iPad cannot use such programs (Apple does not allow such for security reasons) and they have to connect their iPhone or iPad to the MacBook to save the Instagram live story.
What is Instagram live replay?
You can activate live video replay option to allow your audiences that lost the chance of watching your live story, to view for up to 24 hours after publishing it with all the comments posted. Also, you can highlight your live video as well as your stories. So your audiences can reach them in the "Highlight Stories" section.
For sharing the replay of your live story, select share option on the bottom of the screen after the video has finished. The total number of live video audiences includes both live video viewers and its playback viewers.
How to view Instagram live after it finishes?
If your Instagram "shared a live video replay" feature is activated when you open the Instagram app, the recorded live video will appear on top of the screen with a "play" word on it. While you are watching a shared live video replay, you can change the timeline by touching the left and right of the video. Also, you can skip the live videos that you don't intend to watch by touching the screen.
What is Instagram Top Live?
Instagram top live videos are the videos that published publicly. When you go to the Explorer page, you can find the top live option on top of the screen which you can access new live videos by touching them. By dragging the screen to the left and right, you can view new lives.
How to view Instagram live on PC?
Unfortunately, you may not be able to view live videos through the web-based version of Instagram. So, we cannot see Instagram live with a computer normally, but there is a special trick to watch them on your PC.
Just install the developed google chrome free version on your computer and then go to the Instagram site (Instagram.com). Enjoy watching live videos with your PC.
Why you don't have the live video feature on your phone despite upgrading Instagram to the newest version?
The Instagram live feature is not active on old phones or with older Android versions, and if you have OS (BlackBerry phones) or Windows installed on your phone, you might have trouble watching Live Story and generally Instagram stories.
One of the other problems that have been seen especially among users who work with IOS, is that they need to turn off their VPN or proxy enabled on your device. Also, notice that if you want to watch live stories, you need to have a good internet speed otherwise your video's quality will be low or it will be stopped.
Conclusion
The Live Story market is so hot these days among Instagram users and has become a tool for making money on Instagram. Publishing Instagram live is one of the video marketing methods and you can take advantage of it with a bit of creativity to boost your business and attract customers. Be very careful when publishing the live story because your audience is watching you alive and you do not have the right to make any mistakes. Also, if you are ready to receive comments from your audience, you must accept the risk of getting irrelevant and rude comments that are displayed to all your live audiences.