As one of the largest mobile social networks, Instagram introduces weekly updates to attract more users and encourage them to work with Instagram more. However, there are bugs on this application that we do not know how to fix. One of the biggest issues you may have encountered is the "Instagram couldn't refresh feed", which happens most of the time.
Why do I see "

Instagram c

ouldn't refresh feed "?
The main reason why you see error "Instagram couldn't refresh feed" is Internet connection or Instagram down status. So, to fix it better to change the network connection or wait for couple of hours.
Sometimes this is due to caching false and malicious information, and sometimes it is expected to have issues with the main Instagram servers. In any case, you can find the problem by examining all the methods that we will discuss in this article and finally solve it.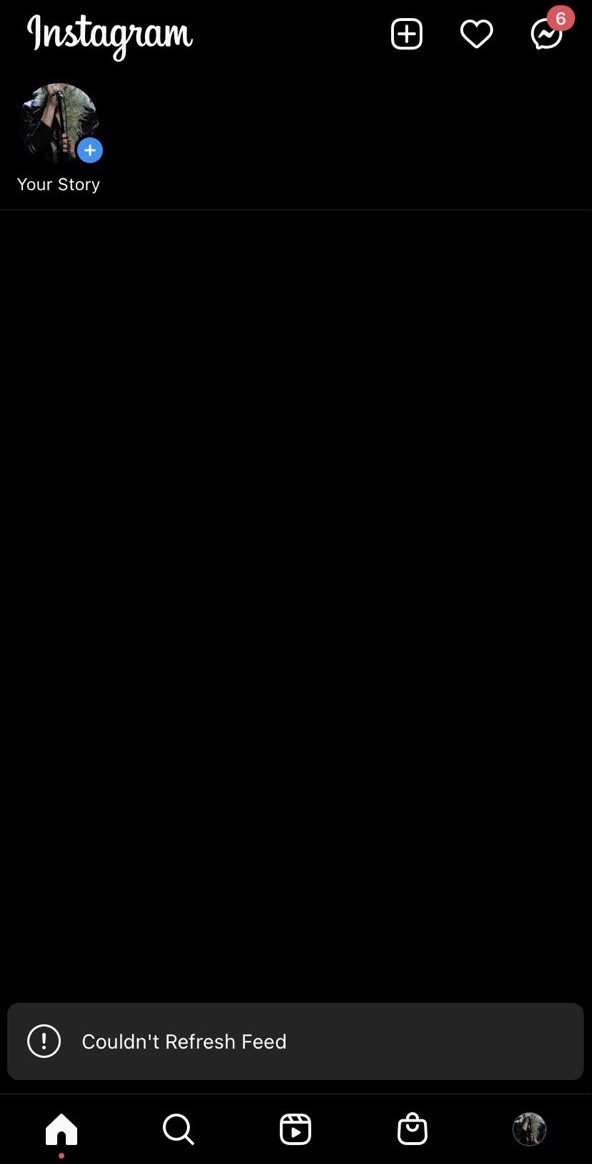 How to fix "

Instagram c

ouldn't refresh feed " on Android and iOS?
First of all, make sure that you have access to stable internet and a solid connection to make sure that the problem is not due to your internet data.
#1 Check if Instagram is down

The first solution we have to explain is that sometimes the Instagram servers might be down. This is why the Instagram homepage and any data that does not need to be cached can cause couldn't refresh feed error. There are some ways to tell if there is a problem with Instagram servers:
First, you can open the

Instagram website

with a browser on your phone or desktop. If the website was opened and loaded completely, there is no problem with Instagram servers. Otherwise, by displaying the server errors, you can open the Instagram application again a few hours later to see if the issue is resolved.

The second method is to go to the

ping.eu website

and check the Instagram servers by entering the website address in the desired section and running a test. If the Ping website shows green status, it means there is no problem. Otherwise, like the previous method, you have to wait for the server problem to be resolved.

Downdetector is a website that receives reports from significant sources and investigates problems. On this website, information from Instagram is checked in real-time and shows the problem in its servers. Suppose only a few crash reports from Instagram have reached the Downdetector website. In that case, the problem is not considered public, and by viewing several reports in the Downdetector, you can see that the problem is with Instagram itself and the devices you work with. They are healthy.
---
#2 Check if mobile data is on for Instagram app
Sometimes, your connection to Instagram is lost. So, it's better to make sure your connection is stable. You should also check if mobile data is on for Instagram app.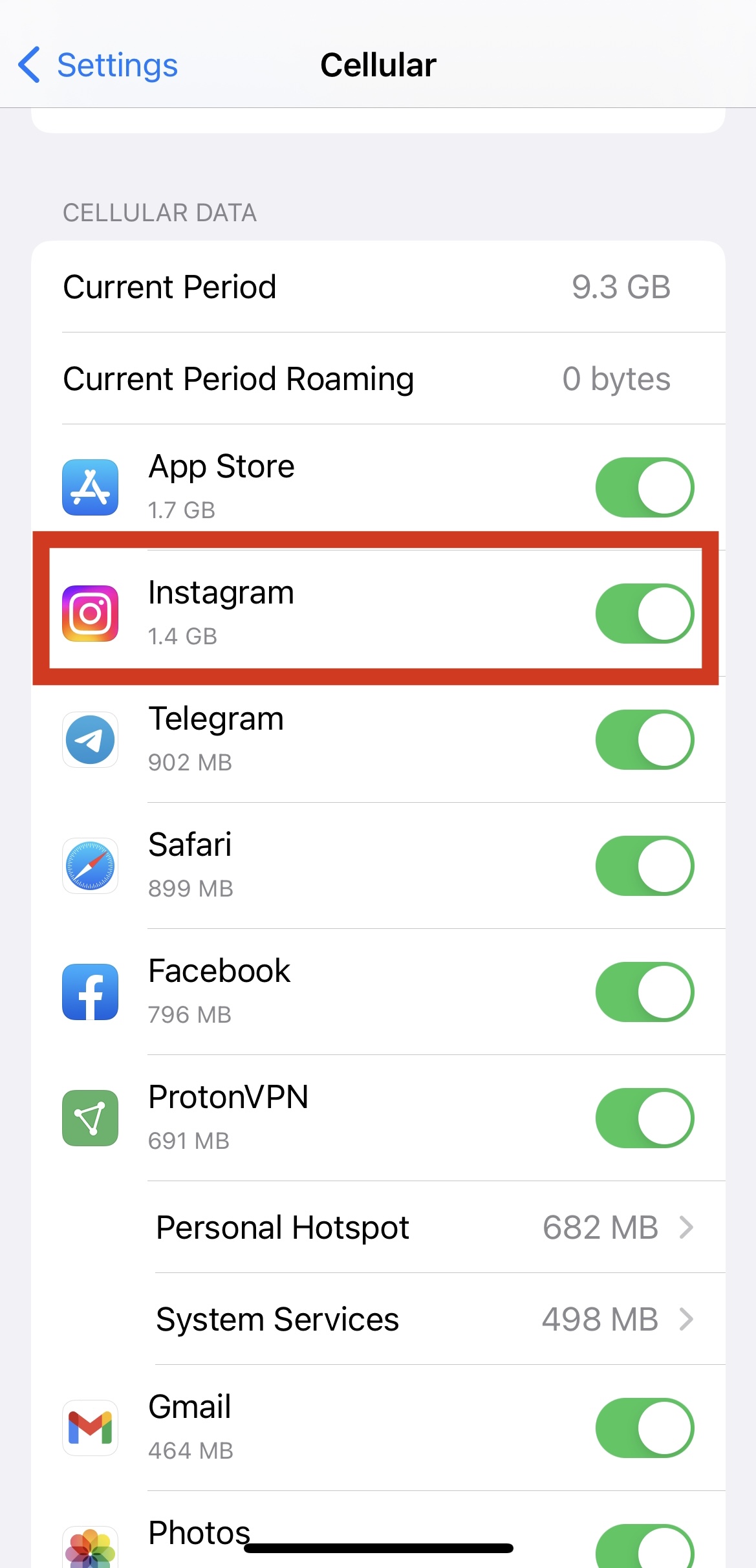 Due to limited mobile data, the Instagram application may have lost access to the Internet on some iPhones.
To open this access (enable mobile data on iPhone), follow these steps:
First, open the Setting section on your iPhone.
Go to the apps section and scroll to the Instagram app.
In this section, by opening the Instagram application, an option called Enable Mobile Data will be seen, which you must activate. Then check to see if the couldn't refresh feed error has been fixed.
#3 Update your app
Another way to fix the "Instagram couldn't refresh feed" error on Instagram is to update the Instagram app on Android and iOS.
If you have an Android phone you can go to the

Google Play Store

and search for the word Instagram in the search section.

Find the application and click the Update button to update the software to the latest possible version.
People who use IOS can also update it by visiting the Apple App Store and searching for their Instagram.
#4 Switch between mobile data and WiFi
You can solve the problem by changing the internet data type of the phone. If you are connected to the Wi-Fi Internet, you can turn on Cellular data to see if the problem is resolved. Or, if you were on Cellular data, connect to a Wi-Fi network to solve your problem. Sometimes this problem also occurs due to the proxy settings on the phone and using the VPN. You can restore the proxy settings to the original state by setting up a VPN and disconnecting it.
#Use VPN
Many Instagram users report that they can solve the issue of connecting to Instgaram, when they use VPN. There are a number of VPN available on App store or Google Play to download. So, search for a free VPN, and once it's connected try login and refresh feed on Instagram again.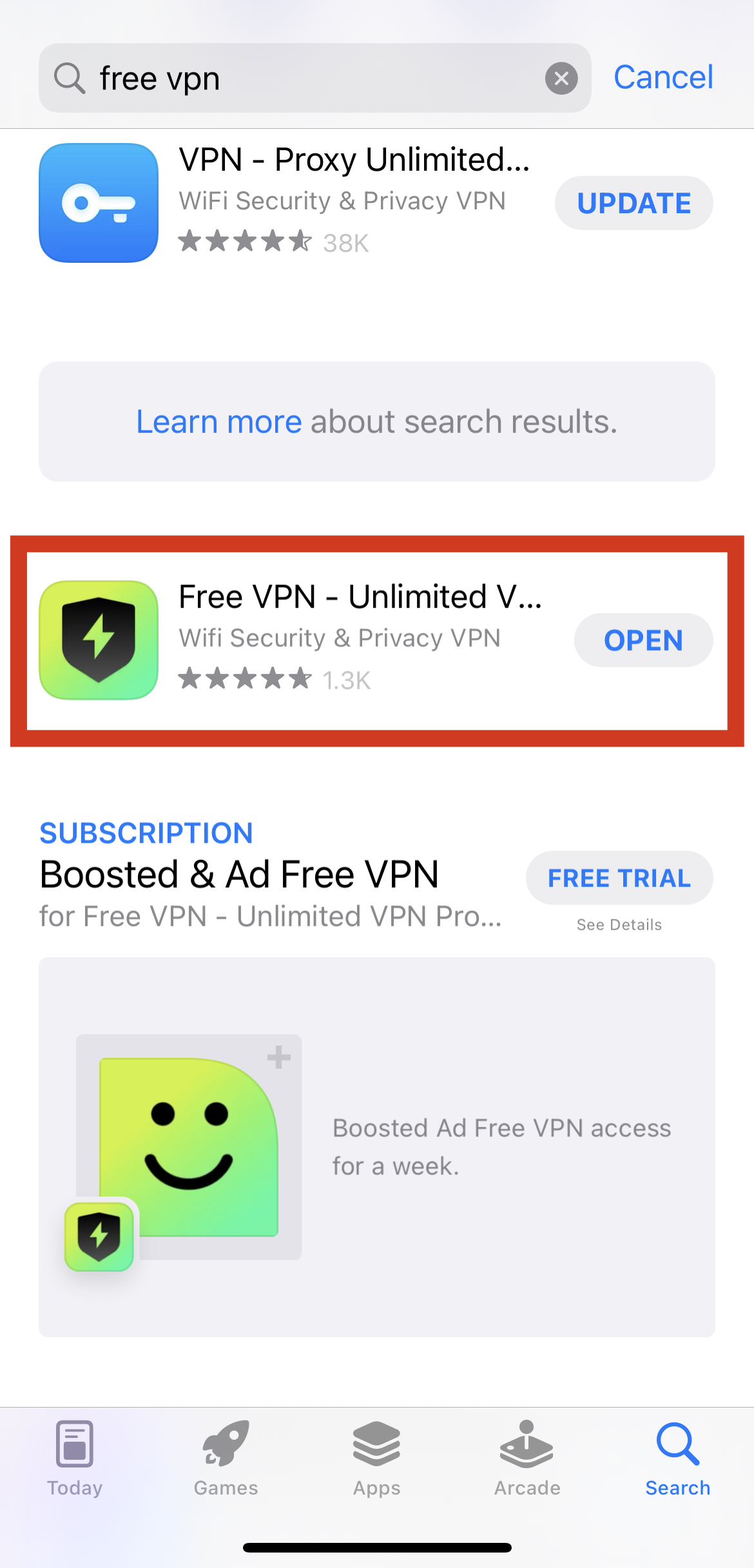 #5 Force Stop Instagram
On phones running the Android operating system, you can use the Force stop option to completely close the Instagram application process so that if there is a problem with its code, it will be fixed by re-starting it. To do this, follow the steps below.
First, find the Instagram app on your phone and hold your finger on it to open a new option.

Open the App info section from this menu.

From this section, you have to select the Force stop option and reopen Instagram to see if the problem couldn't refresh feed be fixed or not.
---
#6 Clear Cache
The Android operating system stores a series of information in the cache and allows the user to delete or manipulate this information by running applications. Sometimes the Instagram app will have problems due to storing incorrect information. You can solve this problem by clearing the application cache.
To do this (clear Instagram cache on Android devices), follow these steps:
Hold your finger on the Instagram icon for 3 seconds to open a new menu. Then click on App info.

In this section, enter the Storage option.

you will see an option called Clear storage and then Clear cache. Of course, keep in mind that by selecting the Clear storage option, it is possible that Instagram will go back to its original state, and all your password and username will be deleted on it. So consider this option before doing anything.
To clear the Instagram cache on iOS devices: Because Apple phones are made more secure than Android phones, they do not have the option to clear the app cache. So to clear the Instagram cache on iPhone, you must first uninstall the app from the phone once and then reinstall it by visiting the Apple App Store.
---
#7 Disable data restrictions on the phone
There is also an option in the Android operating system that you can use to automatically block the Internet data of an application by exceeding the imposed limit. It would help if you disable this option to make sure this option is not set for the Instagram app.
To do this, perform the following steps:
Tap your finger on the Instagram app icon to open a new menu. In this section, click on the App info option.

You can now open the Mobile data option and enable unrestricted data usage.
---
#8 Re-Login Instagram
There is another solution to the problem couldn't refresh the feed on Instagram. You can solve the problem by logging out of the account and then re-logging in.
To do this
first, open the Instagram application, touch the hamburger menu above, and select the Settings option at the bottom

From here, go to the Account section and select the Log out option at the bottom

Then log in again with your username and password.
#9 Stop using too many third-party apps
Using third-party apps can be another reason why this problem occurs. It is better not to use these sorts of apps to comment, like, follow, and so on. Instagram has been changed in many different ways and it's against such apps. Different features of Instagram can be disabled if you use such apps, especially if you use too many of them. So, delete these kinds of apps from your system and see if your problem goes away.
#10 You are blocked
Recently Instagram has been so strict towards its users that if it sees any robot-like actions from users it will block them temporarily. So if you like too many posts or comments in a short period of time, Instagram will think that you are a robot and probably block you. Therefore some of its features like your feed will not refresh or work properly.
How to contact Instagram support?
If for any reason, you have a problem on Instagram and you can not solve the problem with the above methods, we suggest you send your request to Instagram support to do so. To solve the Couldn't refresh feed problem, do the following steps:
First, log in to the Instagram application and go to your profile section

From this section, click on the hamburger menu at the top right, and when the menu opens, click on the Settings option.

Then open the Help option.

From this section, there is an option called to report a problem, which by touching it, you will enter a page where you have been asked to explain the issues. In this section, write the problem in full and touch the submit button.

You have to wait for one to five days for Instagram to respond to your request. If you do not receive a response, try again.
Conclusion
Finally, we should point out that if any of the above methods is not a solution for you, you can open your Instagram on the desktop and send a request to the Instagram support department to send the problem and wait for a response.
Recently there are some other issues too, that many Instagram users encountered with that, for example :
Instagram oops an error occurred
Thanks for your feedback!