As the popularity of Instagram keeps soaring higher every day, the number of its users and their problems with the platform increase as well. One of these problems is reactivating your Instagram after it has been permanently deleted.
So, if you are a user of the massively popular Instagram platform, and you are having trouble logging in your account that has been permanently deleted, this article can help you with potential solutions.
This problem might occur if you have accidentally deleted your account for good, or someone else has obtained your credentials and proceeded to maliciously delete your account, or it might have been deleted by Instagram. In the following, we will discuss these scenarios separately.
You have Deleted Your Account Permanently
Instagram's policies indicate that your account will be irrecoverable if you or someone else with your password permanently deletes it. That highlights the importance of fully making up your mind before deciding to delete your account. Also, you should be very careful with your account's credentials not to share them with anyone. The failure to exercise caution in this regard might cost you the account for which you had put in so much time and effort.
Instagram Has Deleted Your Account Permanently
As opposed to the previous scenario, you can appeal to Instagram's decision to permanently delete your account. But before we get to that, try resetting your password using the steps below:
Head over to the Instagram login page.
You will have to put in your login credentials.
Choose the "Forgot Password" option and try to reset your password.
If you go through these steps and you are not allowed to recover your account, you are left with the last option, which is to get in contact with Instagram's team. To do so, use the method below.
How to Contact Instagram's Support Team
If you are determined to ask Instagram to change their decision:
Go to Instagram help (you will see Instagram's technical support section).
Upon entering the webpage, you will see a text that says "My Instagram account has been deactivated".
As you read through the text, you will be asked whether this account is a personal one or it represents a business.
After choosing the right answer, you have to fill a form with your name, your Instagram username, your email address, and your country.
Afterwards, click on "Send".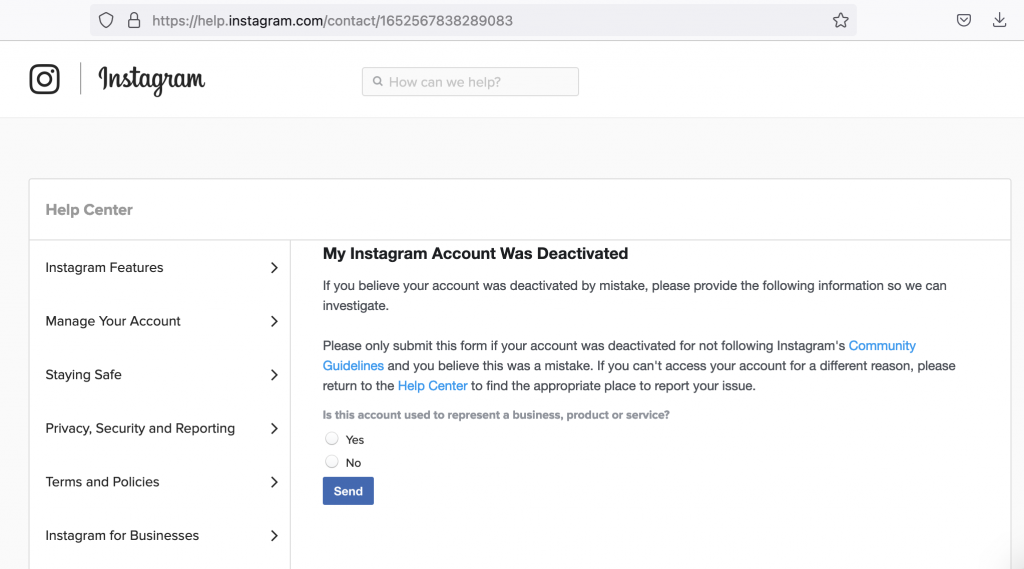 If you follow these steps correctly, Instagram's technical support team will contact you within 48 hours. The email you will receive should contain a code. You will then take a clean piece of paper and write the code, your full name, and your Instagram username.
You should then take a clear picture of yourself (the owner of the account) holding the paper with the information you had written on it earlier. Finally, attach the picture in JPEG format to the reply mail.
If Instagram's technical support team reaches the conclusion that your account has been disabled for unwarranted reasons, they will send you an email with a link to recover your Instagram account. Keep in mind that this process might take a couple of days.