Erika Giraud/Unsplash
If you are in the market for a new brochure, there are some key elements that you should ensure your design includes. These 12 must-have features will help your business stand out from the competition.
1. High-Quality Graphics.
High-quality graphics are necessary for a good brochure design. Make sure your images have the highest resolution possible and that they look great on both desktops and mobile devices. Images should break up text-heavy sections to make it easier for the reader to digest, and be aesthetically pleasing.
2. Add a Catchy Tagline.
A tagline is an important part of your company's branding, and it should be displayed prominently on your brochure design. Your tagline should make sense in connection with your business and include some key information about what you offer, such as: "Locksmith Services for Your Convenience."
3. Include a Memorable Logo.
Your logo is meant to be an identifier for your business and should be displayed as such on your brochure design. Your logo should stand out from the rest of the design and incorporate colors that resonate with your brand, but it should still look classy and professional. It's also important to make sure your logo is recognizable in different sizes.
4. Highlight Your USP.
A unique selling proposition, or USP, is what makes your business stand out from the rest of the competition. Make sure it's easy to identify what you offer that makes you better than everyone else on the market. This section should be eye-catching and draw potential clients in, like "We are open seven days a week."
5. Choose the Right Typeface.
There are thousands of free typefaces to choose from, but you should make sure that your choice is readable and fits your brochure's design theme. Sans serif fonts are best for designs that focus on content, while serif fonts are perfect for designs that include headlines and subheadings.
6. Incorporate Professional Design Elements.
Design elements like colors, lines, shading, or arrows can help guide your reader through your brochure design. You want to keep these elements consistent throughout the entire design so that they seamlessly connect images and text.
7. Include a Call-to-Action.
Make sure your brochure design includes a call-to-action that tells readers what you want them to do, such as "Schedule Your Appointment Today." This section should contrast with the rest of the design so it's easy to see and understand. Using directional cues like arrows to point readers in the right direction can also help.
8. Make Everything Easy to Read.
Make sure that all the text on your brochure is easy-to-read and broken up into clusters or boxes so it's not overwhelming for your reader. You should also make sure there are no misspelled words, grammatical errors, or typos in your design. Your brochure should also use enough contrast to make it easy for readers to read all of the text.
9. Include Plenty of White Space.
White space is an important element of any professional design because it makes it easier for your reader to focus on the important elements you want them to see. Including a lot of white space in your design will make it easier for the reader to digest all of your information without getting distracted by other elements on the page.
10. Highlight Your Company's Reputation.
If you have been in business for a while, you should let potential clients know about you and your company's history by including a company timeline. You can also include quotes from happy customers, awards you have won for your services or anything else that proves that your business is reputable and well-liked in the community.
11. Keep Your Design Simple.
Just like when creating any design, it's important to keep things simple when designing a brochure. Don't overcrowd the page with too much text, images, or design elements because it will make it harder for your potential client to find the information they're looking for. Your brochure should be clean and easy-to-read to reach your audience successfully.
12. Have Someone Review Your Brochure Design.
Designing your brochure is only half the battle, you also need to make sure it's easy for your reader to understand. Ask someone who isn't familiar with your company or industry to proofread your design before you print it out. They can point out any elements that are confusing, unclear or don't fit in with the rest of the design. Once you've made any necessary changes, your design will be ready to print.
Creating brochures can sometimes be overwhelming. Good thing there's an online brochure maker like Venngage to save the day. They offer different brochure designs for everyone. To give you an idea, here are some brochure examples from their website!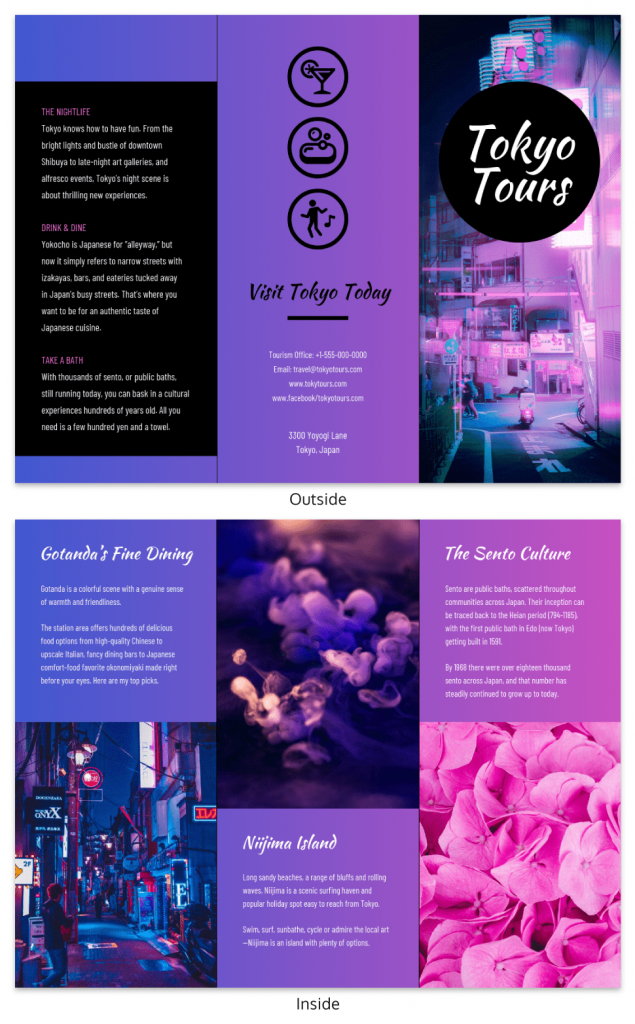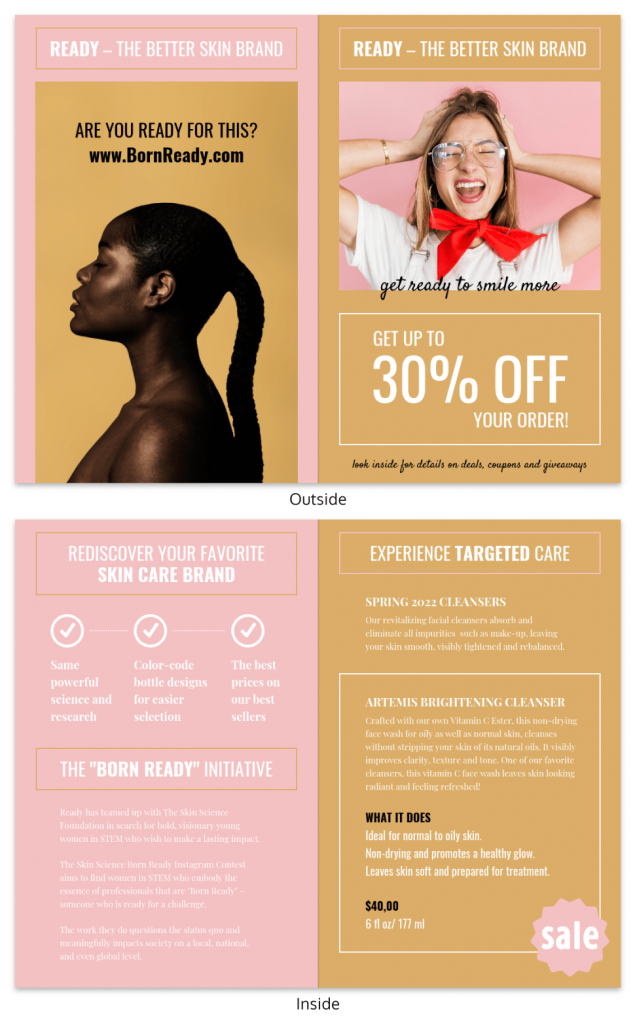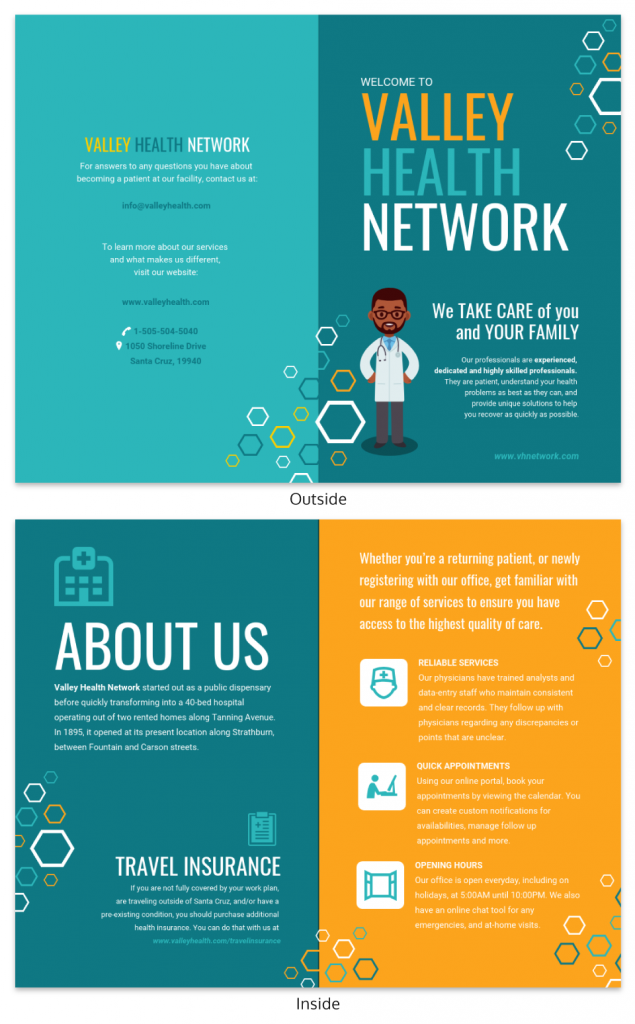 When you are looking for design inspiration, it's good to set yourself a specific goal or theme. Designing a brochure can be done in stages, but make sure you keep your end goal in mind at all times.
If you are creating an advertisement for a new product that will be given out to potential customers, then you should focus on highlighting the product's features. You can also include photos of people using the product, testimonials from happy customers, and contact information for people who are interested in buying your product.
If you want to use your brochure as a way to inform potential customers about an upcoming sale or event, then design elements like images that are related to the event are important. If you're ready to make your own brochure, click here.