Instagram stories are among the fascinating features added to Instagram which has gained popularity very quickly among Instagram users. But what is the reason for their popularity?
The answer is simple; As the name implies, Instagram stories are exactly for when you want to share your daily experiences and events happening around you with your followers and friends. They are in fact interesting short stories that followers can hear. In this article, we will talk about different aspects of Instagram stories and teach you to use and enjoy it.
What Are Instagram Stories?
An Instagram story, as the name suggests, is a short story narrated by a collection of films and images which can show the incidents happening to a person in 24 hours. Within these 24 hours, whoever watches your story, will see these images and videos chronologically from the first one you have shared to the last one.
However, it is not the end, you can edit your video and pictures with different effects, put different emoji on them, paint them and so on. In fact, you would have a lot of features in Instagram stories and you may feel you have a TV channel in which you can share everything with your audience. Here, the only thing which matters most is being creative.
The most important feature of Instagram stories is its 24-hour life span, which means that your story will be removed after one day and no one can see it after this time. However, you can add to your story with lots of pictures and videos within this time limit.
This feature may make your efforts seem useless, don't worry, you can save all the Instagram stories. Though Instagram added other features like highlighting some of the stories and keeping them on your page, the 24-hour time span of stories is in fact useful. We will discuss it later in this article.
Let us discuss it with an example. Imagine camping with your friends, you will share your story first by sharing a selfie of your friends and you at the beginning of your trip. Then you share pictures of your friends hiking, your lunch in nature and then your friends talking and having fun. Little by little you will add pictures and videos and complete your story.
All these images and videos will make your Instagram page seem messy if you want to share all of them as separate posts. But if you share them as an Instagram story, they will be removed after 24 hours.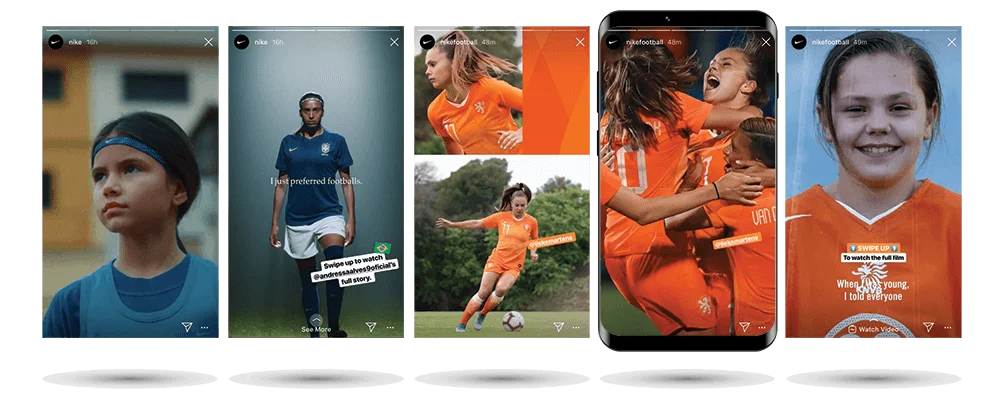 How Popular Are Instagram Stories?
The following information about Instagram stories is enough to convince you to use stories. Before talking about these stats, let's explain that the Instagram story has been designed based on "Snapchat" by adding some additional features. Now, have a look at the chart below comparing the popularity of Instagram stories and Snapchat (it is worth mentioning that the following chart is based on "recode website"):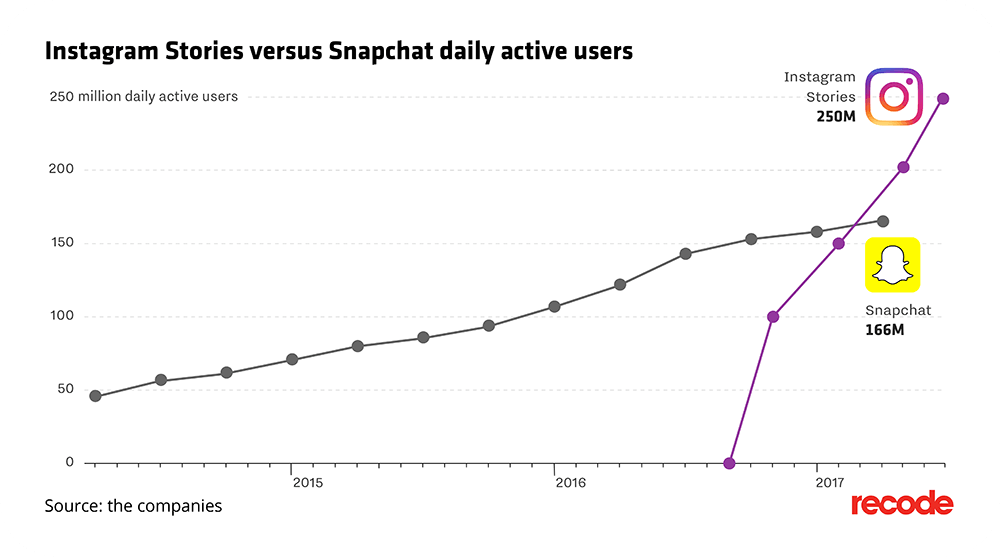 As you can see in the chart, Instagram story users during some months are much more than all Snapchat users in 3 years. But how many users? The answer is unbelievable; currently, the Instagram story has 250 million active users daily.
It means that 250 million people with different backgrounds tell stories of their lives and work. Therefore, you should pay more attention to the Instagram story and use it more effectively.
How to Watch Instagram Stories?
You can watch Instagram stories both via your mobile or web application. You can also use an anonymous Instagram story viewer to see anyone's story. However, you cannot see them on your Instagram web page or reply to them on its web application. So the first step is to install its application on your phone if you don't have it already.
After signing in, you can see the latest stories of persons you follow at the top of your feed (feed is the page where you can see the latest pictures and videos shared by people you are following). As you can see in the picture below, there are circles with the profile pictures of Instagram users at the top of your feed. These pictures with colorful circles around them show the latest stories shared by users which you follow. You should click on these circles to see their stories. When the circles are colorful it means that the person is telling a story.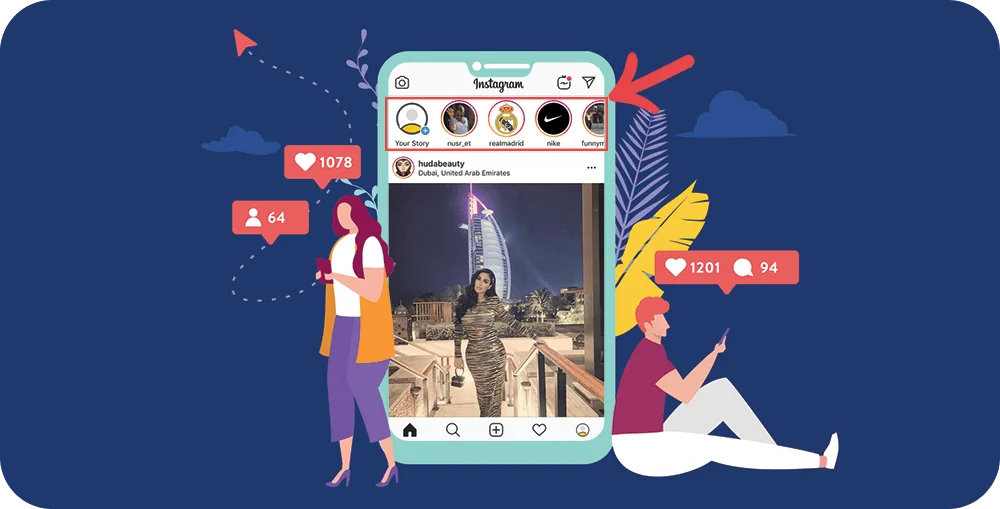 You may have noticed that you can drag this horizontal bar left or right to see more stories. In watching Instagram stories you should note that Instagram will show the pictures or videos of each story in full page and you cannot like or comment on them. You can just send a direct message to the person in reply to their stories. You can also see the next or previous story by swiping it to left or right.
The other absorbing feature of the Instagram story is the ability to share live videos. Stories which are happening at the moment they are shown are labeled as "live" and this feature makes them even more interesting.
Knowing how you can see stories of your Instagram friends, now it's time to talk about how to share Instagram stories. You can share stories using a circle with your profile picture with a plus at the top left of your home page with a label "your story" beneath it.
How to save Instagram stories?
You cannot save the Instagram stories on your Instagram because it will disappear after 24 hours. However, you can download and save it to your mobile phone. To do so:
Go to the story you want to save it on your phone
Tap three dots on top right
Tap copy link
Go to save-insta.com
Go to Instagram downloader
Paste the link into the box
Tap download
Scroll down
Save the photo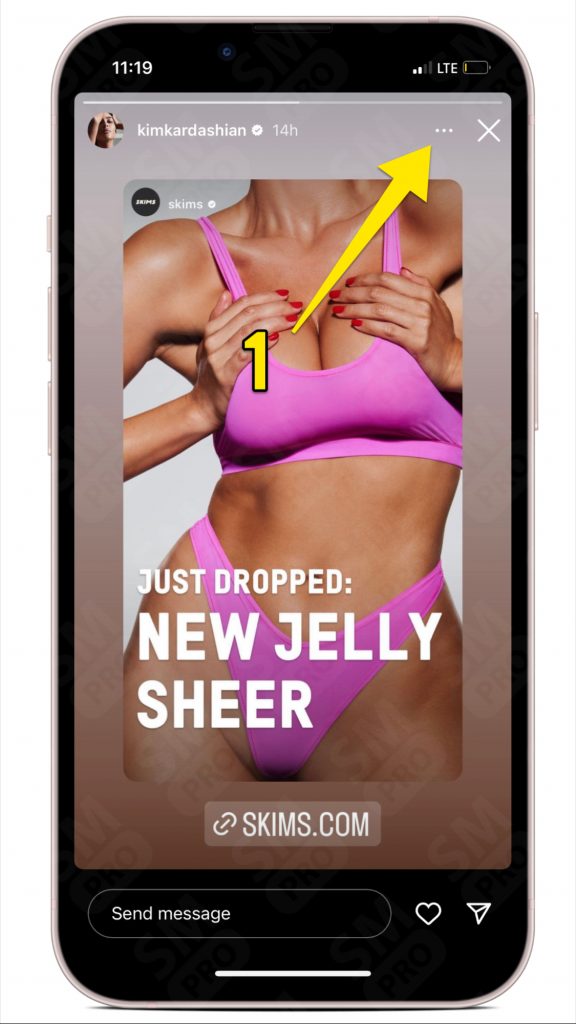 How to add music to your Instagram story?
Open the Instagram app and press Your story
Add a photo from Gallery to your story or press Camera to take a photo or something.
Once you've done that, press the sticker icon on the top of the screen.
A new tap or menu will appear, go ahead and press the MUSIC
If you can't find the MUSIC, simply search for it in the search bar in the tap that is open.
Anyway, press MUSIC and then choose the music you want to add.
Now you can choose a duration for the music or song. 15 seconds will be the maximum you can select for the music.
You can play the music and choose a specific part of it that you want.
Now in the upper right corner press Done and add the music to your story.
How to add temperature to your Instagram story?
Go to your Instagram and tap Your story icon.
Choose a photo or a default background.
Tap the sticker icon on the top of the screen.
Now tap the temperature sticker
Then in the upper right corner press Done and add the temperature to your story.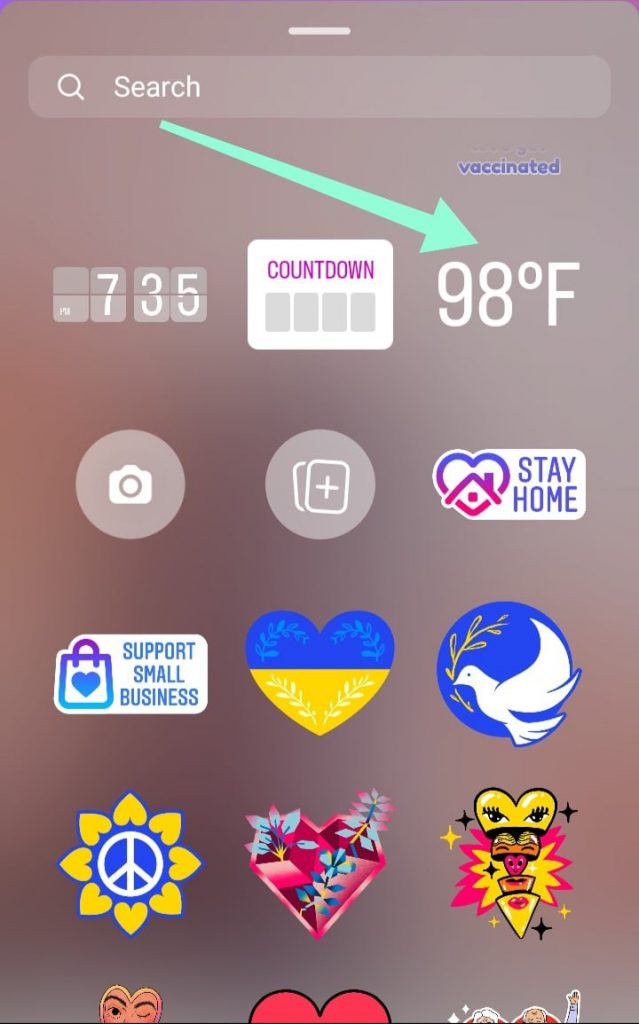 If you can't find the temperature sticker follow the steps below.
Go to the Settings.
Find Location and then toggle on the location access.
Now go over the previous procedure and you will see the temperature sticker.
How to Share Instagram Stories?
You can share a story in different ways. You can either touch the circle with your profile picture as mentioned above or swipe the page to the left or touch the camera icon at the top left of your feed. Now you have entered the section you can share your stories.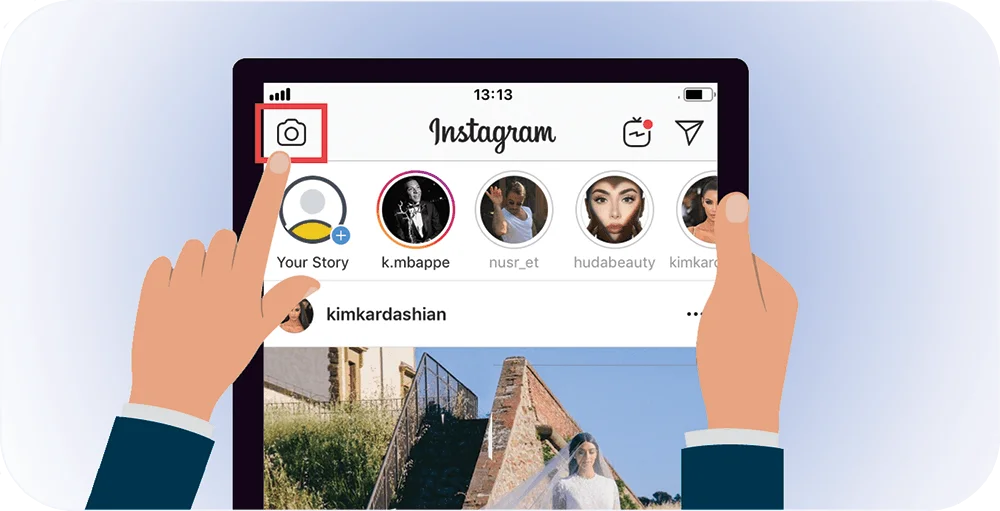 Here you can capture new photos or videos to share or use pictures and videos which you have taken in the last 24 hours in the gallery of your phone. To share from your gallery, you can swipe the page up.
Choosing the picture or video, you can add various effects, draw a picture or add a text on them. Our recommendation is to spend time for this phase to share quality stories. When you are done with editing the video or photo, press the "+Your story" button to share it. Congratulations, you just shared your first story. From now on you can add other pictures and videos to your story.
Which Format to Use to Publish Stories?
One of the most important capabilities of the Instagram story is the different formats that a story can have. When you are in the camera section of your Instagram story, you have several options at the bottom of the page beneath the camera button and you can choose any of them by swiping your finger to the left or right.
Here we will talk about different formats available in Instagram stories:
Normal: you can capture normal videos and photos in this mood, like when you are using your phone camera. Touch the button to take a photo or hold it for 15 seconds to record a video.
Boomerang: It is a video in GIF format which will be repeated several times. Boomerang is a creative way to capture your moments and share them. It has many fans.
Rewind: It is a video recorded like a normal video but unlike normal video, it will be shown from its end to its beginning.
Hands-free: It is like a normal mood but can be used just for video and it is not necessary to hold the camera button. You can press it once to record a video and then press it again to stop recording whenever you want. Note that you can record 15-second videos.
Live: By using this format, your live videos can be seen by your followers instantly.
Focus
Superzoom

How to Share live Instagram Stories?
One of the most interesting features of Instagram stories is its live video. This means that your followers can watch your video just at the moment you are recording them. Live stories are a great way to interact with your followers.
But how can we use a live story? This is very simple. Find and press "Live" when you are in the camera part of your story at the bottom of the page beneath the camera button. Then just press "Strat Live Video" and your live video will begin for your followers.
When Instagram users share a live video, a notification will be sent to all their followers. So if you start a live video on the Instagram story, all your friends and followers will be notified. You can also turn off this feature before starting your live video.
Both business and personal accounts can share live videos. Whoever watches your live story can comment on it (if leaving comments is on in your story). Instagram will also let you save your live video in your phone gallery. But the comments and feedback will not be saved with the video.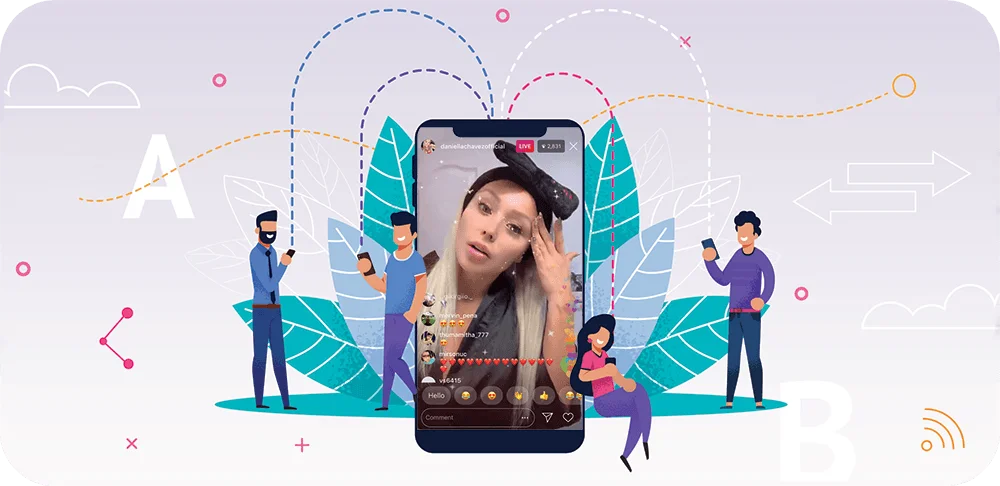 How to Make your Instagram Stories More Amazing?
As you may know, when sharing a story, you cannot use Instagram usual filters but as we said before, you have many other facilities to make your stories more attractive. These features are mostly in the icons at the top left of your phone screen.

You find them confusing? Don't worry. Let's have a look at these features and we will explain each of them.
Using filters, painting and writing brush in Instagram story
Here we will talk about the main editing features of the Instagram story.
Adding filter to video and photos on story
You can add filters to your story but unlike posts, there are limited filters available for stories. To choose among story filters, you can swipe your finger to right and left on the screen after capturing the photo or recording a video.

Using painting brush in the story
Using this brush, provided in different forms, sizes, and colors, you can paint on your picture or video and create a funny story. Don't worry about making mistakes as Instagram has provided an eraser and also let you undo your previous works, You can also use this brush in a professional way as follows:
You can paint all the screen with one brush (a fading color which you can see its background photo). You should just press your finger on the screen.
Instagram will show a certain number of colors by default. But you may want to use other colors. To find the color you are in search of, press your finger on one of the available colors for some seconds to see the related pallet and choose the color.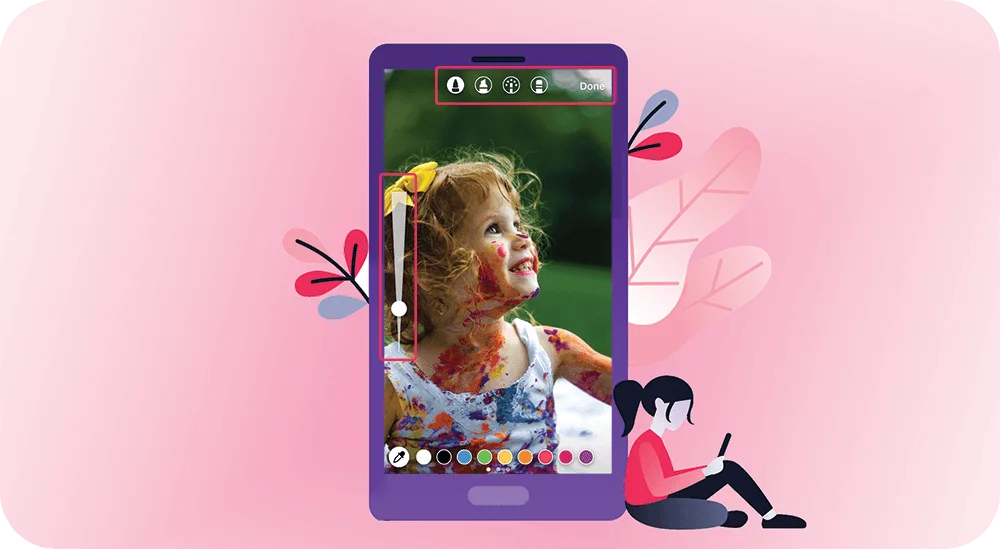 Adding text to your story
The other feature you can use is to add text to your story. The text can be used on different parts of your screen in any size or color you want. This feature can easily replace the captions in Instagram posts. You can choose the size and color of your brush when writing a text. And also rotate the text in whatever direction you want by holding your fingers on its two sides. You can also change its font style. To add a text to your story, you can use the text icon or tap your screen where you want to put a text.
Using interesting stickers in the story
The Instagram story has another powerful tool named sticker which lets you attach emoticons and other icons to your photos and videos. These stickers are really entertaining and can make your stories even more interesting. To add stickers to your story, tap the smiley icon on the top left of your screen; then choose the one you find appropriate for your image and change its size and place.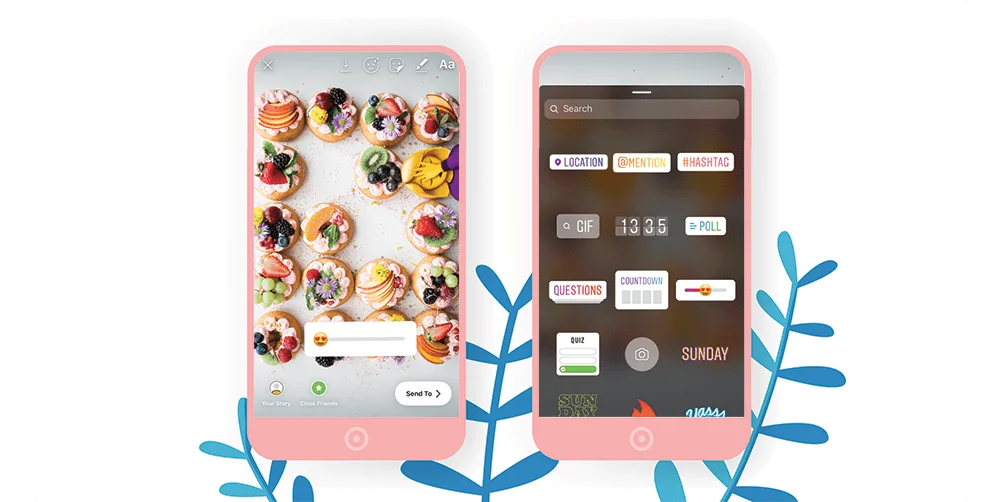 Let's have a close look at some special stickers which Instagram have provided:
Temperature Sticker: with this sticker, you can show the temperature of the location you have captured your photo in.
Time sticker: this sticker shows your followers the time that you have captured the image.
Date sticker: using this sticker, you can show the date in which you have captured the image and shared it.
Location sticker: using this sticker, Instagram wants you to set your exact location so you can show it on your image. Note that when you use location on your story, if you have a public account, others can reach your story through searching the location.
Hashtag sticker: you can add hashtags to your story via this sticker. Using this sticker, others can see your posts by searching the hashtag. It is better to use this sticker as it will increase your audience.
Poll sticker: it is one of the most interesting tools of Instagram stories. Using this sticker, you can ask your followers to choose among several options.
Your own sticker: the last sticker we want to talk about is your own sticker. You can choose the camera sticker beside the hashtag sticker, take your picture and use it as a sticker.
The last but not least, you can add a sticker to your video stories and set it to stick to a certain place throughout your video. So it will move by the move of your camera to stay in its place.
How to Address a Person in Your Instagram Story?
As you may know, you can mention others in Instagram using @ sign. Mentioning them in your posts, they will be notified you have published a post on their behalf. The same feature can be used for Instagram stories.
To mention a person on Instagram stories, tap on the picture or video, use @ sign and choose a person which Instagram will suggest you (or you can write part of their Instagram user name to limit the choices). Like Instagram posts, just after sharing the story. The person will be notified that you mentioned him/her in your Instagram story.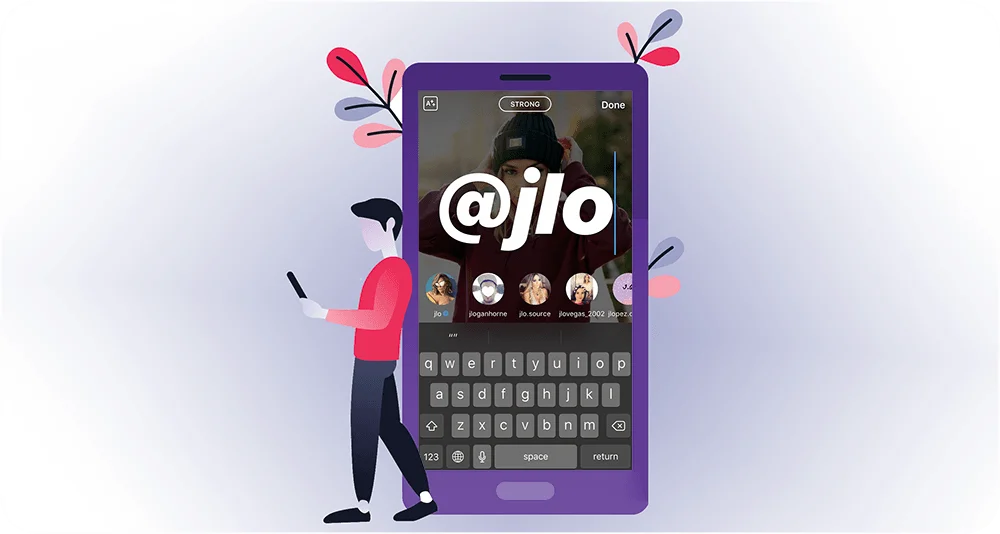 How to Use Face Filters in Instagram Stories?
Face filter, first introduced by other applications, is a new feature added by Instagram. You can use these face filters when sharing a story. Using artificial intelligence and face detection, you can use a variety of crowns, animal noses, hats and other things on your face.
The difference between face filters with other editing features is that you can add face filters before capturing a photo or video. To add face filters, you should click on the face icon in the bottom right of your story page.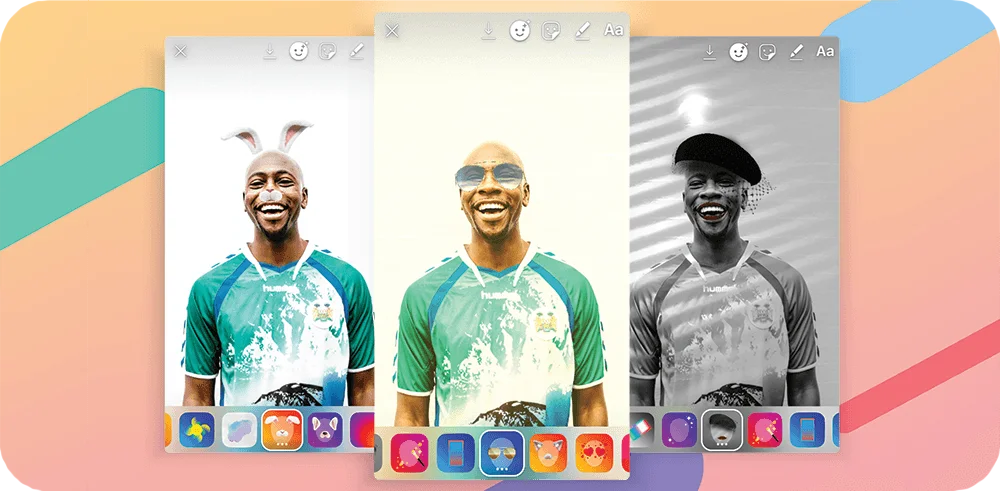 How to See Who Has Viewed Your Instagram Stories?
After sharing your story, you may be interested to know how many people have watched it. Instagram would provide this data easily. Just open the story you want to know its stats and swipe it up. Besides seeing the number of people who have seen your story, you can see who has watched them.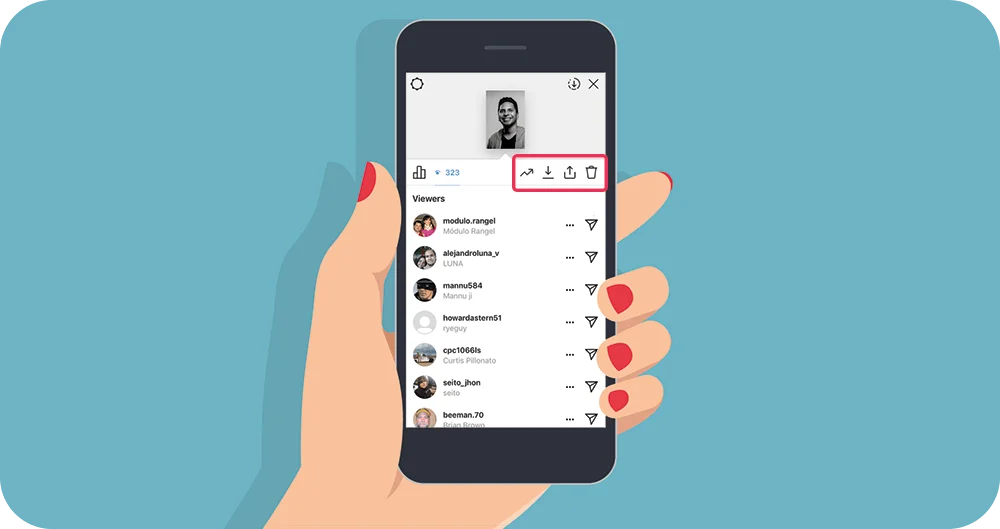 How to Save a Story and Share it as a Post?
To save your story from omission after 24 hours. Just click on your profile picture and when you are watching your story, click on this sign at the bottom right of the page and then click save.
Instagram lets you save your stories in two different ways. You can save each image or video separately or you can save all related stories as a video. Using this feature is especially interesting for those who want to have a video magazine of their adventures.
Besides, as we mentioned before, you can share your stories as a post on your Instagram page. Just click and then choose "share as a post". Following these steps, the page where you can publish posts will open and you can even edit your story before publishing it as an Instagram post.
All in all, the Instagram story is a fascinating feature that lets you build a close relationship with your followers and share your thoughts and feelings with them more easily. The story is a popular feature of Instagram and when you share stories, you would get your followers' attention more than before.
Just note that using the features explained in this article would not definitely add up to your stories' being more interesting, it is your creativity which will lead to the success of your stories.