In this article, we want to see why Instagram shows this error and how we can solve it.
Why does it say User not found on Instagram
Instagram user not found is a common Instagram error which means someone has blocked you, deactivated their account, or has changed their username. In some cases, user not found means that Instagram has disabled their accounts, or even they are hacked.
So, here is summary of the reasons you see this message:
The person you are trying to reach is blocked you

They have changed their username

They have deleted or deactivated their accounts

Instagram has disabled their account

Someone hacked them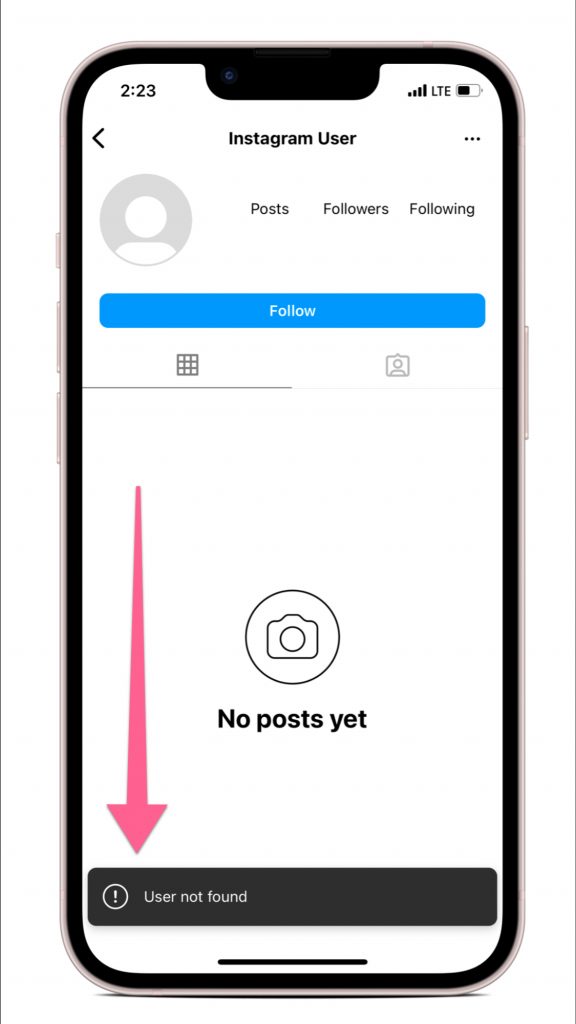 1- The user has changed their usernames:
Instagram allows its users to change their usernames and handle them, any time they want. Accounts with a lot of followers are less likely to change their usernames, but that is still a possibility.
In order to find their new accounts, you can ask your mutual friends, followings, and followers about what has happened to them. If you have a chat history with them, look for them in your chat list and Instagram will show you their new usernames. If you again access their profiles and it says Instagram user not found, it is very much likely that you have been blocked.
---
2- The user has blocked you
If you think, the person has blocked you, check the other signs in the blog How to know if someone blocked you on Instagram. Another common reason for encountering Instagram user not found is when the user has blocked you. When someone blockers you on Instagram you get this message. You will still be able to send them messages if you have a chat history with them but as soon as you tap their profile picture, it changes to Instagram default and you get the error.
A good method to double-check that you have been blocked is to try to reach their profile with a different account. If you have a second account try to search their profile with that one. You can also ask a friend or family member whom you trust to do this for you.
---
3- They had temporarily deactivated their accounts
sometimes people may need to take a break. Maybe they are not feeling good or they are preparing for something important and do not have time to spend on social media. That is why they temporarily decide to disable their account. They can enable their account whenever they want to but until then all of their information will be hidden and if you search their username you encounter this error.
---
4- They have permanently deleted their accounts

:
if someone decides to delete their account from Instagram altogether, no wonder you can't find their username anymore because all their data will be erased from Instagram.
---
5- Their accounts are suspended by Instagram
like every other community Instagram has its rules and if someone tries to violate them Instagram may ban their account. They may be able to recover their account after some time but until then you will see "username not found" if you search for them.
Last word on the Instagram user not found
There might be many reasons why you cannot find an Instagram account by searching. One of the most common reasons is that the person has changed their profile handle (aka username). Major accounts with a huge number of followers don't usually change their handle unless for a very good reason.
These types of businesses and brands usually have other social media platforms and websites as well. What you can do is to refer to their websites and see if their information has changed. If you and some of your other friends have been mutually following that person, you can ask your friends about them.
The other reason includes someone blocking you on Instagram. Always double-check with another account to make sure that you have been blocked.
Think of the person you are trying to reach who has been having a suspicious activity that is against Instagram rules and privacy policy. If yes, then chances are Instagram has banned them from activity. They may be able to recover their account and lift the bans but we cannot be sure.