The users of each Instagram page are the most important factor in the progress of that page! In fact, any post on your Instagram page is intended to increase the user interaction with your Instagram page. And you will have less interaction if your page does not have many users.
There are several ways to increase user interaction, most important of them are content and page posts; the more your posts are more functional and attractive, the more users like your posts and leave comments on them.
Instagram Story is also an excellent tool for increasing user interaction with the Instagram page, but how do users interact with their followers via stories? The easiest way is to respond to your story, but given the time-consuming replying of the story, users are not doing it much. Instagram knows that well and has provided users with good tools.
One of these tools is the Instagram poll Sticker! With this tool, you can ask a question from users and give them two options. Users also send you feedback by choosing one of two options and you can easily use their comments. In this article, we are going to teach you how to use the Instagram Poll questions; if you're ready, follow us!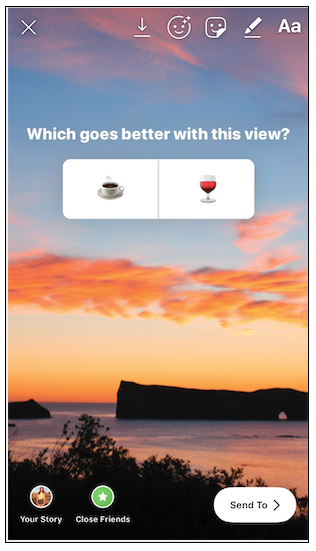 How does Instagram Poll Question Aid Businesses?
An Instagram Poll question is a tool that helps you get feedback from users; for example, suppose you have two new products ready for your business and want to introduce one now and one after a few days to users. The more popular products are selling more and you can easily help your business by introducing products that users need more. In order to know which users need more products, it is enough to introduce users of these two products in a story to users. And ask them using the Instagram poll tool.
It's necessary to know that user feedback on the Instagram poll tool is more than direct posting because the user can only participate in the poll in less than a few seconds. If you do not know how to use Instagram in your stories, we'll talk about it in the next section. But if you know how to use Instagram, accompany us with our tips for increasing user feedback in the Instagram poll section.
Best Instagram poll questions to ask
Now let's see what questions we can ask to things up a little and make our followers engage with our Instagram page.
First, keep in mind that you can either ask questions that are related to your niche or you can ask any other general question. The key here is to make your followers engage with your page and your content, however using both of these questions will be a good idea.
So let's go over some cool Instagram poll questions.
Would you rather? Never laugh again. Never use your phone again.
Are you an early bird or a night owl? ( instead of typing bird and owl use their emoji)
Do you listen more to your heart or your brain? A) heart B) brain
What is your "relax" drink?
What sport would be the funniest to watch if the players would be drunk?
What do you like doing the most?
If animals could talk, which one do you think would be the rudest? Why? ( you can add whatever animals you like, for example, snake, cat, fox, and chicken)
How many coffees will you need today? ( make sure to use coffee emoji while asking this question)
Are you currently living your dream life? Yes/No/ I'm trying. You can use different emojis to make your poll question more attractive.
Would you rather live in a bustling city / out in the country?
You are Single/ Realationship
Do you prefer TikTok or Instagram Reels?
If you could spend one day with a famous person, whom would you choose? You can add some famous people's names.
These are just a couple of questions you can ask for the Instagram poll. However, there are thousands of questions you can ask. Just be creative and ask questions that you think will keep your followers engaged.
How to Conduct Instagram Polls?
To create an Instagram poll, there are 5 steps you should take:
1. Create Your Own Story!
An Instagram poll is one of the story tools; in fact, to create a poll, you must create a story and put a poll on it. Enter the Instagram Home page to create the story, and click on the Instagram icon in the upper left side:
In this section, you can directly take a photo (or video) or select one of your mobile gallery images by swiping a mobile page up. Note that in order to get the best feedback on Instagram polls, photo story should be relevant to the topic of the poll! In this case, users are more likely to respond to your polls. After selecting it, you can place your stickers or emoji on your story to enter the next step (insert a poll in the story). Of course, it should be noted that your stories are not crowded so that users are confused; I propose putting half of your story into an empty poll so that users can see it better and can easily register their feedback.
2. Create an Instagram Poll for Your Story!
After sharing a story, it is time for conducting a poll for your story. For creating a poll, you can click on Story stickers:
You can create polls by clicking on the Poll tool. After selecting the Instagram poll tool on top of it, you should ask your question and click on any option you can select a response! You have no limit to the number of words to enter, but I suggest you be creative! Write short, but interesting questions so that you can get the most feedback from users; for example, if you have written explanations on a story that the user is reading about it, then you do not need to repeat that question!
Just write "what about you?" So the user, in addition to spending less time to read the question, is persuaded to respond because of your creativity. Another issue is that you can write up to 26 words for the answer options, but there are only two options available. In this case, I would suggest writing short answers like "yes" and "no" so that the user answers your question. If you are going to use more options, this is not the right tool; Instagram recently, in its upgrade, provided a tool for multiple-choice polls to be explored in another article.
3. Put Your Polls in the Proper Part of Your Story!
Do you remember the first item? We said that there is a good place to put polls. Now that you've created your polls, just click on the checkmark displayed at the top right of your story to go to the next step:
Now, just put your polls in your desired place to enter the next step.
4. Share Instagram Polls with Your Followers!
Once you create your polls, it is time for the sharing of the story. Poll Publishing begins! So just click on the Send to option and choose Your story to share your story with users.
Now that you publish your polls, users can see your story and respond to your polls. After users respond to your Instagram polls, you can easily see and analyze their responses. To do this, just go to the desired story and click on the number of your stories; you can also highlight your story to enter the Story Analysis page. In this section, the number of users who have chosen one of two options is displayed; however, it should be noted that users cannot change their response once after choosing one option. And only the poll image is available to them. For example, look at the picture below:
In the poll, 186 users have opted Yes and 58 of them have chosen No. This story is available to users for up to 24 hours and this information will be updated as long as users participate in the poll. If you enable notification via Story Settings, after each user responds to their Instagram poll, the message will be displayed in your mobile notification section.
Once you have completed the five steps above, you can easily create your own poll and see the users' responses. If you manage a business using Instagram to market your products or services, the Instagram poll tool helps you get feedback from users. Also, if you need to get full user comments, use the question sticker.
How to Create an Amusing Instagram Polls for Users?
Instagram polls are active for all users and many people use it, but you need to know that using without strategy and creativity from the Instagram survey cannot produce good results for you. If you use Instagram to develop a business or have a business page, there are several ways to increase the attractiveness of the survey.
You should also try to create creative polls that encourage users to enhance their engagement! In this section, we plan to create three excellent ways to create user poll that can increase users' interaction on your page. If you are ready, join us in this section:
The first Method) Ask Users to Participate in Your Poll!
For businesses, nothing is more important than knowing what their users want! This is significant to users in providing a product or service. And you cannot figure it out until you ask for it. Another important issue is that when you create a poll, users may not pay attention to it!
In fact, users see a lot of polls that are not important, and this has led to a negative view of the users of the full-screen poll. If you want to get good feedback from users on your Instagram poll, ask users to take part in the poll; then they know that the poll and its results are worth a lot for you and they respond to it after reading the poll question.
What Questions to Ask in the Instagram Polls to Get Feedback from Users?
If you want to have an Instagram poll but you do not know what questions you can ask. This is a problem with many Instagram pages! They want to ask questions from users but they do not know which questions are more important. These questions can be as follows:
Provide discounts for the products;
If you want to provide a discount for one of your products, you can ask users to tell which product they need! In this case, the number of sales and, eventually, sales revenue will increase.
Features of the products that are favorable to users;
For example, you can put two different colors of a product and ask users to choose their favorite colors! In this case, you can provide more items with favorable colors to your customers.
Ask time for a video or a post to be published;
For example, asking users to choose Live Instagram playtime (morning or night).
Ask the type of communication with users;
Ask users how they want to communicate with you! For example, give them two options for calling or directing.
Polls on topics of interest to users for creating posts; If you want to create a post for users who do not know which topics they are interested in, you can give two options to users to select two different topics. And generate your post appropriate to the poll results.
The Second Method) Identify Your Market Needs or Interests of Your Followers!
If you plan to produce content for your site or your Instagram page, it's enough to conduct polls and ask users between the two different topics. Also, if you want to provide a product, service or education to users, first ask your fans about their needs so you can experience successful sales.
An interesting Instagram feature in the polling section is that you can share its results with users! After completing the polls, you can share the results in a different story by clicking on Share Result and show results in percentage:
On the image above and to the left, Instagram poll results show that 92% of the users have chosen the option 'Yes' and 8% have opted to 'No'. You can also use these results on other social networks because Instagram users and other social networks are your target audience, and many followers have similar interests.
The Third Method) Scheduling for Events and User Participation
If you plan to hold a variety of events for your business, you can use comments of the users; for example, you can ask them about the city where it is going to be held, the reception, the people who are lecturing, and … And they, by participating in the Instagram polls, help you! Note that after 24 hours you can see the results so that you can make the right decision.
The Fourth Method) Assigning Prizes for the Held Contests on Instagram Page
If you are running an Instagram on your page, you'll surely know that you have to offer a prize at the end of each match. Of course, this award can be one of your products or services, which, depends on the type of your business and your contest. For example, you can choose between two different items. And conduct polls to give users a bonus and ask the users to decide on the final prize!
For example, you can ask them about the second and third prize winners. In this case, you should give the first person the first prize and for the second and third. And you can give users two options for polling! The first option can be an 80% discount on-site products or a regular bonus. Select this item during the contest by asking users to participate.
Conclusion
polls are an excellent choice for engaging in business. Instagram is the most significant social network for many businesses that you can use to introduce your products or services! Fortunately, Instagram has put together a polling tool for engaging with users so you can get good feedback from them.
In this article, we have been training to create an Instagram poll. Thus, it can help you increase the engagement of your users. We have also looked at a few tips and techniques to boost user engagement in the Instagram poll questions. So you can manage your Instagram page well.