Since its phenomenal birth, Instagram has enabled millions of influencers, fitness models, trainers, public figures, brands, to grow their businesses, promote their public image, attract more customers, and post a wide range of content.
People dive into the endless pool of Instagram every day to watch videos, read the latest news, find new products, read inspirational quotes, and check out photos and other cool stuff posted on different accounts including the fitness accounts.
Fitness accounts are among the most popular accounts on Instagram. People follow these accounts to watch workout videos and other visual content created by trainers, fitness coaches, and fitness influencers. Today we are going to introduce the top Instagram fitness influencers; not just those who have grown a banging body.
Today's Instamber blog is devoted to talking about genuine fitness influencers who are widely known on Instagram.
Why Fitness Freak accounts acquired attention on Instagram?
The followers of fitness influencer accounts tune in every day to keep up with them by working out, eating healthy, and staying inspired and fit. They see all those inspirational and hot photos on these Instagram fitness freaks and get inspired to exercise, eat healthily, and eventually get the fit body they dream of.
They may even look up things like softgel manufacturing Companies that are recommended by these people so that they can reach their goals even sooner. The resulting outcome not only boosts their self-confidence but also increases their popularity and inner joy.
Instagram Fitness accounts, actually, give off very good vibes instead of making you feel insecure about your body. For example, you might wake up feeling tired or unmotivated or you might think you do not want to leave your bed at all in the morning but if you happen to follow a couple of good fitness accounts on Instagram.
The moment you log into your Instagram account, your feed presents you with beautiful images of healthy breakfasts or fitness models posing for photos in the beautiful sunshine. That changes your whole attitude throughout the day, right? That's just the beginning.
Fitness freak influencers & the benefit of having an online pro gym trainer
You can also use the content created by fitness freak influencers and trainers to learn workout routines at the convenience of your home or at the gym. Some of these fitness influencers are trainers who post videos and photos of various types of workouts including cardio and HIIT (High-intensity interval training) exercises to train their followers and also grow their business.
In the past, you could not access workout content easily. Trainers used to make videos and you had to purchase or get access to those videos to be able to use them but there is no need to go through that hardship anymore! You can get access to thousands of workout videos just by following fitness models, influencers, and trainers on Instagram or anywhere else.
You should, however, know that NOT every fitness account that posts workout videos and hot photos can be trusted. That is to say, you have to find and follow those fitness accounts that provide you with scientifically designed and tested workouts and instructions that do not harm your body in the process. Therefore, finding the top authentic fitness accounts that will give you your daily dose of inspiration and joy is vital.
Find genuine fitness influencers rather than fake ones
These accounts do not promote crazy diets and products to help you lose weight. Rather, they provide you with valid and good-quality information communicated through various types of posts.
Their goal is to train and instruct their followers in a healthy and scientific way and also grow their business and gain more popularity in the eyes of Instagram. (We've written a blog topic about the best Instagram automation tools that help businesses or people to automate their activities there, We suggest you read the article later).
It is crucial to spot these fitness accounts on Instagram and choose to see their posts on your feed, as their content will affect your lifestyle as well as your physical health. In this article, we are going to talk about the characteristics of the best fitness accounts and we are going to introduce some of the top fitness accounts on Instagram that will assist you on your journey to a healthy lifestyle.
What are the characteristics of a good Instagram pro fitness account?
1. Carefully professional fitness content producing account
First off, these accounts present high-quality content. One of the common characteristics of all the best fitness accounts on Instagram is that they carefully create their workout videos, photos, and posts. Their content does not only include photos of their crazy abs or their healthy meals!
These accounts are mostly run by trainers, coaches, and certified trainers, who introduce and showcase inspirational workouts that are actually good for you. As a result, they help you get in shape and also increase their customers and followers. Besides, they post high-quality videos and photos that meet the followers' visual expectations as it is highly important to people who use Instagram.
2. Actively engagements with users
Engaging with followers is another major factor. The owners of fitness Instagram accounts that actively engage with their followers show they really care about their followers as well as the effect of their workouts on their followers.
By increasing their engagement rates, they also improve their performance on Instagram and become more popular on the platform. (Don't miss our topic about how to get followers on TikTok) Since they seek to meet their followers' expectations and needs, their followers leave more comments on their posts and like their photos and videos, thereby increasing their accounts' engagement rate.
3. Top Instagram fitness influencers present scientific information
These accounts strive to present valid information based on scientific research that will improve your life and will help you achieve your fitness goals. By listening to their followers and communicating with them, the owners of these accounts create content that matches their audience's needs and also increase their chances of getting more customers. Some of them also demonstrate their workout routines and instructions by doing them live on Instagram.
This increases their followers' ability to talk to them directly, enjoy their sessions, and express their opinions. These trainers and coaches have to lead by example to be able to motivate their followers and make them work hard to get the body they dream of.
Now that we have covered the most important characteristics of the best pro fitness Instagram influencer, we are going to introduce some of the best fitness accounts on this platform. Keep in mind that we have reviewed and selected some of the top fitness Instagram accounts and our list might not include every single fitness account on Instagram that provides good-quality content to its followers.
1. Venezuelan hot Instagram fitness influencers: Michelle Lewin
This hot Venezuelan model is one of the most popular fitness models and bodybuilders on Instagram with 13.8 million followers. She is the author of "The Hot Body Diet: The Plan to Radically Transform Your Body in 28 Days". In this book, she shares her tips for getting a hot and toned body like hers. She has also appeared on many magazine covers such as Women's Health and DSS.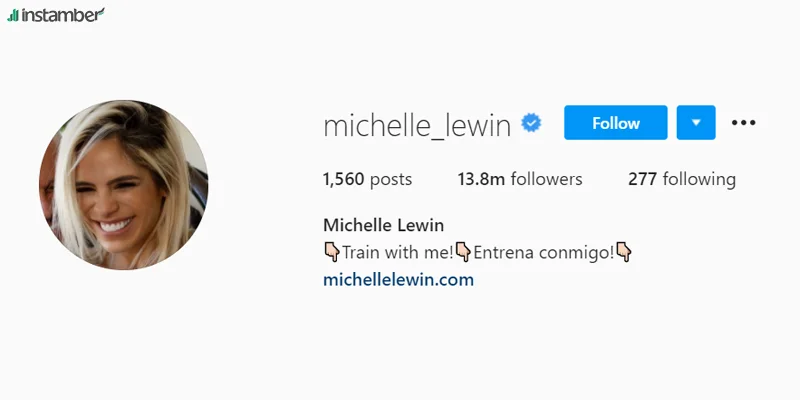 2. American hot fitness model: Jen Selter
This incredibly successful 27-year-old American fitness model has established herself as one of the most popular fitness models on Instagram with almost 13 million followers. She posts inspirational lifestyle and fitness photos and videos combined with useful fitness tips to help her fans.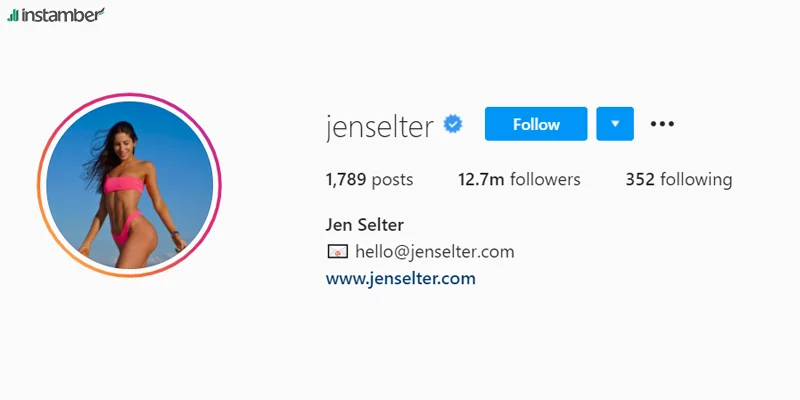 Jen became interested in fitness when she was a teenager and quickly rose to prominence for her booty workouts and her following has been growing ever since due to her strong presence on Instagram and her motivational posts. She is also present on YouTube and Twitter. You can find her on Instagram at Jenselter to enjoy her posts and workout routines. Besides, she won the Fitness and Health Influencer of the Year Award back in 2018.
3. BBG program creator: Kayla Itsines
Kayla Itsines is one of the most followed personal trainers on Instagram. This 29-year-old successful trainer and author has 12.7 million Instagram followers. She is known as the creator of the BBG programs and she has accumulated an impressive net worth of 485 million dollars.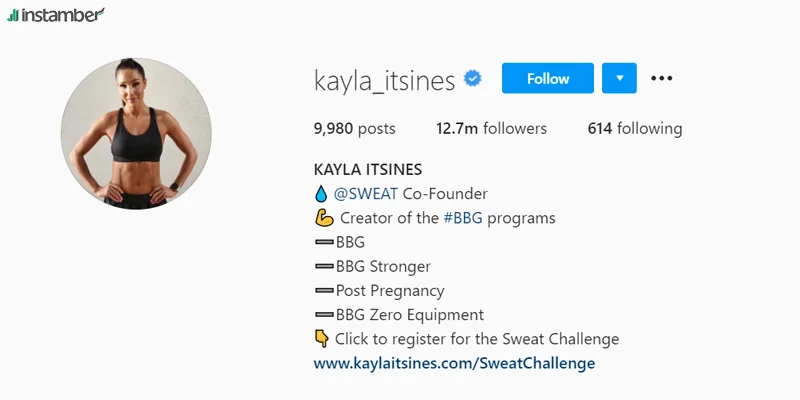 She is also known for her books including "The Bikini Motivations and Habits Guide" published in 2017 as well as "The Bikini Body Help" and "The Healthy Eating and Lifestyle Plan – Recipe Guide Kayla Itsines". Her meal-planning and workout app is available to her fans, while she was also introduced as one of the 30 most influential people on the Internet by TIME magazine.
4. Extremely fit Instagram influencer: Ulisses Jr.
Ulisses Jr. runs one of the most followed fitness accounts on Instagram with 8 million Instagram followers. This extremely fit trainer provides his fans with meal plans and workout programs to help them stay in shape or get fit. You can find tons of shirtless photos of this successful bodybuilder on Instagram, known for his famous eight-pack and the winner of many bodybuilding competitions such as the Musclemania.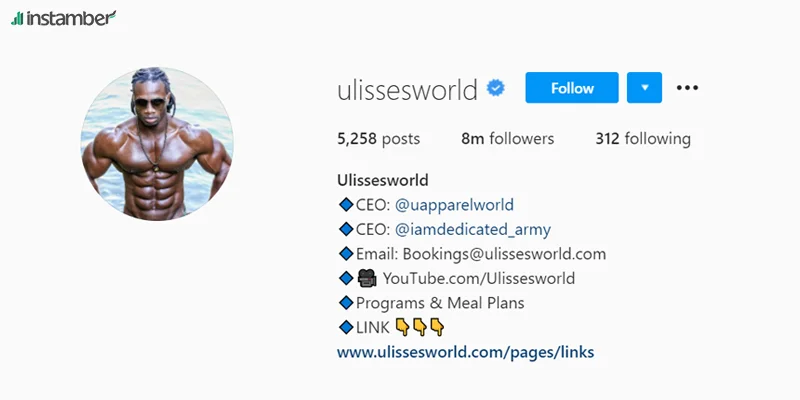 5. Instagram BodyBuilder influencer: Simeon Panda
Simeon Panda is active on both Instagram and Youtube. On Instagram, he has 7.3 million followers, who follow him to enjoy his training programs and his motivational posts. He has participated in bodybuilding contests both as a contestant and a judge and won the 2013 European Championships. He has successfully launched his clothing line and is known as one of the most successful fitness professionals in the world as well as a weight lifter due to his passion for lifting.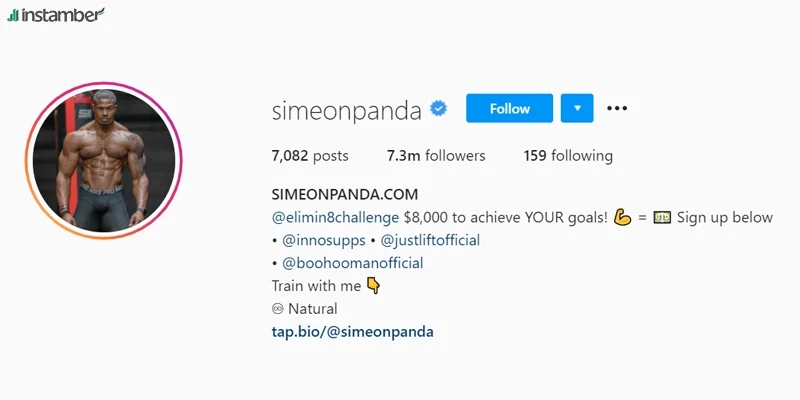 6. Brazilian Instagram fitness model: Eva Andressa
Eva Andressa is a Brazilian fitness model with 6 million followers on Instagram. She has been nominated for a "Shorty Award for Social Fitness" award and has competed in many competitions, some of which she has won. Her vastly popular Instagram account is packed with photos of her fit body and her crazy abs and muscles as well as videos of her lifting at the gym or chilling in a beautiful place. You can also find her workout videos on YouTube.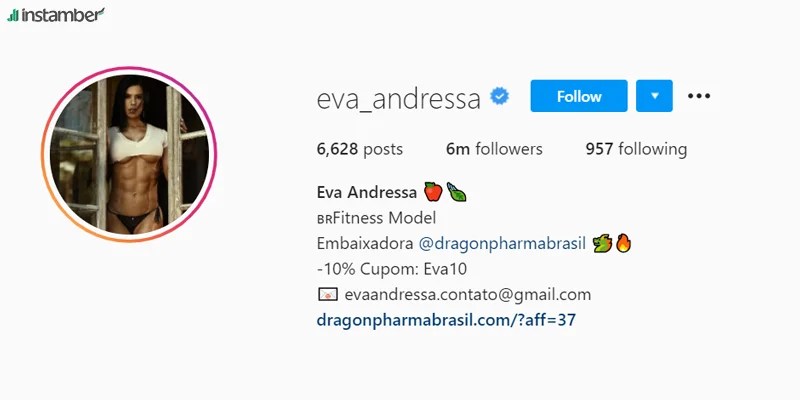 7. Victoria Secret Model – Fitness freak Influencer: Izabel Goulart
This Brazilian model has 4.6 million followers on Instagram by posting motivational photos of her fit body and her workouts and exercises at the gym. People follow this successful supermodel to receive her fitness tips, watch her videos, and see her hot body in a bikini or in all the random spots she poses in a photo. She used to be Victoria's Secret model and appeared in 11 shows for this massively popular brand. She has also been on the cover of the world's top magazines such as Sports Illustrated, Vogue, and Elle.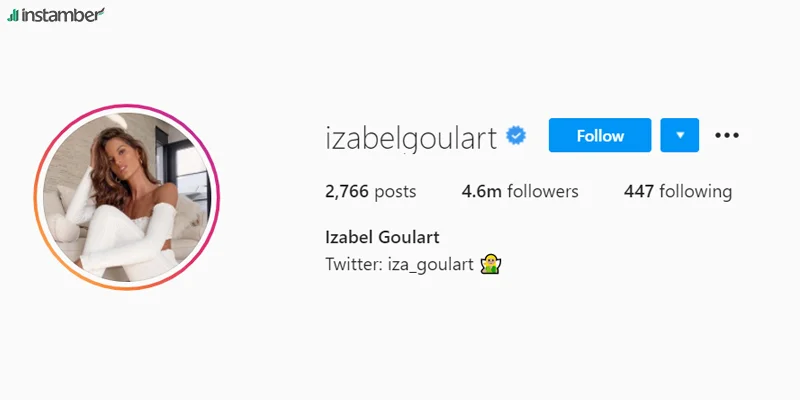 8. Popular Instagram fitness influencers: Andrei Deiu
Andrei Deiu has one of the most popular Instagram fitness influencers with approximately 4 million followers. He posts mostly shirtless videos and photos of himself lifting at the gym, eating a healthy breakfast, or even swimming in the pool. He also gives useful tips on different supplements, especially for men.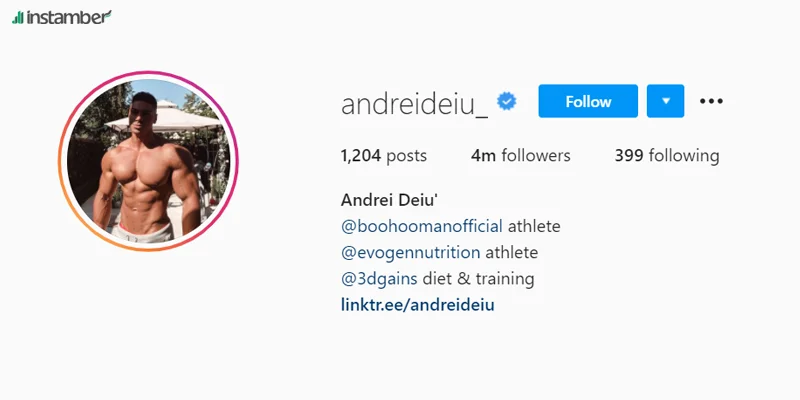 9. The 32-year-old female fitness freak: Paige Hathaway
This 32-year-old fitness model has 3.9 million followers on Instagram. She is known for her inspirational posts both on YouTube and Instagram. Her popular Instagram account is filled with photos of her fit body as well as a couple of family photos including photos of her little daughter.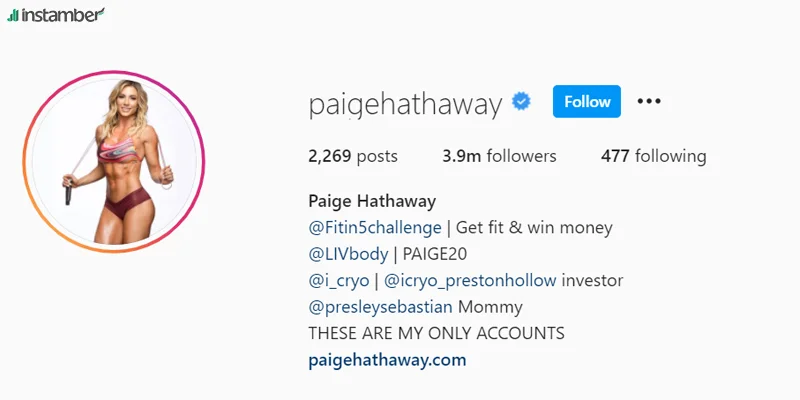 She also posts photos of her clients that have managed to get the fit body they once dreamed of with her programs and her help. She has appeared on several magazine covers such as "Inside Fitness Magazine" and "Hers Magazine". Besides, she appeared on the cover of TRAIN Magazine when she was pregnant with her child.
10. Highly popular Instagram fitness trainer: Bradley Martyn
Bradley Martyn is a highly popular bodybuilder, trainer, and YouTuber with 3.7 million followers on Instagram. He provides fantastic tips and tricks about supplements and all sorts of workouts to his followers and fans on Instagram. He is the co-founder of Zoo Culture Gym, and he has created a successful fitness program called BMFit.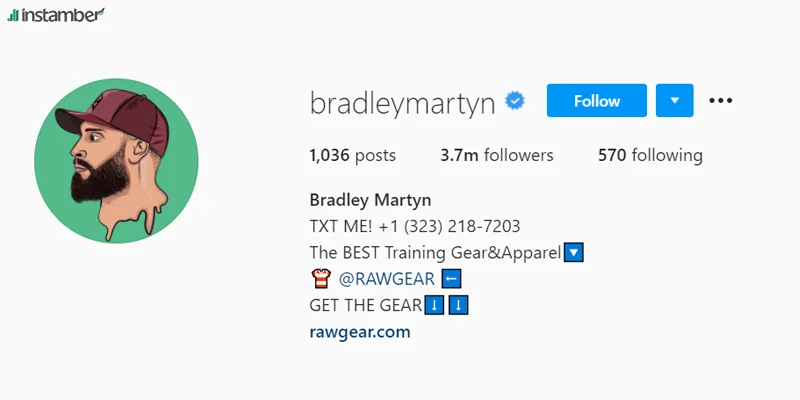 11. The Body Coach on Instagram: Joe Wicks
With 3.6 million followers on Instagram, Joe Wicks is an experienced personal trainer that has a show called "The Body Coach". He broke a Guinness world record when he gained the most viewers for a fitness workout live stream on YouTube. To be more precise he was first known for his "Lean in 15" book series that helped him capture the undivided attention of his fans and followers.
He has published numerous cook books such as "Cooking for Family and Friends: 100 Lean Recipes to Enjoy Together", "Joe's 30 Minute Meals, The Fat Loss Plan: 100 Quick and Easy Recipes with Workouts", and "Veggie Lean in 15: 15-Minute Veggie Meals with Workouts". He describes himself as a coach "on a mission to get the world fitter, stronger, healthier, and happier". Joe has also been awarded an MBE for Services to Fitness and Charity in the UK and abroad.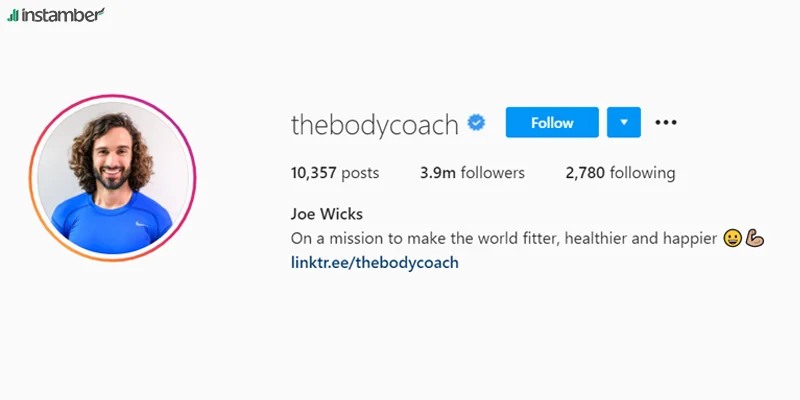 12. American female Instagram fitness influencer: Whitney Simmons
With 3.1 million followers and an engagement rate of 3.30%, Whitney Simmons owns one of the successful fitness freak Instagram accounts. One-third of Whitney's active followers are American and she has tons of followers in other countries such as Canada and France. You can find all sorts of motivational posts on her account from hot photos of her and her friends that show her fit body to videos of her working out at the gym. Her useful content is available at @whitneyysimmons on Instagram.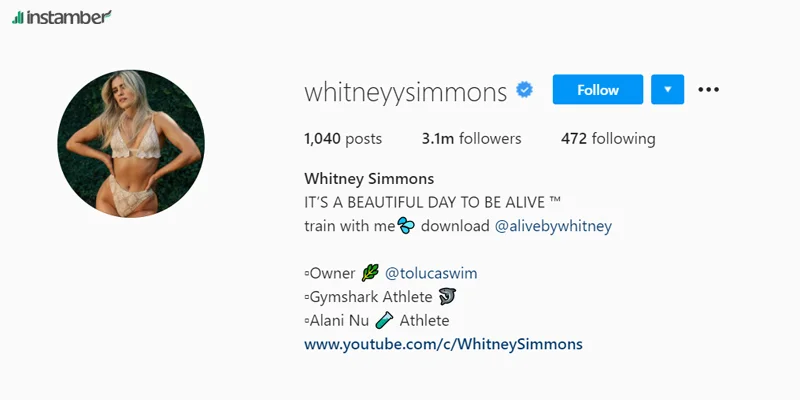 13. Top female fitness freak on Instagram: Kelsey Wells
Kelsey Wells is currently one of the top fitness Instagram accounts with 2.9 followers and an engagement rate of 0.40%. She posts inspirational photos and videos of herself doing workouts such as cardio with the aim of helping her audience. Her inspirational content includes photos of people that have improved their lives by working out and choosing a healthy lifestyle. Her followers are also mostly women.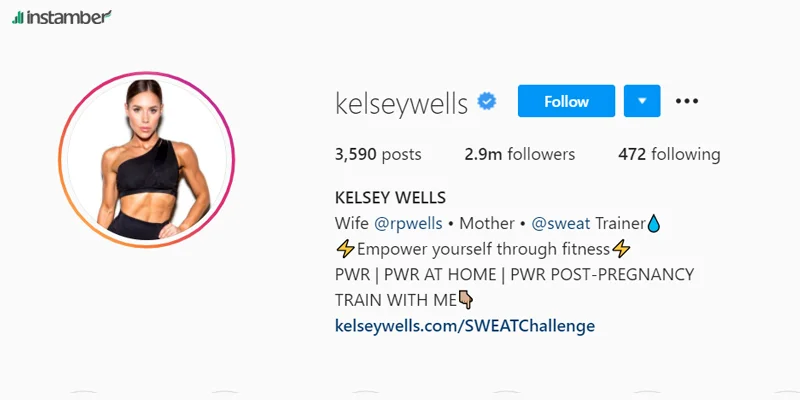 14. American Instagram fitness freak: Demi Bagby
Demi Bagby is a young American fitness influencer on Instagram. As the founder of Rep Wax, she posts hot photos and videos of herself doing all sorts of training to motivate and train her 2.3 million followers. Her account an engagement rate of 4.40% and her followers include men and women from all over the world such as the United States, UK, and the Netherlands. So make sure you check out this account on your journey to fitness.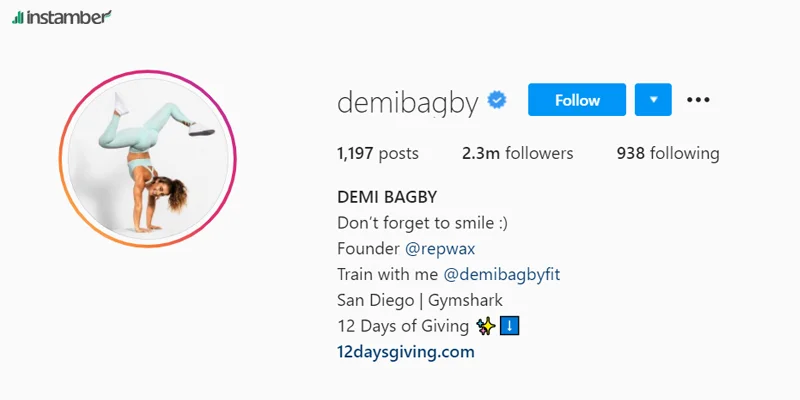 15. Dutch Instagram fitness influencer: Richard Duchon
Richard is a highly popular fitness pro on Instagram and Youtube. He has 1.3 million followers on Instagram and an engagement rate of 3.50%. His followers are mostly men and you can find shirtless hot photos of this young trainer on his Instagram at @richard_duchon to see his insane body! He also has a workout app that is available at www.richardduchon.app. With this workout app, he helps you work out correctly either at home or at the gym.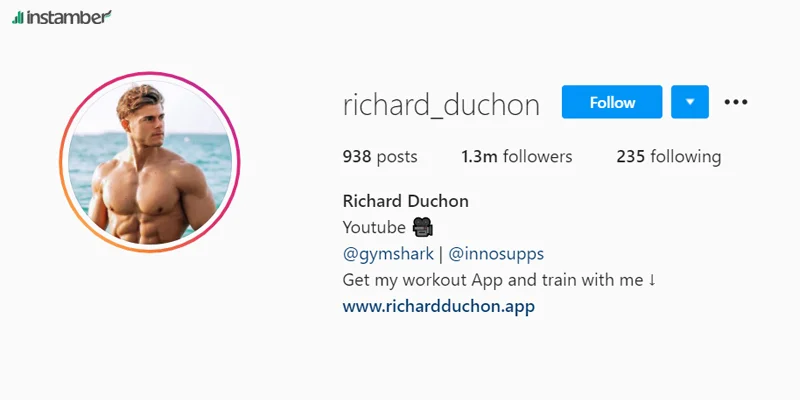 16. Iranian Professional fitness trainer among the Instagram fitness influencers: Sam Asghari
You probably know Sam Asghari as Britney Spear's hot Iranian boyfriend, but Sam is actually a professional trainer. He has 1.3 million followers on Instagram. Looking at Sam Asghari's photos today, it is very hard to imagine he was once not so fit! But that is true.
At a certain point in his life, he decided to change his life and did so by losing 100 pounds. He has been working out and posting inspirational photos and videos of him exercising on Instagram. He has also appeared on magazine covers such as Iron Man. Sam Asghari won the Outstanding Achievement in Fitness Award in 2019, & by this credit, he started limited cooperation with Man City football club in England as a fitness consultant.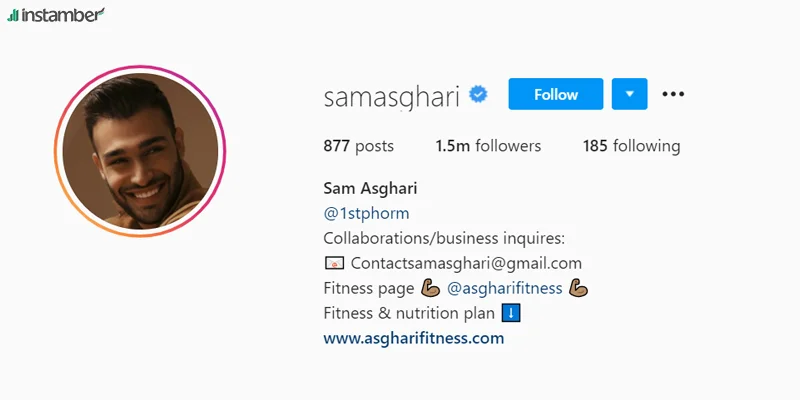 17. The 21-year-old strength training and nutritional consultant: Jordan Syatt
Jordan Syatt has definitely one of the most interesting and refreshing fitness accounts on Instagram! He posts about facts and information that are highly valuable and somewhat controversial. He has a good sense of humor, which helps you enjoy his posts even more. Jordan has 720k followers on Instagram and you can find him at @syattfitness.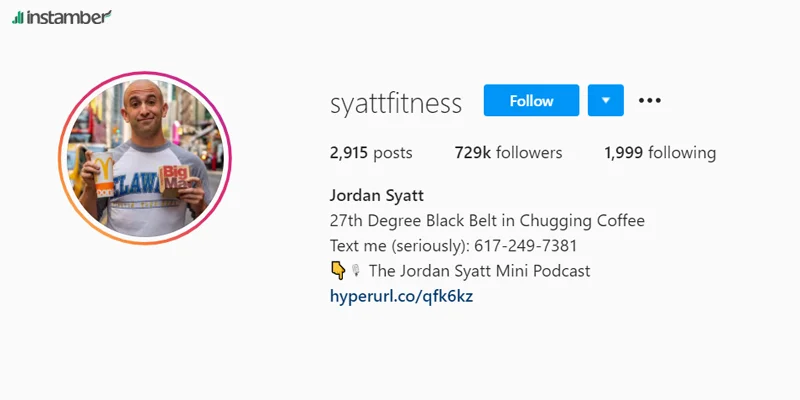 18. Austrian fitness influencer: Onome Egger
Onome Egger is a fitness trainer based in Austria's capital city-Vienna. He often posts photos and videos of his workout routines at the gym as well as hot photos of his insane body, which encourage you to work out to eventually get a body like his! Onome Egger has 708k followers on Instagram and most of his followers are male. He gives useful tips on supplements and interacts with his followers to create content that meets their needs and expectations.
As a matter of fact, these accounts can promote their content using tools such as Instagram bots. Instamber bot is a professionally designed Instagram bot that helps these accounts promote their content and increase their number of real followers.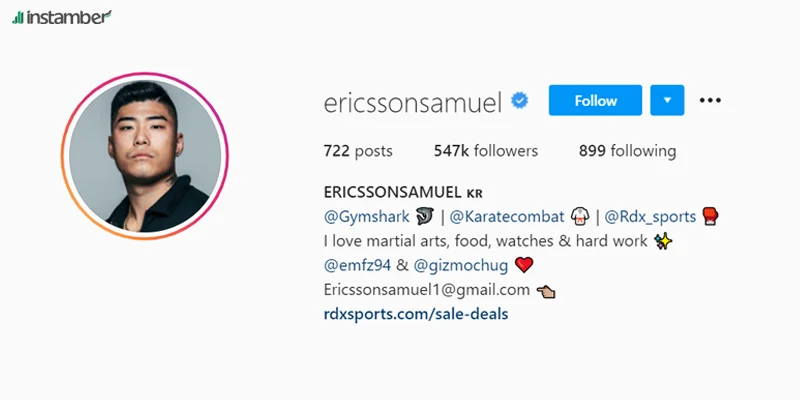 19. Martial artist- Instagram Fitness influencer: Ericsson Samuel
Unlike all the other fitness influencers, trainers, and coaches on our list, Ericsson Samuel is a martial artist. He practices karate and films his workout routines at the gym to encourage his followers to practice martial arts and get familiar with these kinds of sports. He has 537k followers on Instagram and he describes himself as someone who loves food and martial arts and also works hard to attain his goals. Most of Ericcson's Instagram followers are male and the engagement rate of his account is 3.80%.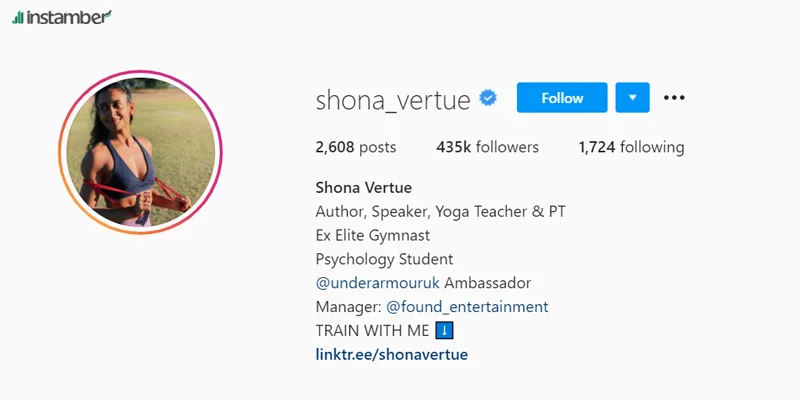 20. Yoga teacher emerges to be among Instagram fitness influencers: Shona Vertue
Shona Vertue is an Australian yoga teacher and a personal trainer with a total of 436k Instagram followers. She posts photos of her body and her healthy meals, and videos of her workout sessions to teach her followers how to work out correctly. Her inspirational posts make you feel better and help you transform into your better self by having a healthier lifestyle. Shona is considered both an Instagram fitness influencer and a Youtuber. She is the author of "The Vertue Method: A Stronger, Fitter, Healthier You in 28 Days", published in 2017.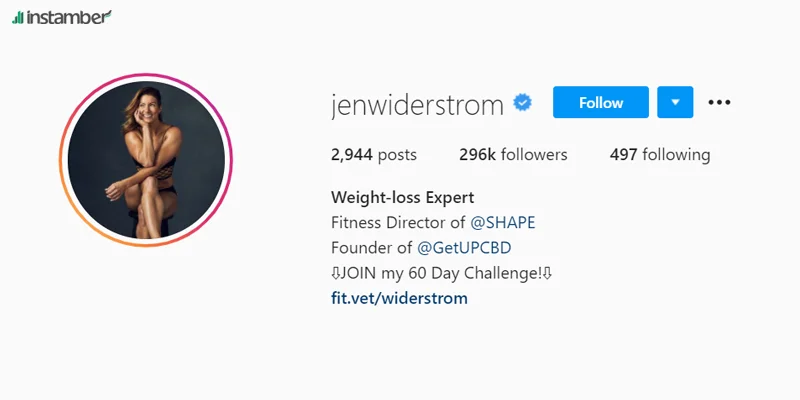 21. American female fitness trainer on Instagram: Jennifer Widerstrom
Jen Widerstrom is a 38-year-old American fitness trainer. Her fitness Instagram account has approximately 300k followers that check out this account to enjoy her inspirational posts and her workout routines. She also promotes a healthy lifestyle and healthy meals on her account to help her followers lead a better life.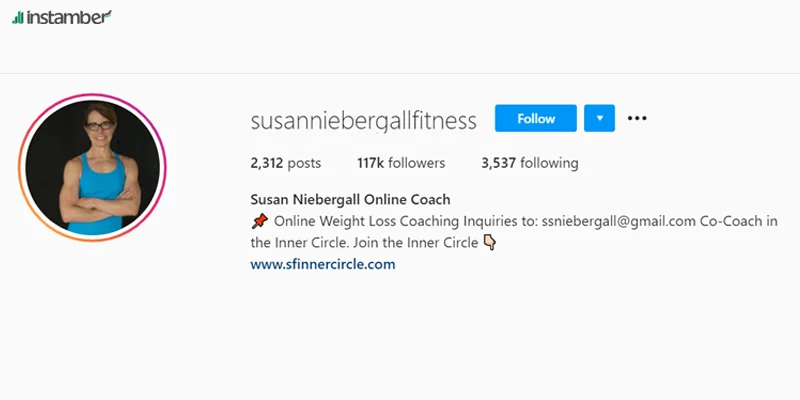 22. Workout trainer among Instagram fitness influencers: Susan Niebergall
Susan is a certified trainer and a mother. She has 115 thousand followers on her fitness Instagram account. Her posts raise awareness of the correct workout routines and moves and encourage you to start working out and changing your life at any age. You can watch videos of Susan working out at the gym along with her other uplifting posts at 'susanniebergallfitness' on Instagram, where she talks to her fans and tries to improve their lives by creating instructive content.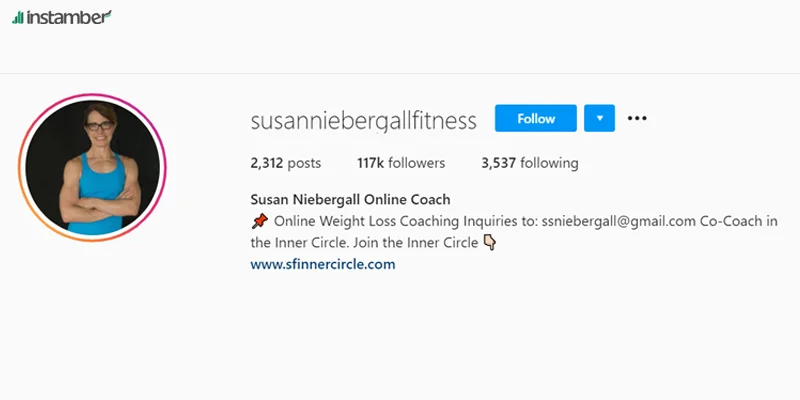 23. Needing a newcomer fitness motivator? Follow young Millie
Millie is another beautiful young woman that is improving people's lives by posting inspirational content on Instagram. She has almost 32k followers and you can find her at mildred523_ on Instagram. Her posts include photos of her fit body posing on the beach as well as videos of her workout routines.
24. Certified Trainer among top Instagram fitness influencers: Lauren Kanski
Lauren is a certified trainer and a member of the Women's Health Magazine advisory board. She has 24k followers on Instagram. She posts photos of herself lifting at the gym or doing other sorts of workouts and moves. Make sure you check out her useful posts to stay inspired and fit.
25. A physical therapist among top Instagram fitness influencers: Laura Miranda
Laura Miranda is a doctor of physical therapy and a certified trainer. She introduces different workouts and moves such as the 1-minute move for the neck and shoulders or the 1-minute move for the back and hips.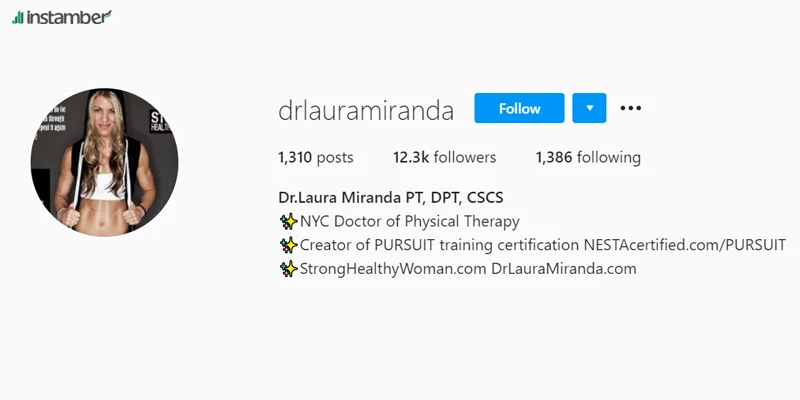 She creates inspirational content to motivate her audience and help them exercise with our without equipment. You can access Laura's content at @drlauramiranda, which is her fitness Instagram account with a total of 12.3k followers.
She is not as popular as other Instagram fitness influencers, but her advices on Instagram seems to attract more attention in the next few months because more & more people are seeking for a professional educated fitness trainer.