Are you among those who want to send Telegram bulk messages? I guess your goal is to send a message to your current customer list or increase your Telegram channel membership. In this article, I will explain everything about sending Telegram bulk messages. But I personally would not recommend this to you. It is your responsibility to choose or not to choose this method.
In this article, I will show you alternative ways to send messages massively. Methods that are both legal and highly targeted.
All about Sending Telegram Bulk Messages
Is it possible to send mass messages on Telegram? I must say, yes and no! You cannot do this through the Telegram program itself. Telegram manufacturers find it contradictory to its goals (Telegram is primarily a private chat program). This is why even if you send a similar message to twenty of your audience, Telegram will close your account.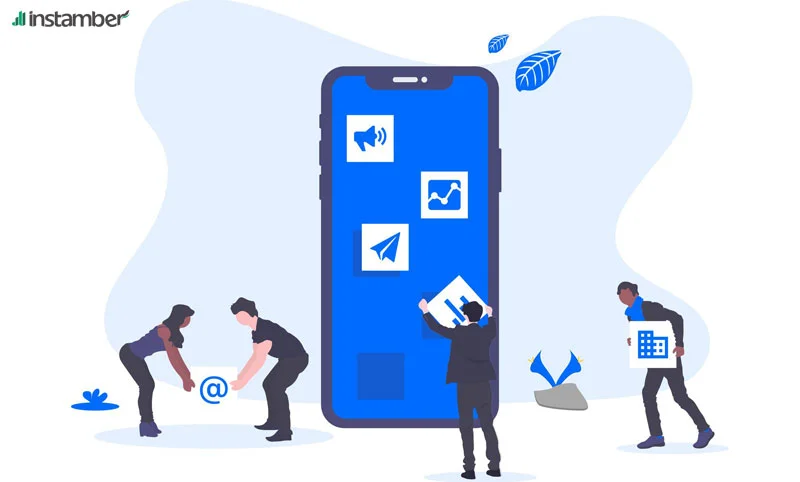 To send mass messages via Telegram, you need to use special software written for this task. But there are some tips about this software that I recommend you pay attention to. First, this software is designed by individuals (not companies) and has no quality assurance or support. Second, this software is not free; their creators often set prices much higher than what the software actually costs.
But we also know a reliable company, the vUser, that has designed a bot, called the Telegram Bulk Message Sender, using which you can send messages to many people, even more than 20 people, without getting restricted or blocked by Telegram. Surprisingly, the bot is not limited to only one account and can message using as many Telegram accounts as you wish.
To send messages on Telegram massively, all you need to do is to give the bot the list of the recipients' mobile numbers or IDs and the text of the message you want to send, and the bot will send the message to each of the numbers or IDs automatically. Finally, it gives you a report on the status of the sent messages so that you can be fully aware of the success or failure of each message.
We recommend that you take a look at the various features it has and compare it with competitors.
How Does Mass Messaging Software Work?
In addition to buying software after a while, you will need to purchase a new issue package. Because these numbers will be blocked shortly and will no longer be usable. This is also a major drawback of free packages; many of its numbers are inactive. By the way, sending a message has a time limit.
Is Sending Telegram Bulk Messages Right?
You are annoying the audience
One thing that is always emphasized in the marketing world is to position yourself as an audience or customer. When you look at it from the customer's point of view, you will find that things are a little different. I'm sure you don't like being annoyed by irrelevant ads that are sent to you all the time. So, why asking for something that is not pleasing to you either?
The Telegram itself strongly opposes bulk messages
The reasons to oppose mass promotions are: Telegram is primarily a private chat software. Groups and channels are reserved for community activities. If a user wishes to receive a message in a particular context, he or she becomes a member of the channel or group.
But getting an advertising message from a stranger's number is by no means a pleasant experience (imagine even the user needs the product which is mentioned in the ad, will he/she easily trust that ad?). Technically speaking, these messages are duplicate data that is sent in high numbers and is actually spam. Why should Telegram help send such messages?
Alternative (and better) Ways to Send Bulk Telegram Messages
Your goal is definitely advertising. But have you ever asked yourself whether this is a targeted marketing method or not? The answer is No. Because you are sending messages to a lot of people that you have no information about. However, audience recognition is one of the most important factors for efficient marketing. On the other hand, the users who receive your message will not trust you because of the non-trustworthy way they interact. Many users report these types of messages as spam.

In this regard, I recommend that you consider more targeted methods of advertising. What do I mean by targeted advertising? Targeted advertising means that you first think about who needs your product or service. Then look for a way to reach and showcase these ads to those people. This increases the chances of your product or service being sold because you have introduced it directly to the people who need it.
Here are some methods that are highly targeted:
Bulk SMS Sending Systems
Do not think that SMS advertising is obsolete. One of the most targeted advertising ways is mass SMS advertising, for example, political campaign text messaging is still very successful. The advantage of bulk SMS systems is that they are targeted. You will purchase an SMS panel based on your needs and send your messages to the bank of content your choice. For example, if your product is a teaching textbook, your ad text message will be sent directly to a large number of students.
Bulk texting is also allowed under the marketing block. You will not disturb the audience and you will only send the message with the user's consent. The user will also respect your brand when they see that you have respected their privacy.
I have provided a sample site as a bulk SMS sender to enable you to send as many advertising SMS as you want. Its price varies based on the country that you live in and it proves to be very efficient.
Email Advertising
Email advertising is also highly targeted. There are various email banks that you can target based on your needs. Of course, the participation rate of this method is lower than the previous one. About 15% to 20% of people open ad emails.
One very efficient email marketing service around the world is MailChimp. You can order the most suitable email advertising package based on your needs.
Social Media Advertising
Telegram and Instagram are the most popular social networks among users. There are different ways to advertise on each of these networks.
Telegram
The most common ways toTelegram advertisings are:
1) Telegram Click Advertising: This is the type of ads, targeted for people looking for real customers. The reason is that in this type of advertising you don't pay for displaying your ads; you pay for every click on your ad link.
2) View and Topical Ads: These types of ads are also well-targeted. Because your ads are shown on channels that have a topic relevant to your ad purpose. Viewing and topical ads help increase the number of members relevant to your field of activity.
3) Top Channel Advertising: This type of ad will help you attract potential customers. This means that there is a chance that a large percentage of the most visited (and very large) channel members will come and join your page.
4) Advertising on the celebrity pages: This method of advertising is a type of marketing called influencer marketing. This method is a little bit like the previous one. But the big advantage is that in a short time you will see the results of your ads.
Instagram
I understand that the title of this article is related to Telegram; nevertheless, I would ask you to consider advertising on Instagram as well. Instagram is a visual platform and advertising will receive more feedback. And finally, there is a context for advertising on Instagram. Celebrity page ads, Instagram sponsored ads, popular channel ads and Instagram bots are some of the most popular ways to advertise on Instagram.
Conclusion
In this article, I tried to dissuade those who want to send mass messages on Telegram. The reason for this is the unprofessionalism of this method. This method of advertising is a type of spam and is not popular with users. Likewise, it is kind of violating individuals' privacy.
So you just waste your time and money by buying bulk messaging software. Instead, there are more legal and targeted ways that will surely get you better. SMS panel advertising is the best alternative to our method. Email advertising and social media advertising are other ways.
Thanks for your feedback!