There are literally more than 1 billion active users on Instagram and this platform is without a doubt one of the best out there.However, this big platform which has attracted billion of users sometimes act weird like when it shows us "Sorry, this page isn't available." error which is kind of annoying.
In this blog, you'll learn the reason why the error shows up as well as some fixes, so keep reading.
Why do I see "Sorry, this page isn't available."?
You may be confused and wondering why would "Sorry, this page isn't available." shows up at all. In fact, messages or errors like this are what we always face on all social media platformssuch as Instagram and they are not something new.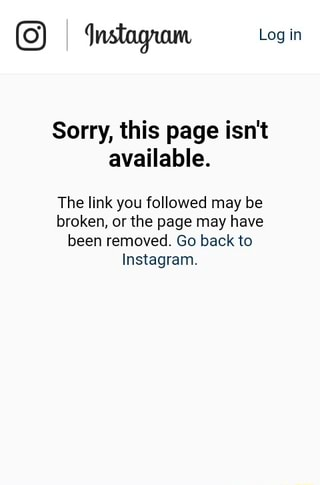 The reason that you see this message popping up is probably one of the following
The user might have blocked you
They have deactivated or deleted their account
Their account has been shadowbanned
Instagram has restricted their account because of not following Instagram regulation
The link has been removed either by Instagram or the user
You might have copied the link from somewhere, but there is a misspelled word
Instagram might be currently down
You are using an old version of the Instagram app
How to fix "Sorry, this page isn't available." on Instagram
First, you need to know if this error is from your end. In such a scenario, you can follow some simple steps that you will learnlater in this blog and fix the error. However, we often see this because the user whom we want to see their content or open up alink to their post, page, etc. has something to do with it. Or maybe this is caused by Instagram itself.
Whatever the reason might be, let's see what we can do and hopefully get rid of this error.
1. Double-check the link
If you copy or get a link from somewhere, maybe from another social media platform or a website make sure there are not any misspelled words.
So if there is a misspelled word or perhaps the link you get from somewhere has not been copied correctly then you will see the "Sorry, this page isn't available." error occurs. This also hashappened to me a few times and it might have happened to you as well.
2. Check if the user has deactivated or maybe deleted their account
Another reason that can cause the "Sorry, this page isn't available." error to appear is that the owner of a page or profile has deactivated or deleted his or her account. In such a case, you can't open up their page, and consequently, you will see the error pops up.
Keep in mind that you don't necessarily need to open a page to be faced with that error. Also if you try to open a link that issupposed to send you to maybe someone's page, content, or whatever, you can end up with the error as well if they have deactivated their account.
To know if someone has deactivated their account, you can do one of the following steps:
• Search their name with another account
• If you have only one account, ask a friend or a family member to search for their name
• Open a browser and type instagram.com/ and then theirInstagram account name
3. Find out if the owner has blocked you
Unfortunately, if someone blocks you on Instagram, you can't open up any photos, posts, links, etc. related to them or their page. What happens in such a scenario is almost similar to when someone has deactivated their account and as a result, you will see the same error which is "Sorry, this page isn't available."
You can also follow the steps from the previous section and know if someone has blocked you. So if you do all the processes which are very simple and you could see their profile in the end, it means they have blocked you.
4. The owner of the page or link has been shadowbanned
Sometimes a user may not follow Instagram rules and regulations, and what happens then is that their account becomessomething known as shadowban.
When that happens to an account, the content of the account might become limited and they will be shown to fewer users. In some cases, their content will not reach other users at all and when users try to open their link, post, page, and so on, the error "Sorry,…" will occur.
When this happens to an account, Instagram might remove the shadowban after a few days or weeks. So if you are very eager to open a page, link, or whatever you need to wait and check again later.
5. Check if Instagram is down
Sometimes you might see the error because there is something wrong with Instagram itself or its servers. There is actually nothing you can do when the problem is on the Instagram end. You can only wait and their engineers will fix the servers as soon as possible. That won't take more than a few hours or at most a day.
To make sure if Instagram is down you can do the following:
• Open your browser and type downdetector.com/status/instagram/
• You can read comments about the recent issues with Instagram
• Also, there is a chart that shows the problems with Instagram that users have reported in the last 24 hours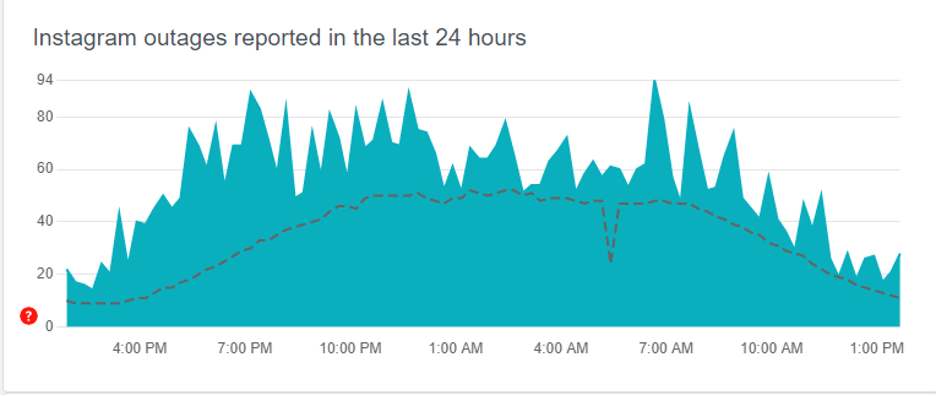 6. Update your Instagram app to the latest version
There might be a glitch in the app that causes the error to appear. So in this case simply update your app and the error will hopefully go away. If that doesn't work you can also consider uninstalling and installing the app.
In order to update the app do the following:
Go to Google Play or App Store
Search for Instagram and once it appears tap Update
If there is an update available do update the app
After the update is finished check if the error goes away