There are times when you may not be able to use your Instagram camera and this can be so frustrating. Of course, I'm talking about when you have already given permission to Instagram to have access to your camera, microphone, and so on. So what the heck is the problem, why can't we have access to the camera, or in other words why the camera is not working?
In this article, you will learn about this issue and hopefully fix your problem too.
Why my Instagram Camera Not Working?
There are a number of reason why your Instagram camera not working on story. The main reason can be access limitation or Instagram's bugs. Here are the main reasons:
#Instagram is down
Once a number of users report that Instagram camera is not working, we assume this is an issue from Instagram itself. So, it's better to check if Instagram is down using online tools such as downdetector.com
If there is something wrong with Instagram, it shows an upward trend on the chart.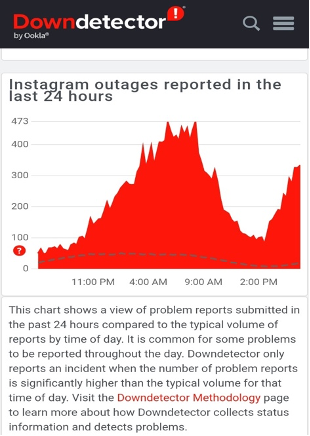 #You have limited the access to camera
Now open your apps and see if the camera is working or not. Also, if the app asks for your permission, make sure to accept.
# Your Instagram app is not up-to-date
To better use all Instagram features, it's highly recommended keep your Instagram app updated. So, if you are using smart phones for long time you probably know how to update it on App Store (iOS users) or Google Play (Android users).
#Some caches are stored on your app
Clearing the cache can fix many problems including this one as well. Sometimes data related to an app like Instagram pile up to such an extent that there is no storage left and when this happens the app stops working properly
So if the reason that your camera is not working correctly has anything to do with the cache, clearing it can simply fix the problem. If you don't know how to do it follow the steps below. The first few steps are the same as the previous one.
First, open the setting on your cellphone.
Scroll down and find Apps, then tap it.
Find Instagram and click it.
Here you can see a few options, this time tap Storage
Go on and tap Clear Data.
This time tap Clear Cache
It's better to restart your device before opening your Instagram.
There is a great chance that your problem may go away. However, if the camera still is not working properly, then consider updating the app.
How to fix Instagram camera not working?
Here are the best solutions to fix Instagram camera not working
1. Wait for a couple of hours
If Instagram server has some issues, it takes a couple of hours or days to get fixed by Instagram itself. So, you cannot do anything more, just wait for it.
You can check the status on online tools again, to make sure Instagram app is working well.
2. Check your camera permission
First, open the setting on your cellphone.
Scroll down and find Apps, then tap it.
You'll see a list of all the installed apps, scroll down until you find Instagram and tap it.
After that you'll be faced with a few options, find Permissions and click it.
Now if the camera is not enabled go ahead and tap it so that it gets enabled.
Here, you will be able to see other options like phone, contacts, and so on. If you want those options to be enabled on Instagram, then enable them all.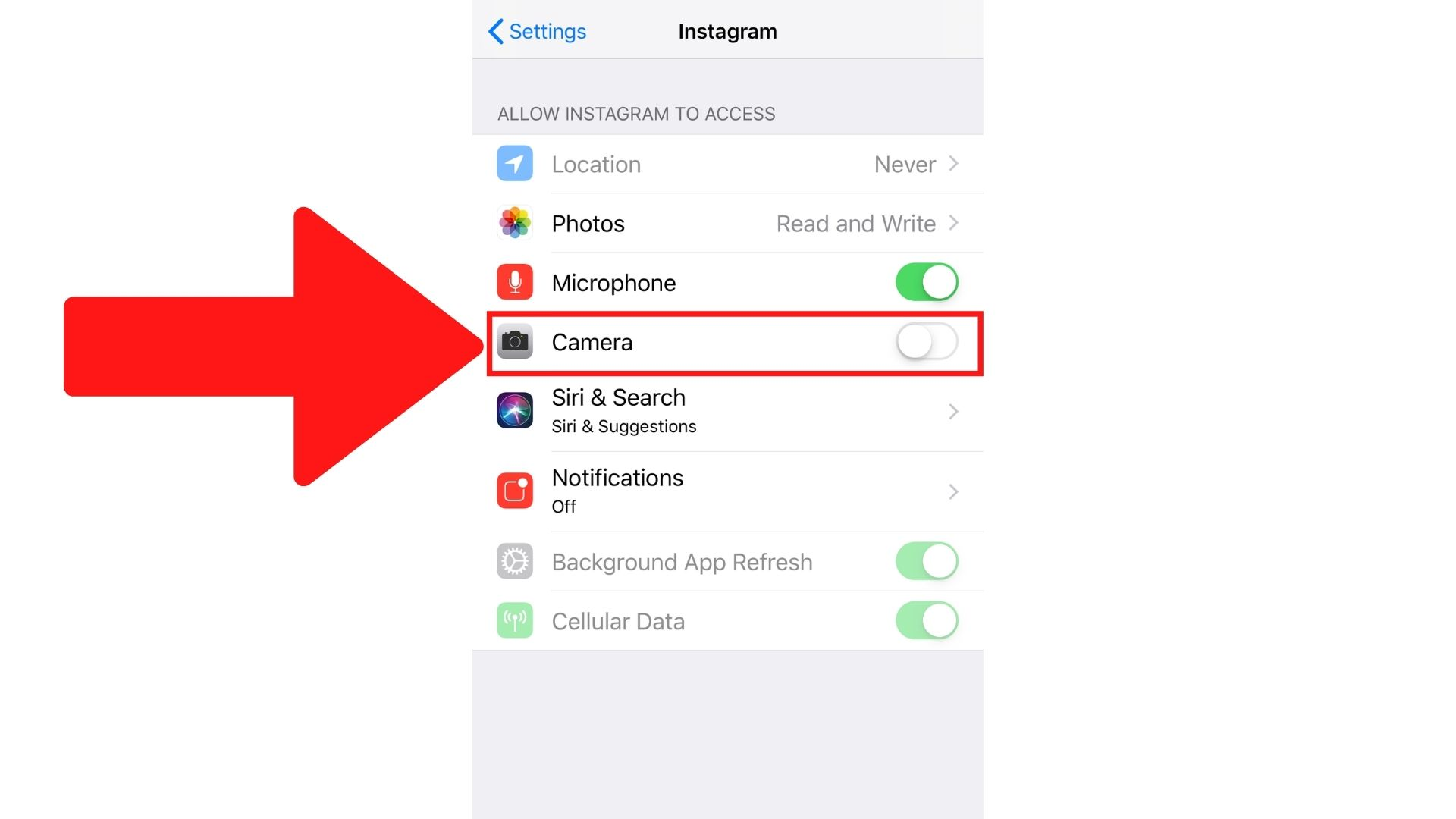 3. Update the Instagram app
Sometimes you apply all the solutions, but the problem is still there. In many cases like this simply update the app and see if the problem goes away.
Sometimes there will be a bug or something that may be fixed after a few updates. As I'm writing this article I myself have come up with a problem that even updating the app did not help me. Believe me, I checked another person's Instagram and he also has the same problem. What I'm trying to say is that sometimes some bugs or problems may stay in the app for a while and only after a few updates they may get fixed.
So if you have any issues be patient, because they will be fixed soon.
4. Uninstall and reinstall the app
Sometimes deleting the app and then installing it, especially if updating does not work can fix the problem.
I'm sure you already know how to do this, so I'm not going to explain this one. Just do this method if neither of the solutions above worked.
5. Reset your device
You may want to reset your device to factory settings, especially if the camera is not working in other apps as well. Only do this if the problem did not go away, even after a few updates.
There is probably an issue that only gets fixed through this method. If you don't know how to do this follow the steps below.
Open the Settings.
Click on System.
Choose Reset Options
Click Reset all settings (WARNING: this will erase all your settings).
Conclusion
There is nothing more frustrating than having problems with the Instagram camera. However, this is not an unsolvable issue, and in this article, I've provided some useful information that you can use and hopefully fix the issue.
Just know that if your camera is working properly aside from Instagram, then after a few updates the issue will be gone and you'll be able to use the Instagram app properly. However, if you updated the app for few times, let's say in a month, and the problem is still there, then perform a factory reset on your device.
Thanks for your feedback!