Although TikTok is a very recent phenomenon in the history of the world social media, it trends hugely. Especially, among teenagers and the youth. On the other hand, trending is a tough job on TikTok for an account, particularly, new joiners and new businesses. However, it is really easier for accounts that are popular on other platforms, such as Instagram and Twitter. So, when they switch to TikTok they will bring all the fans and followers on that platform too.
According to the mentioned facts, making a second account on TikTok is the solution. It was believed that it was not possible to do that, but TikTok made it possible and without installing a third application as a mediator. So, in the rest of the article, we instruct how to make a second account on TikTok.
By the way, it is also so great to have two or more accounts, for example, one for a business account and one for the personal and fun stuff.
TikTok Multiple Account Limit is 3
You can create and have up to 3 TikTok accounts on the same device. The limit used to be 5, but it's not anymore. The only way to exceed the number and have more TikTok accounts is by having additional devices.
You can also use your TikTok on PC, and for each browser you have have 2 different account (one in private browser).
Important: According to the app's Community Guideline, you should NOT "Operate multiple TikTok accounts under false or fraudulent pretenses to distribute commercial spam."
So, if you have more than one TikTok profile on your device, ensure you're not engaged in spammy activities, such as liking your own content. Otherwise, you might face a ban or suspension.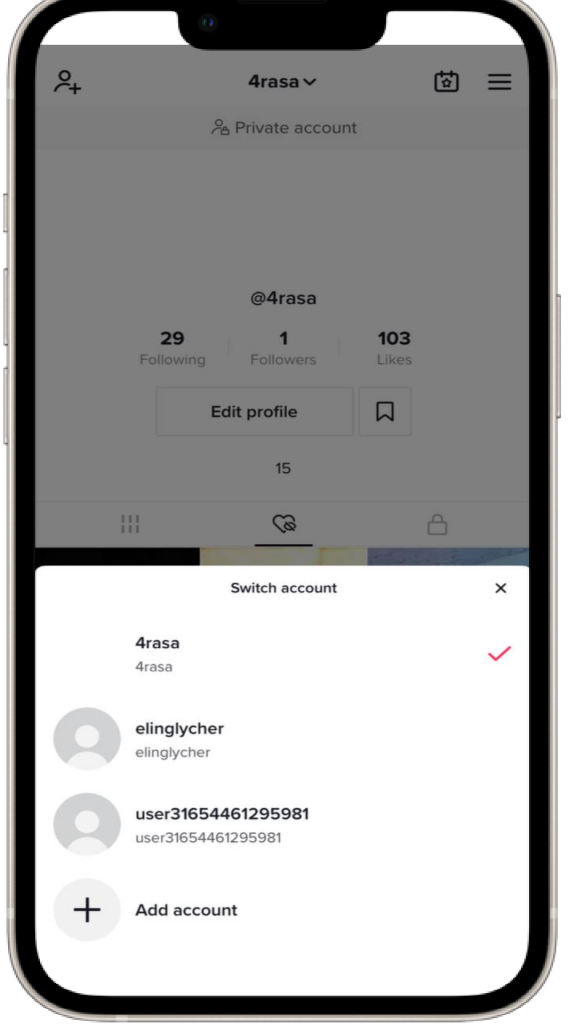 How to make a new TikTok account with the same phone number?
You can have a second TikTok account using your TikTok app. The first thing that you must bear in mind is downloading and installing the latest version of TikTok on the app store or Google play to be able to create multiple TikTok accounts.
To add another account on TikTok:
Log in to your TikTok app by entering the username and password

Tap "Profile" on the right bottom corner.
Tap your username and select "Add account"
Tap "Sign up" and continue the on-screen instruction
Note: If you don't see the dropdown menu or cannot find it, head to your settings. (It's accessible via the three-dot menu on the top-right corner of the 'Me' section). Scroll down till you see an option that says 'Add account.' Tap it and then follow the previous instructions.
One other reason that users, especially popular users, are inclined to have more than one account is the possibility of getting hacked or omitted. So, they create a second account to protect their existing account followers.
While you made the second TikTok account, you can switch between them by tapping your username.
Having a TikTok account, in other words, the first one is pretty easy; you just need to download the app on your phone and start signing up via your email, phone number, or any other social media account. No matter which way you select, the important point is remembering it for the rest of the process. Then complete the verification part by pasting the code provided by TikTok to enter on the verification box, and confirm yourself as a human.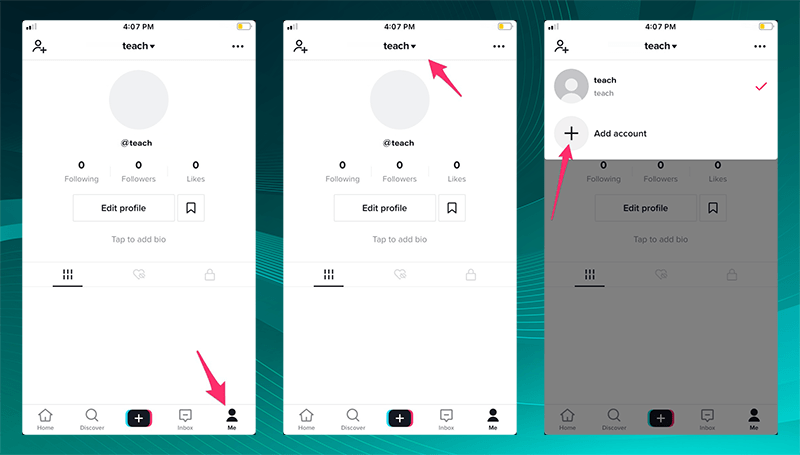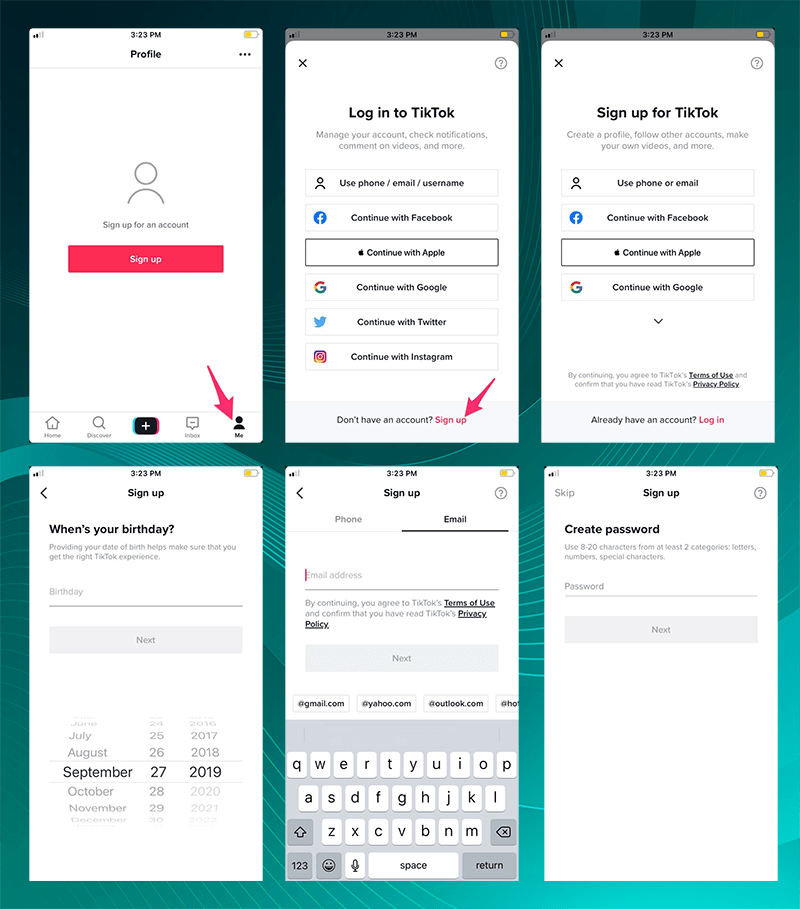 How to login to other TikTok accounts?
As the first step, you need to log in to your first TikTok account and save the login information to automate the process for later logins.
Click on the icon in the top right of your TikTok home. Then tap on your account name and click on the + icon to add the other accounts.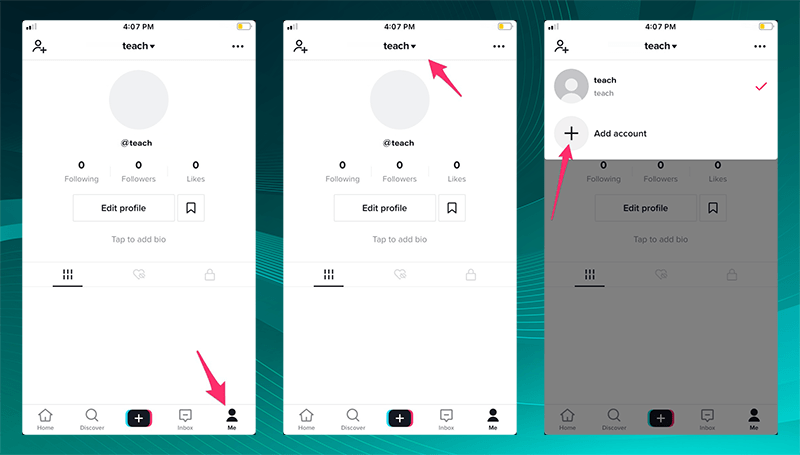 Other steps are the same as signing up for the first time, keep in mind to enter a different email address or number.
The good news is that you can have five different TikTok accounts (at the moment) on one device, each of them with different email addresses. The above-mentioned fact applies to business accounts and if you have ordinary accounts, you are going to need multiple devices.
After making your account, it is so simple to switch between accounts. Launch the program and click on your account name then choose between accounts.
How to make a third account?
Creating your 3rd account is similar to making the second one. You go to the 'Me' section, tap the dropdown, and select 'Add account,' which has a + icon next to it. Then you choose your log-in method or sign up for a new profile.
Note that your third account on TikTok is the last additional profile you can have on your device.
How to have multiple TikTok accounts on PC?
unless mobile app, you can't create multiple accounts on PC. If you want to login to your accounts you should use different browsers, or install app player such as Blue Stacks app.
Is it bad to have multiple TikTok accounts?
Well as I said before you can have up to 3 TT accounts on the same device. However, you can have as many accounts as you want so long as you have multiple devices and various emails to create your TT account with. But all in all, it's a bad idea to have multiple TT accounts and I'll tell you why it is bad.
If you really need more than one TT account for example let's say 2 and you need one of them for your business then that is a good idea. However, some users think that if they have multiple accounts they can engage with themselves and grow on TT, but this is not true.
Also, when you have multiple accounts for whatever reasons, especially on only one device, this is extremely against the rules of TT. So if you have multiple accounts and switch between them, TT will know this and there is a high risk of shadowban and TT will finally block you without any doubt.
If you have multiple accounts or you are thinking about making multiple accounts, you should stop. They are clever and they know exactly what you are doing, they're watching you!
Long story short, having multiple accounts will do more harm than good.
How to make a joint TikTok account with your friends?
Unfortunately, it is not possible to make a joint account on TT, however, it is possible to make a TT joint video with your friends. Here I will show you how you can do that.
Open your TT and find the video you want to make a joint with.
At bottom of the sidebar menu in the right-hand corner tap Share icon which looks like an arrow.
At the bottom of the "Share to" menu tap Duet.
Now at the bottom of your screen tap the red button and start to record your video.
Your video will pop up on the left side of the screen, and your friend's video will pop up on the right side of the screen.
When your recording is done, go ahead and tap the checkmark icon to the right of the recording icon.
You can add any text or sticker that you want and after that, you can simply post your joint video.
TikTok multiple accounts shadowban
Having multiple accounts is a big red flag for TT. So if you have multiple accounts, stop that immediately if you don't want to be shadow banned or even blocked. Aside from the shadow ban, this will stop you from growing on TT.
How to make a new TikTok account?
Crating a TikTok account is so easy. I'll walk you through some steps and show you how to create one. So let's jump right into it.
Open your TT and hit Sign up.
Now you have four different options that you can create your TT account.
Go ahead and hit Use phone or email.
Now choose your date of birth and hit Next.
Here you have again two options. You can either sign up through a phone number or you can sign up with your phone number.
So for this tutorial, I'll choose Email.
Now type in your email address and hit next.
Here the app will ask for a password go ahead and choose a strong password and hit next.
Now you need to Create a username for your account and then hit Sign up.
How to switch accounts on TikTok without logging out?
Switching between accounts on TT is so simple and you can do it with ease. Just follow the steps below.
Open your TT and at the bottom right-hand corner tap the profile icon.
On the top of your screen tap your profile name.
Then tap + Add account.
At the bottom of the screen go ahead and tap Log in.
Tap the first option which says Use phone/ email/ username.
Then you can choose either your email address or your phone.
Choose Email and type your email address and then type your password.
Then simply tap Log in.
You have successfully added two of your TT accounts and you can switch between them.
Now if you tap your profile on the top of the screen, a window or menu will pop up and you will see both of the accounts that you've added.
You can simply tap either account that you want to use. If you want to switch between them just go over the same process and choose another account. You can add up to 3 accounts.
There is also another way you can switch between accounts. To do this follow the steps below.
Open your profile, and on the upper right-hand corner tap the three-dot icon.
Scroll all the way down to where it says Switch account and tap it.
Now you can see the accounts that you have added.
How to switch accounts on TikTok PC?
Unfortunately, it's not possible to switch between TT accounts on a PC. I have tested that myself and there weren't any possible options. So if you want to switch between accounts, you can only do that with your phone and through the two methods that I've shown you. After all, TT is made to be used on our phones.
However, if you want to know how to sign up from a PC or laptop I'll show you that.
Open a browser on your device. It doesn't matter what browsers you choose, any browser will do the job.
Go ahead and type tiktok.com.
On the top of the screen, tap Log in.
Now a window will up pop up, go on and click Sign up
Now click Use phone or email.
After that, you need to enter your birthday like what you see in the photo.
You also need to enter either your phone number or email address.
So enter your email address and then choose a password for your account.
Then click Send code.
After you've done that, a 6-digit code will be sent to you, so go ahead and type that in and click next.
Now it's to create a username. You can simply click skip and choose a username later.
After you've created a username click Sign up.
Your account is created and ready!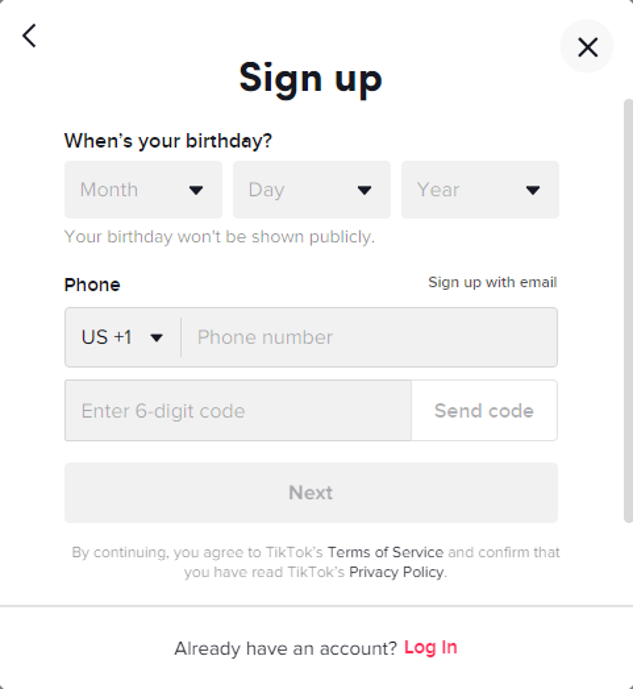 What Happens When You Have Multiple Accounts on One Device?
TikTok changes your status to 'Business Account.' That grants you additional features such as detailed insight into your audience. However, some suggest that it deprioritizes your profile because the app wants the business profiles to promote their content. So, the worst-case scenario is that having more than one account on a device might decrease your views or engagement rate.
How to Skip Phone Number or Email when Signing Up on TikTok
The only way to make a TikTok account without a phone number or email is by signing up via your Facebook, Twitter, or Instagram.
But remember, you'll need to connect a phone number to your profile later on. Otherwise, you might not be able to chat with users who follow you.
Making Another TikTok Account with the Same Email or Phone Number
Each email address or phone number can be connected to one account only. So, you cannot use the same address or number in multiple profiles. The only workaround is to sign up with another social media account (e.g., Twitter or Facebook) created with the same email address/number.
Let's assume you've used your Gmail to create a TikTok account. But you want to use the same address to sign up again and have a new profile. In that case, you can create a Facebook/Twitter account with that email address and use it to sign up on TikTok. This method technically allows you to associate one email or phone to multiple profiles.
Another way is to remove your contact information from the previous account so you can use them to create a new one. Head to your profile (the 'Me' section) and go to 'Settings.' Tap 'Menage Account' and select 'Email' or 'Phone' to edit your info. After removing them from the current profile, you can use the same email or number to create another TikTok account.
Have you ever wondered how to grow your TikTok account like a professional influencer?
After all, whether you have one TikTok account or multiple ones, you want to improve them and make them popular so that your business can grow as well.
To develop your TikTok account, do not miss the facade of your account including your profile, profile image, great introduction, and account theme. It is also necessary to produce splendid content and deploy trending hashtags. To absorb followers, it is good to follow the people who are interested in your business industry.
All the above methods are applicable and useful, however, following and liking are time-consuming, so you can outsource the whole package. One way to do the actions automatically is by hiring TikTok bots. For instance, the Instamber TikTok bot is the safest and the most powerful bot to help you speed up the process of adding followers and hearts.
It has different features and it is so simple to work with it, by setting the required items of usernames and hashtags. The bot itself intelligently follow-unfollows and likes the relevant and selected account.