Everyone in his life has been at least 100 times online or offline. Oh, How Instagram can be dangerous.
The ability to recognize Instagram's online status has been added to this app. By this feature, there will be no need to tell lie to your audience about how much time you are online. Because they can see the last time that you used Instagram easily. Of course, if you haven't changed your Instagram settings. In this article, we will tell you how to detect the Instagram online presence and above all how to hide it.
Can I see who is online on Instagram when they have turned off the activity status?
You cannot directly see if someone is online on Instagram using Instagram app, if you turn off the activity status. If they are online a green dot will be beside their profile picture. Make sure you have turned on your status, to see others if they are online.
However, there are some other ways to see if someone is active on Instagram. For example, their stories, posts, or replies. The fastest and best way to see online status on Instagram is to share a public story. Instagram will show you the viewers instantly which is a sign those are online.
How to see if someone is active on Instagram?
This new Instagram feature only works for users who use the latest version of Instagram. So the first step to see who is online on Instagram is updating Instagram app. Now that you've updated your Instagram, go to your directories. You can see the online status of the users that you talked to and the last time that they have been online. In some versions of Instagram, you may also see a green light next to the names of people who are online.
But what do these numbers and characters mean?
"Active 23m ago" = the last online status was 23 minutes ago
"Active 1h ago" = the last online status was 1 hour ago
"Active now" = the user is online now
The major point of this issue is to differentiate the last online status and the time of the last message. As shown in the image below, the "Active" word is not written below the user's photo and the 5h statement does not display the last time of being online. But it means that the last message was exchanged 5 hours ago. In fact, it's not possible to recognize the online presence of Instagram about this person. In the next section, we will tell you why some people's information in your Instagram direct message part is displayed in this form.
Use Instagram Online Checker App
There is also another way to see who is online on Instagram. Even when users disable their activity status you can still know if they are online or you can know the exact time when they were online last time.
InstaOnline App (For Android Users)
What I'm going to introduce you here is an app called "InstaOnline Last Seen Activity Tracker". Isn't it awesome to know when the last time your girlfriend or boyfriend was online!? Or even better, to know whenever they are online is really great!
So this app can really help you to know about the last seen of your Instagram friends. The app really works, so make sure to download this it, cos it is awesome! The only problem that the app has is that all its features won't work unless you go premium.
This app is also excellent for parents who are concerned about their children. Through the app, they can analyze their children's last seen activities. You can download the app from Google Play or elsewhere.
I'm going to show you how to use the app step by step.
After you've downloaded the app on Google Play, go on and open it.
It will ask for your Instagram username, so write it down.
Then tap on continue right below your username.
A new window will pop up and you will see the list of your following as well as the list of your followers.
Some other features will also appear, but they only work when you go premium. The app won't even ask for your password which is good.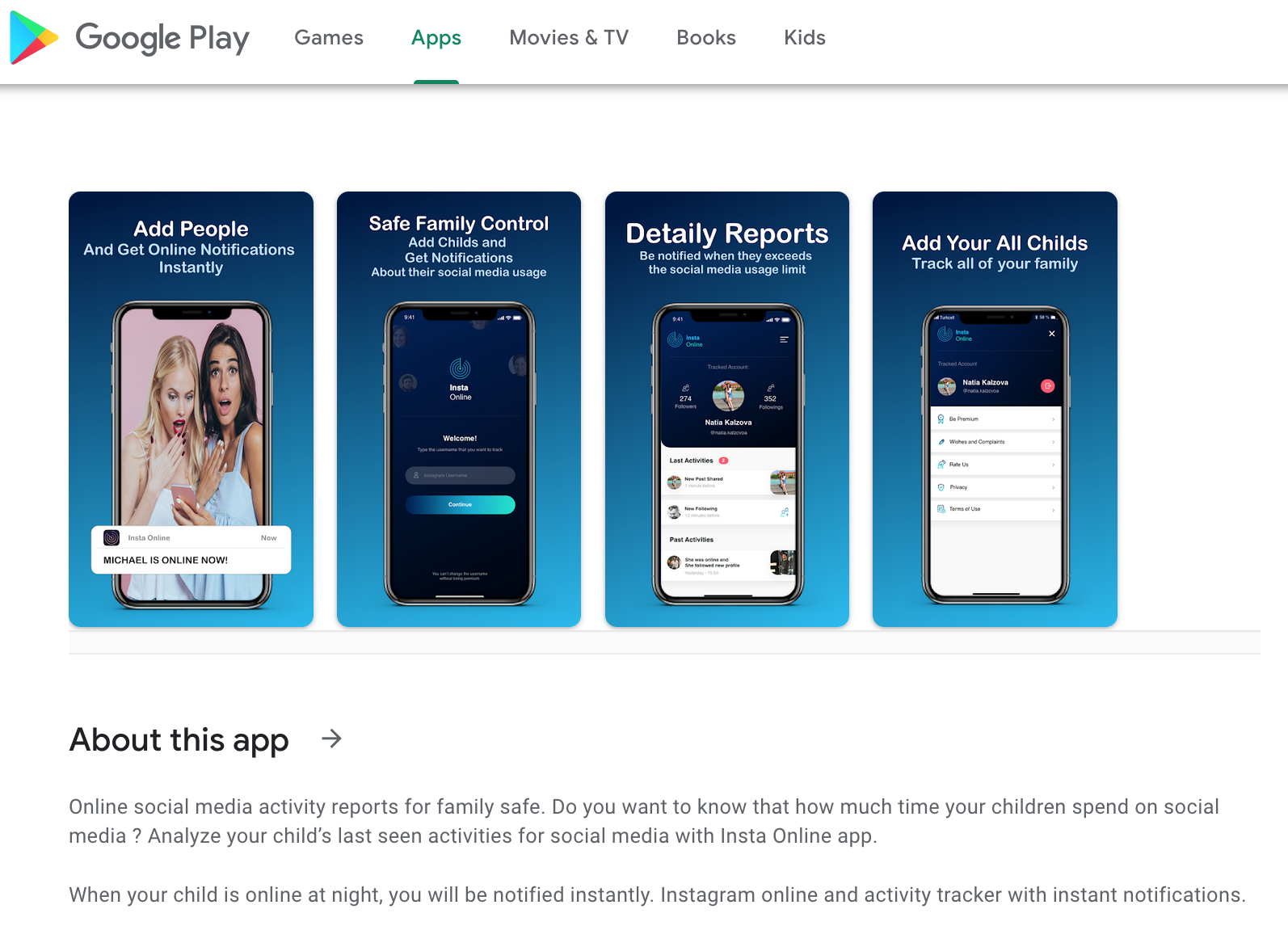 How to hide online status on Instagram
Maybe you're one of those people who have no desire to get around others! Such people are not interested in the fact that somebody is interfering in them too. Of course, recognizing the online status on Instagram should not be important for everyone. There are many who do not like to show their online and offline hours to Instagram for others. For this reason, Instagram has prepared a simple solution for you: hide Instagram's online status.
If the last Instagram visit status of the user is not displayed to you, that user has disabled the option to show the online presence on Instagram. If you want to do so follow the steps below:
1- Go to Instagram settings
First, click on 3 points icon and go to Instagram settings. In this section, you can hide your last online presence status. Keep in mind that in settings, you can control all part of Instagram and change every setting upon your personal opinions. Instagram settings at first glance, may seem complicated. But if you once and forever know what each option does, it will make your Instagram looks the best. I had a friendship that after two years of being part of Instagram, he had just realized that he could filter out comments from the Instagram settings section from dirty words. I suggest you read our Instagram settings article to find out everything about Instagram settings.
2- Select Activity Status
Under the privacy and security section, choose activity status. The activity status tells people if you're active or not on Instagram.
3- Turn off Show Activity Status
When you turn this option off, it's no longer possible for each of your followers to find out your online presence status on Instagram. Notice that if you hide your online presence, Instagram will hide other's online status from you too. If you turn off this option, you can no longer find out who is online on Instagram.
How to View Instagram Anonymously?
Do you like to watch Instagram stories but don't want people to know that you're stalking them? Well, have we got the app for you! Introducing Instagram Anonymous Story Viewer. This site allows you to view Instagram stories without anyone knowing that you're watching them. It's a great way to keep tabs on your competition or just see what your friends are up to without revealing yourself.
For business owners, it's now possible to also buy Instagram reach and profile visits. Because of tight social marketing competition, brands take advantage of these services from dedicated platforms. Increasing your Instagram profile visits provide several business benefits. It can help boost the number of your followers and brand awareness.
Buying Instagram post reach is relatively easy by selecting the quantity, target country, and the Instagram post's URL on the store's checkout page or online form provided. For instance, you can buy 100 profile visits as low as US$2 with your data encrypted for privacy and security purposes.
There are numerous websites where you can purchase Instagram reach and profile visits. Interested buyers just need to ensure that they're dealing with a reputable platform.
To get the most of your money's worth, read reviews and check your prospective Instagram reach generator or story viewer ratings. If you know some trusted people who have used the service, ask about their experience and recommendations. In addition, read the platform's inclusive services, guarantees, and terms of the platform. Many dedicated sellers even offer a money-back guarantee or refund for unsatisfied clients.
My suggestion; the author
The author suggests that instead of following up the online presence or offline status of others, let's do a useful job on Instagram. Let's focus on your own page and try to increase your followers with your specific contents. If we want to be honest with ourselves, there are many clowns on Instagram and try to be a millionaire. Also, there are many genius people with open minds that try to be popular and wealthy by offering a unique idea.
But I'm not talking to these people. I'm talking to those who are similar to me. The people who love to be popular on Instagram and earn money but don't know how to achieve this goal on Instagram. I highly suggest you make a plan for your life and business. Believe me, recognizing the online presence of others is not really important. But it's very important to understand how a successful person acts. Spend some time for yourselves and read this amazing article.
Thanks for your feedback!