If you think your TikTok is down or you are having some issue with the app, there is one way to know for sure if TikTok is down or not.
So if you think you are one of the unlucky users, this actually is not true. Sometimes TikTok serve is down or maybe there is a glitch in the app or some other similar problems. As a result, you'll have some issues with the app. For example, you may not be able to like a video, or when you try to get into your TikTok, a message will pop up saying you're banned from the servers.
Five primary reasons cause most TikTok app crashes:
Regional issues
Update issues
Connectivity issues
Ache and storage problems
Global server issues
But knowing that doesn't help. And it's always frustrating when your TikTok is not working, and you're receiving weird errors like "No network connection" for no reason.
You want a permanent fix that gets you rid of all the stupid TT errors. And the good news is that we got you.
The following are five reasons why your app crashes and how to fix them.
#1. You Are Using TikTok in a Banned Region.
TikTok is inaccessible in certain countries like India and Afghanistan. So, your TT app might not work because you're in a restricted region.
How to solve the issue:
Using a VPN and changing your IP can solve the region issue on the TikTok app. However, you might have to clear the app's cache, uninstall it, and then reinstall it while your phone is in Airplane Mode—because TikTok tracks your region using both your IP and your Sim Card information.
#2. Your TikTok App is Outdated.
If you keep skipping the new updates, you'll eventually end up with an outdated application that constantly crashes.
Note that your phone's OS version might also cause TikTok to stop working. So, you want to keep both updated.
How to solve the issue:
Go to App Store or Google Play and search for TikTok. Tap the update button and allow reinstallation if necessary. If your TikTok is still not working after the update, try upgrading your phone's OS. (Go to Settings > General, then tap Software Update).
#3. Your Internet Connection Is Unstable.
Most of the time, your TikTok is not working because your Wi-Fi connection is poor. TT requires an above-average bandwidth to operate since the content is all in video format. So, you might want to switch to a better internet provider or use your phone's data.
Poor internet connection causes the following problems in TikTok:
– "No internet connection" error.
– Videos are not loading.
– Videos are not uploading.
– Login issues.
– And poor video playback quality.
How to solve the issue:
Asthe TikTok support team suggests, your best bet is switching to a 4G or 5G data connection to solve the connectivity issues. You could also try force-stopping other apps that use your data in the background to make the most of your bandwidth.
#4. You're Running Out of Space on Your Phone.
The TikTok app takes up 500 Mb on your device. So, it might stop working when you're running out of space. As a rule, leaving 1-2 gigabytes of free space on your phone is best to reduce crashes. But you could also try cleaning some apps' cache or storage data to free up space.
How to solve the issue:
On an iPhone, open the TikTok app, go to the Me tab and tap the three dots on the top-right corner. Scroll down to locate the option that says "Clear Cache" and tap it. If you're an Android user, go to your phone's settings, select apps, find TikTok, tap Storage, and then Clear Cache.
#5. TikTok Servers Are Down.
Sometimes, your TikTok is not working simply because of a global issue. If that's the case, you can't do anything specific to fix it, and it's best to wait for the developers to resolve the issue.
How to solve the issue:
You can check the official Twitter account of TikTok to keep up with the news and find out when the issue will be fixed.
If All Else Failed, Report a Problem to TikTok
If you've tried all the fixed and you're TT app is still not working, report the issue to the developers and ask for a review.
Using the app, go to the Me tab, select the three dots on the top-right corner and then choose "Report a Problem." You should select one of the options and provide the support team with additional information before troubleshooting the bug.
For more info on how to report your issues, check out the official troubleshooting guide on TikTok.
Is TikTok Down?
These are a few problems I've touched upon. So your problem may be something completely different, but the root of the problem is all the same.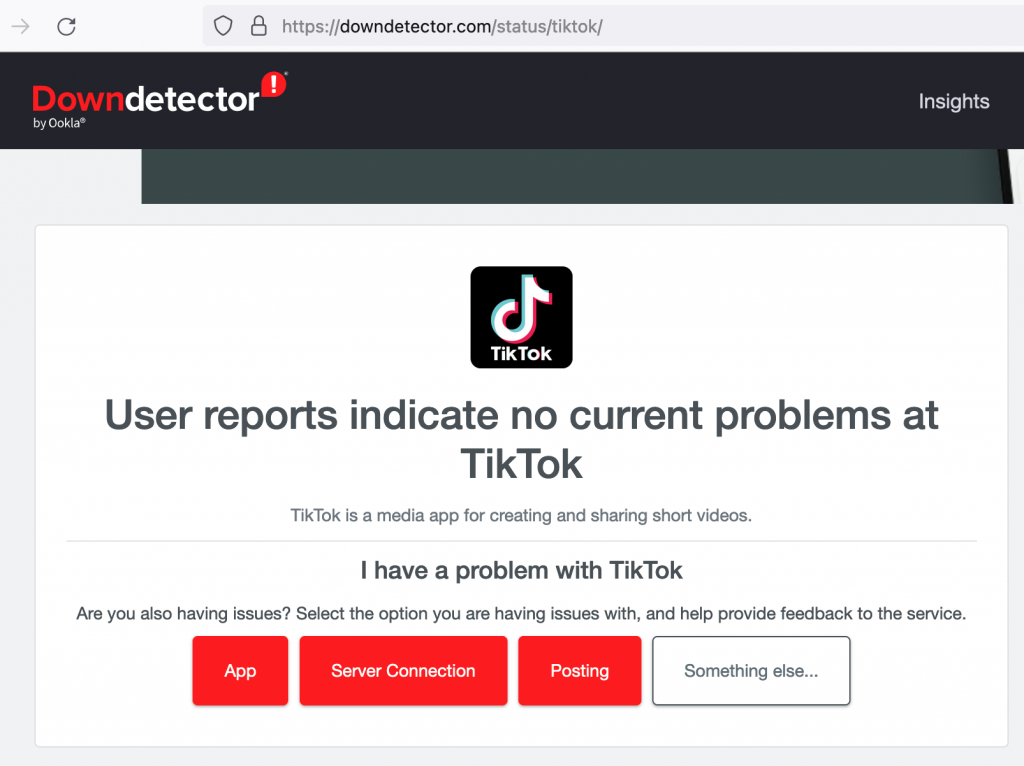 How to know if TikTok is down?
Here I'll show you a great website that you can check and know for sure if TikTok is down. Not only you can use this website to know if TikTok is down, but you can also check different social media like Instagram through this website and see if that is down as well.
Follow the step below.
On your browser type downdetector.com/status/tiktok/ and tap enter.
Once you are on the website at the top of the screen, based on users' reports you can see if there is a problem at TikTok or not.
So as you see in the photo, currently, there is no problem.
If you scroll a little bit further down you'll also find some good information.
In this chart, you can see different times of the day when the problems are reported. When there is a highly significant amount of reports the dashed line you see on the graph is also higher than the baseline.
I took this photo around 5 p.m. So as you see the dashed line on the graph is not high around this time which means TikTok is not down at this time either.
A little down further you can also see the most reported problems with their percent. You can also report your problem and hopefully, they check the problem and fix it.
As you see the problem related to server connection is 52% which is the highest. The problem with the App and Posting is 31% and 17% accordingly.
Bottom line
If next time you see there is a problem with TikTok, don't freak out. In most cases, TikTok is down and that will be fixed in no time.
Also, there are different apps and websites you can use to know if TikTok is down. However, in this article, I've shown you one of the best that you can use to know if TikTok is down. Thank you for reading this article and hope you have found it useful.