TikTok gives you several options to limit the comments on your videos. You can allow only certain people to leave a comment on your content, filter the opinions by keywords, or turn them off completely.
Here, you learn everything about limiting comments on your TikTok videos and live streams.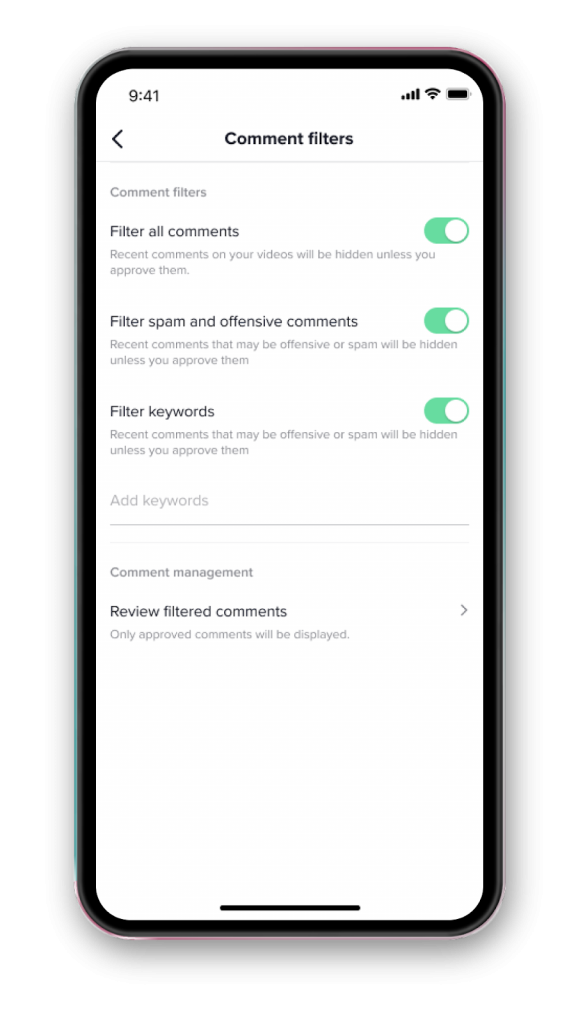 TikTok's Default Comment Limitations
The TikTok app has built-in features to protect you from harmful, threatening, spammy, and bullying-oriented comments. So, ensure to keep all the default settings on if safety is a concern.
Spam and offensive content filter.
If you go to the Privacy settings on your account, you'll see the 'Comment filter' option. By default, it's set to "Automatically hide comments that may be spam or offensive on your videos." If it's toggled on, you're already kept safe from the hurtful opinions of others.
But note that the feature is AI-based. So, it's a robot who decides what's offensive and what's not. It works excellent when detecting spammy content. But it might not be able to pick up on sarcasm and other implicit types of insults.
Reconsideration message.
A default limitation on TikTok comments is a window that pops up when a user posts something offensive. The app asks the offender to rethink their message because it's probably against the community guidelines.
However, the tab still has the option to 'Post it anyway.' So, the bully or hater can proceed to insult you as long as they avoid using cuss words and apparent signs of offense.
Best Practice: Limit Comments on All Your TikTok Videos
If you have a personal account on which you post random stuff, it's best to keep it as private as possible. You may want everyone to view your content. But that does not mean you want to hear their opinion about your feed. If that's the case, restrict people who can comment on your videos:
Go to Privacy in the Settings.
Tap 'Who can comment on your video.'
Set it 'No One' or 'Friends.'
The term 'Friends' in TikTok refers to mutual followers. So, when someone follows you back, you're considered as friends.
Fastest Method: Limit Comments on Specific Posts
A particular video of yours might receive more offensive/undesirable comments. That usually happens when your post goes viral and gets featured on the FYP (For You Page). Regardless of the reason, you can limit the mentions on a particular video and control who can interact with it.
Find the video you want to limit.
Tap the three dots on the right-bottom corner.
Select Privacy.
Toggle 'Allow Comments' off.
Smartest Option: Limit Comments with Specific Words
You may want to keep your account cuss-, hate-, racism-, or sexism-free. Or you may dislike certain words/topics and want to avoid them for whatsoever reason. In that case, you can filter the comments by specific keywords. You tell the TikTok AI to hide any opinion that contains [x], [y], [z].
Open the app and go to Privacy.
'Find Comment filters' and tap it.
Toggle "Filter keywords" on.
Proceed to add any word that you want to be restricted to your TikTok account. (Additional tips: Learn how to use TikTok without account)
The option will automatically detect the words you enter and hide any comment that contains them. But you'll still have the opportunity to review the blocked content and approve them. (See below).
Approve Every Comment on Your Videos
In March 2021, TikTok introduced a new control option that allows you to review comments before approving them. It's currently the best way to keep your account hate- and abuse-free. And it gives you complete control over your content and how it's being consumed.
To enable the feature:
Go to 'Profile.'
Tap the three-dot menu.
Select 'Privacy.'
Tap' Comment filters.'
Toggle on the first option that says, "Filter all comments."
Your followers will NOT notice any change, and they'll be able to post comments on your videos like usual. However, their mentions will remain hidden until you review and approve them.
How to review the limited comments?
Go to Privacy > Comment Filters and tap 'Review filtered comments' under the management section. Here, you'll see all the comments waiting for your approval. You have the option to allow them to appear on your profile and post or delete them entirely.
How to Limit TikTok Comments to Only 1 Person
You can find trending videos on TT that claim only [x] user can comment on this. And when you check the post, it's actually true. So, how can you manipulate the comments section so only one or a few selected people can use it?
Go to Privacy settings on the app.
Tap 'Who can comment on your video.'
Set it to 'Friends.'
Unfollow anyone who you don't want to comment on your content.
Now, if you want only one person to comment on your post, ensure they're your only friend on TikTok. (That is, they're your only mutual follower). That's it. No one else would be able to write something on your posts except for that one special friend of yours.
Things to Know About Limiting a TikTok LIVE Comments
Posts are not the only place your haters, stalkers, and bullies can comment. TikTok LIVE is another feature that allows real-time conversation. And it's way more challenging to limit its comments. However, thanks to the app's latest options, you can restrict unwanted opinions and keep your live streams as family-friendly as possible. Here's how to use them.
Filters
Before starting your live stream, you can add up to 200 keywords filtered in the comments section. To do so:
Tap the + button and select LIVE.
Tap the settings or configuration (⚙), and tap the last option that says 'Keyword filter (0/200).'
Add any words you don't like to show up in the live discussion and start streaming.
Moderator
By adding a trusted account to your moderator list, you allow them to oversee the comments section on your LIVE and report or mute the unwanted content. You should tap the + button and select LIVE. Then, choose Settings, and go to the Moderators section. Here, you can tap the small human icon on the right corner and then select one of your followers to become your assistant during the live stream.
A moderator can report or mute an account.
Mute options
One way to limit comments on TikTok live stream is by muting unwanted users. You moderator can tap on any viewer's name during the stream and then tap Manage to mute them 5 seconds to 5 minutes or for the whole stream. They can also report the insulting user so TikTok can take action against them if necessary.
Reconsider message
TikTok will warn the live stream viewers before they post a negative, hateful, or offensive comment. It's some sort of automatic limit on what can show up on your content. The message is a basic pop-up that reminds the user of possible guideline violations. But it gives the option to the user to post it anyway. So, you may still want to have your moderators taking care of the discussions to ensure no one's spamming hateful/disrespectful messages.
Here's a Quick Recap of What You Read
You can limit TikTok comments in the Settings > Privacy > Who can comment on your videos.
You can turn off comments for specific videos by tapping the three dots on them and toggling off the option in the Privacy section.
It's possible to filter TikTok comments by keywords.
You can have a moderator to report or mute accounts that spam or disrespect you in the comments during a live stream.