Finding efficient Jarvee alternatives for social platform promotion is one of the hardest things to do, as you may get used to your previous tools and doubt if you can find any suitable tools to substitute the former ones or not. At the moment the question is what the problem is with Jarvee that makes users consider replacing it with other services.
Jarvee claims to provide powerful and various growth services for Social Media platforms including Instagram, Facebook, Twitter, LinkedIn, Tumblr & YouTube. But lately, it seems it is not working properly on some platforms, besides other criticisms that SM experts are making about Jarvee.
What is Jarvee & its main features?
Jarvee says that they provide a proper path for their clients to have rapid growth in managing Social Media. They claim their social media team is always ready to make things a bit easier which helps clients to promote their social media accounts, no matter whatever it is.
Jarvee is a windows-based software, meaning that you necessarily need a PC to use it.
The main Jarvee features are about automated scheduling Social Media content production. This includes the mated following, liking, commenting, story & videos.
Why should we look for Jarvee alternatives?
The first drawback is Jarvee's high prices which makes it so difficult for users to deal with. A very simple Jarvee package costs 30$ per month, which can be replaced by a much more low-priced and effective service. Based on their pricey packages and their services, users prefer alternatives for Jarvee that do not have any limitations for adding more accounts, because it is not possible to manage so many accounts on Jarvee.
The other reason that makes you abandon Jarvee is that it is hard and complex to manage and follow. It makes users confused and bored so, they feel the urge for less complicated tools. In other words, users prefer a simpler tool that can be set easily and quickly without any headache.
Another trouble that Jarvee makes for Linux and Mac users is that it can not support anything but windows, thus non-windows users can not get services. So, they need a service that functions on multi-platforms.
Based on what is mentioned so far, many users decide to use different Jarvee alternatives. In the following, we are going to introduce some powerful alternatives on Instagram, Facebook, Pinterest, and Twitter instead of Jarvee.
Best Jarvee alternatives for Instagram:
As it is quoted by the Gleam team it is"the business growth platform" they claim to help you improve your business through SM management. Gleam provides many features for your Instagram growth that help you improve your Instagram account. A great point about the service is the affordable price which enables you to get comprehensive services. Gleam main features include:
Creating contests which influences your engagement rate strongly.
Creating galleries to display your business and involve your audience
Instant rewards to encourage users that help your interaction with your customers
Creating contest campaigns to absorb followers is what Gleam is doing for your business.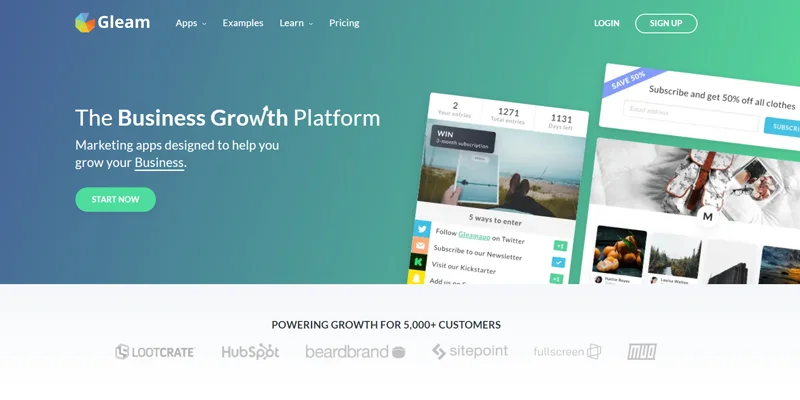 A superior marketing platform for Instagram enables you to schedule, plan, and evaluate posts and functions.
By using it later, you can organize all the media on your Instagram, and plan for new posts. The best part is analyzing functions and the actions that are done on your account, so you can observe the changes in performance and so on.
The other option that the service grants you are enabling you to manage more than one account; One of the main reasons current Jarvee users are looking for a Jarvee alternative!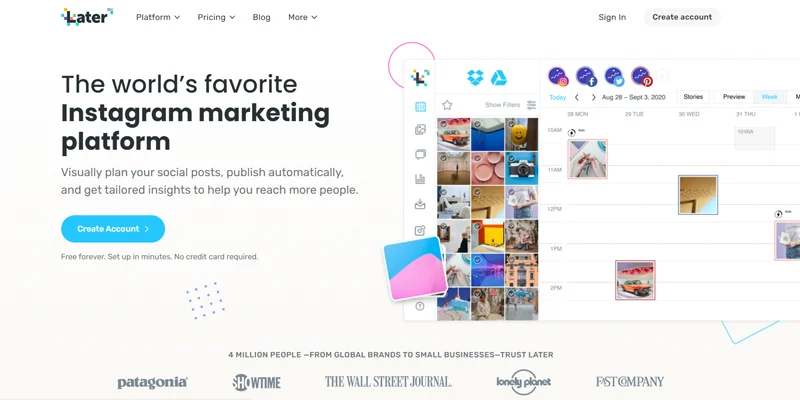 Later has other benefits for creating a fabulous feed, increasing followers, likes, and engagement rate by teaching you the best time to publish a post to attract the attention of users and gaining more and more engagement.
Later helps you bring more traffic to your business website & Consequently, you will experience growth in your website traffic.
As mentioned earlier, Jarvee has other social platform services such as Twitter, Facebook, Linkedin, Pinterest, and Tumblr, so we are going to introduce some alternatives for them.
Affordable Jarvee alternative for Twitter:
Sprout Social is a mobile and web-based platform which gives you the possibility of doing multi different tasks including:
Analytics
Automated Publishing
Content Management
Conversion Tracking
Customer Targeting
Keyword Filtering
Multi-account management
It is a Twitter management platform that helps you manage different Twitter accounts, as previously mentioned as an advantage for a Jarvee alternative for managing Twitter business accounts. Sprout enables brands to manage their Twitter profiles and grow their business more efficiently. Functions such as publishing posts, engaging, analyzing, sharing content, and… are among other services that Sprout provides.
These functions bring about establishing strong relationships and increasing the engagement rate.
It is not an exaggeration if we name the analysis and report section as the most important part of Sprout social. As it is so influential and helpful as it offers the accounts the identification of their content and introduces the trending content so you can evaluate the performance and solve the problems.
The report is comparison and contrast, growth rate, engagement rate, and tracking keyword and hashtag usage.
Altogether, Sprout social is an all-in-one tool that proposes the best possible services.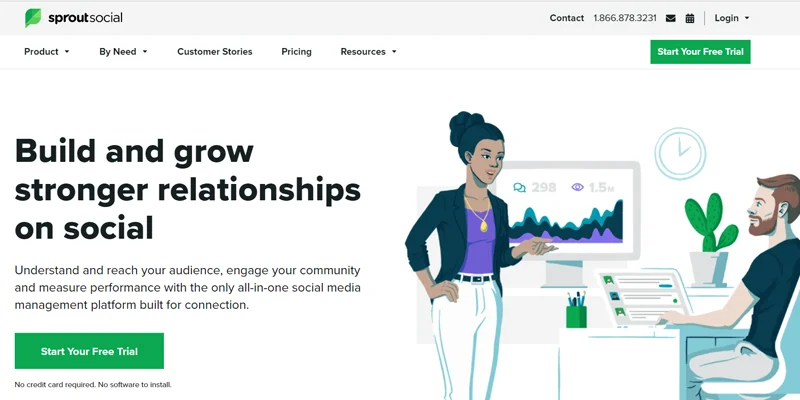 2. Instamber Auto Welcome Message for Twitter
This is a service provided by Instamber to send your new joiner followers welcoming messages to improve involvement with new followers who can be your future potential customers. This is helpful especially for busy business accounts, hence as they automatize the process and without missing even one account, the system sends messages.
It makes a great first impression for you and your business. This is how they get encouraged to come back to you and become your loyal customers and grow your sales rate.
A significant advantage that the service has is its easy-to-use process. It is easily prepared and used and works as your assistant and arranges and sends messages. The messages include images, emoji, and videos in addition to written messages.
Another advantage that you can gain is its low-cost service and professional panel which you can set based on your needs.
3. Twesocial
Twesocial is a platform that helps you grow your Twitter account. By choosing one of the Twesocial subscriptions, it assigns a real personal account manager for your Twitter account. The account manager knows the marketing methods on Twitter and is skilled in managing your account. Twesocial offers two types of services: basic and premium.
One of the advantages of Twesocial in comparison to Jarvee is that its features are very useful and you can afford them. The regular pricing is $15 and the premium is $25 a week,! Far low-costlier and affordable among Jarvee alternatives for managing twitter accounts!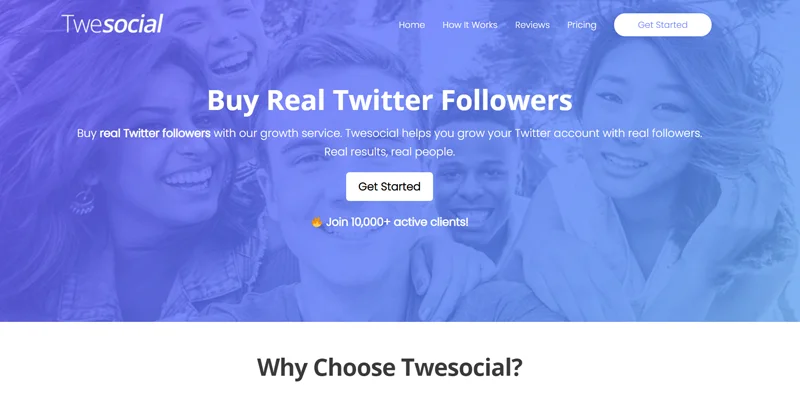 4. Tweeteev
Tweeteev is very similar to Twesocial. in its operation and just as effective. Based on your criteria for your audience, their age, gender, interests, etc Tweeteev will assign you an account manager who will personally manage your account.
Despite Twitter's aversion to the automation of its accounts, Tweeteev users have never had their Twitter account blocked. Therefore, Tweeteev is secure in this regard. Another advantage to Tweeteev is that it is easy to use and you can change your settings and have your account manager report directly to you.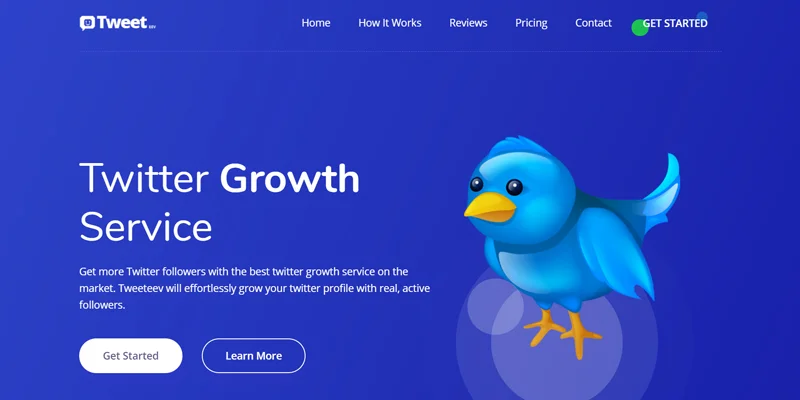 5. Tweetfull
This Twitter growth service platform not only boosts your Twitter likes, number of your followers and retweets, but also makes sure that your account doesn't get shut down by Twitter. In terms of security, Tweetfull is an ideal growth service platform.
By following Twitter's guidelines, Tweetfull makes sure that Twitter won't block your account. Tweetfull has four plans for its services and their prices are affordable considering the features they offer.
6. Tweet Attacks Pro
The best thing about Tweet Attacks Pro is that a lot of users like its simple system. Tweet Attacks Pro has many useful and practical features. However, it stands out because it has made these features very easy to access and use. For example, say that you want to manage two or three Twitter accounts at the same time.
Tweet Attacks Pro allows you to manage all of them from the same dashboard, which makes it both easier and less time-consuming. Therefore, in forms of accessibility, this platform is highly recommended.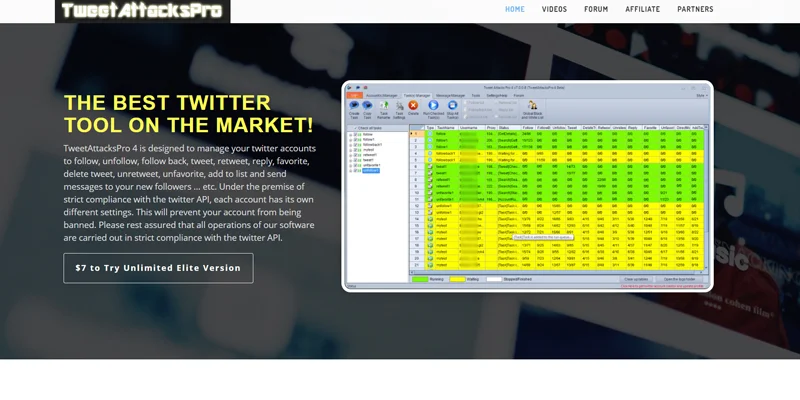 Interesting Jarvee Alternatives for Facebook:
A massive social medium that is totally popular around the world and owns more than 2 billion users. If a business plans to have a great Facebook marketing, Facebook is an unparalleled place to grow.
In the following, we are going to introduce some useful tools that help businesses. There are three realms in which you can develop your Facebook account.
Content: You will get the most engaging Facebook content
Post publishing schedule: You will get to plan your posts
Function analytics: You can analyze the function and performance analytics
1. Headline Analyzer
The first tool that we are going to introduce is a free one. With the help of Headline analyzer, you can easily create a wonderful headline for your post headlines, so they grab the attention of users and your followers.
As you may know, the first thing that catches the attention of readers is the headlines and titles, which is similar to newspapers. The headline analyzer does the task for you and gets the headlines right for your business.
It also gives you the analysis and evaluates the performances of the forms and the content for you.
2. Buffer
The third tool that we put forward here is the powerful and astonishing social media service, Buffer.
If you want to plan and publish great content that engages your audience and assesses what you do to improve future activities, buffer is your best choice.
As buffer is a social media service providing for different media such as Instagram, Facebook, and… and offers its customers the best and most useful reports.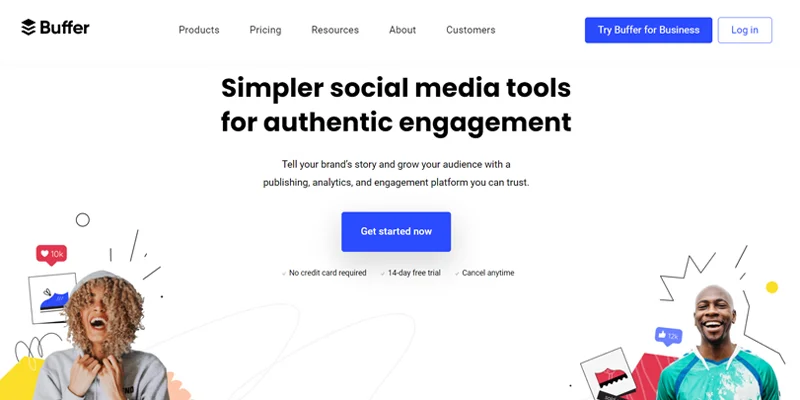 3. Facebook Ads
As many businesses including big and small connect with their clients via Facebook, so it proves to be pretty popular. People use the platform for different reasons, for example, connecting with their friends and family, finding new customers, and attract them for a long time. This will help the businesses accomplish their short term and long term goals.
To be noticed on Facebook requires a steady posting with great content.
Besides various tools that you can use for promoting your Facebook account, there are video ads for all accounts with any budget and any goal.
So, the best solution for promoting Facebook is its own ads, and it is simple to create a Facebook ads campaign. The service provides you with performance analysis and report, hence, you can figure out weak points and try to resolve them.
4. Facebook Pages Manager
For most of its users, the pros of Facebook pages manager can be summarized like this: It is free; it can manage the maximum amount of 50 Facebook and Instagram accounts; it provides analysis and the users' posts and engagement. However, its cons are: it only covers Facebook and Instagram accounts; because of constant updates it has bugs and glitches.
Users can access this app only on iPhone, iPad and Android. Facebook Pages Manager might not be the most ideal app for managing your Facebook, but it's free-of-price status and managing multiple accounts makes it appealing to many businesses.
Unique Jarvee alternatives for Pinterest:
Pinterest is a media that enables users to share images, it proves to be very influential because it is visual and normally, visual posts attract more users. Thus, finding a great tool to improve your Pinterest account, helps you more than you can imagine.
Some tools to enhance your Pinterest account and performance are:
1. Ninja Pinner: Automated Jarvee alternatives for Pinterest
Ninja Pinner is the one that can aid you with its exceptional features. One point that you must consider is that all its actions are automatic. The features that Ninja pinner presents are the following:
Auto-unfollow
Auto-unfollow
Auto-upload
Auto-repin
Auto-invite
Auto-download
Auto-comment
Other facilities that Ninja Pinner provides you with are the evaluation, data tracking, and sorting that it does. So, you can see the effect of your strategies.
Other features that are worth mentioning are the possibility of managing more than one account, its comprehensive support, and its safety.
All in all, you will have the best possible account manager as you purchase one and receive more than ten different services.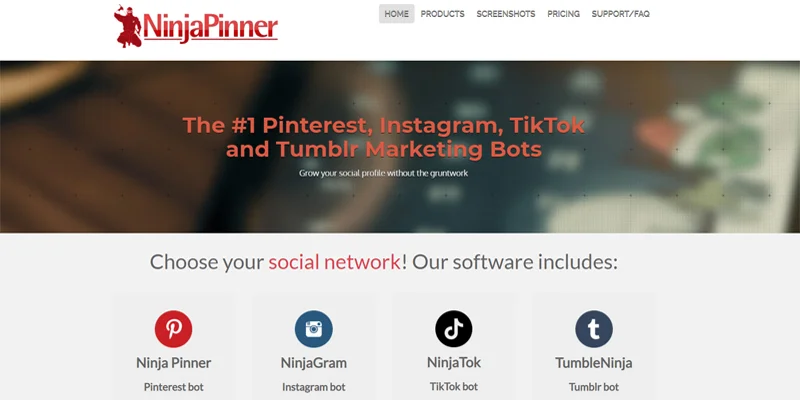 2. Tailwind: Functional Jarvee alternatives for Pinterest
If you plan to use a comprehensive and efficient Pinterest management service, use Tailwind. It has some options to assist you, for example, scheduling posts and competitor analysis. It shows you the most trending pins and helps you analyze them.
While using functional Jarvee alternatives for Pinterest, you can guarantee your steady growth in gaining more engagements by attracting a fully targeted audience.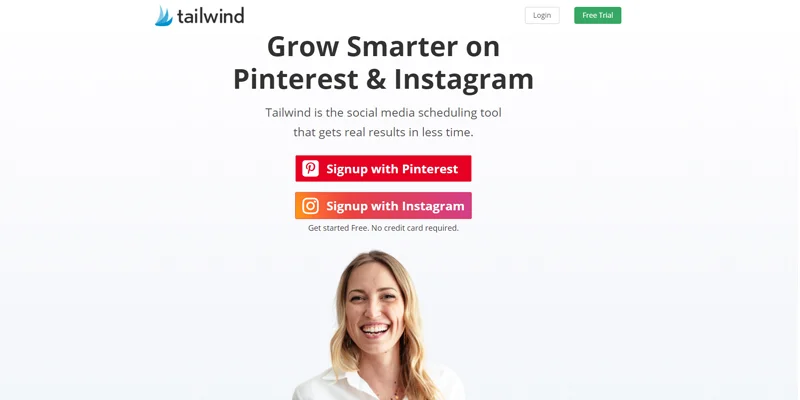 3. Somiibo: A more secure alternative for Jarvee
For Pinterest automation management, Somiibo is the most secure option. So far, none of the Somiibo accounts have been blocked. Another good thing about Somiibo is that it has a free service that allows you access to all of its basic bot features. Of course, if you want advanced services, you have to pay more money.
Another amazing thing about Somiibo is that besides Pinterest, it offers services for many other social media accounts. The cost of using the more advanced features is also affordable. This, in my opinion, makes Somiibo one of the better automation platforms among others.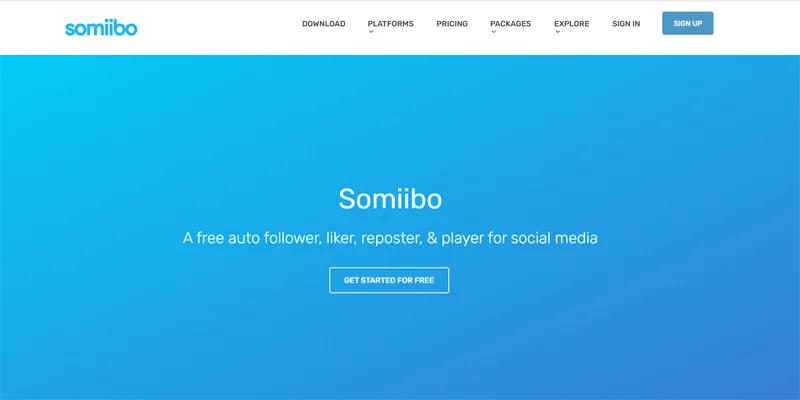 4. Fan Page Robot: Smart Jarvee alternatives for Pinterest
Finding your target audience in social media can be a little tricky. Fan Page Robot helps you find your target audience and also helps pick your Pinterest content in a way that attracts more followers.
Another great thing about this platform is that it can manage many social media channels. The cost of its premium services is affordable and well worth the features that they offer.