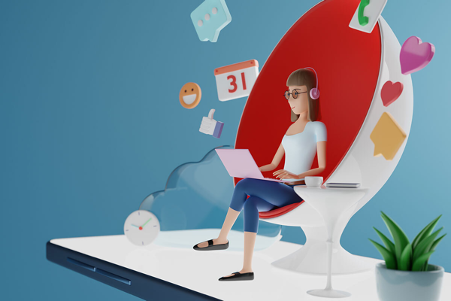 Those days are gone when writing marketing ad copies was as easy as ABC. With a whopping 93.79% of businesses using some form of social media marketing, your ads compete with the industry's who.
Hence, stitching a few pictures and quickly throwing a few words together to create a sentence will not cut it.
You must start by honing your copywriting skills and improving your vocabulary. Then, read news articles or books and join online writing courses to bring pizzazz into your writing. Finally, you can get valuable insights from seasoned copywriters by reading their interviews. To find the world's extensive collection of copywriting interviews, click here.
If you want to transform your flat text into something powerful to attract the attention of your audience and compel them to take action, these tips are an excellent place to start.
Don't do anything before knowing your audience
If you don't know who you are writing for or trying to convince, your ad copy will fail. Social media ads are about engaging and attracting potential customers. For example, if you are trying to promote baby clothes, your target audience will be new and expecting mothers. Therefore, the ad copy must be specifically tailored for them.
On the other hand, if you are trying to promote luxury serviced apartments, your audience will be modern young people who are too busy to cook and clean or leisure guests who require temporary accommodation with home-like amenities. Therefore, the ad copy will be specifically customized to appeal to these people.
Simply put, all ad copies are not written in a similar fashion. The language and presentation differ according to the target audience. Therefore, you must research and know your target audience so your ad answers the basic questions like why is this brand/product for them, how they can benefit from it, and where they can find it.
The ad copy must be short
On social media, people mostly scroll through their feeds and don't have time to read large chunks of text. Therefore, the ad copy must be short and to the point.
The ad copy must be interesting enough to catch the attention of the audience while they are scanning and scrolling.
Ensure the copy is short and sweet, amusing and snappy to appeal to your potential customers. You can complement the ad copy with equally riveting visual content like a GIF or picture.
Extend your brand voice to your social media ad copy
Every brand or business needs its own voice to differentiate from others in the same industry. So when your prospective audience is scrolling through their feed, they must be able to recognize your brand voice instantly.
If your brand is more of a t-shirt and cargo shorts vibe, you must not use words that reflect a suit and tie mentality. The words used in the copy must mimic the other posts and include the language used by your demographics.
If you are a B2B brand, you must stick to a business-friendly language and avoid using local lingos and slang in your ad copy.
Combine your ad copy with exciting visual content
Do you know why people flock to social media platforms? Because they want to take a break and be entertained by what they read and see. Therefore, don't be boring!
You must harmoniously combine visual content with text to appeal to your target audience. The creative must be used to enhance your text. The text will get the call to action made, while the visual will further explain and communicate that point.
The image, GIF, or video used and the ad copy must work together to deliver a powerful story to the target audience. It must compel them to take action.
Speak the language of the platform
You will find different kinds of people on different social media platforms. Therefore, you cannot use the same ad copy across platforms.
For instance, LinkedIn is a space for working professionals, and they prioritize thought leadership and education content on the platform. On the other hand, TikTok is for casual people looking to be entertained, and that's why the platform focuses on fun videos.
Therefore, you must understand the audience for each platform and then speak the language of the platform to engage with them.
Last but not least, always use simple language when writing social media ad copies. Avoid using technical jargon and flowery words that will be too difficult for everybody to understand. Also, try to pique the interest and curiosity of the audience through your ad copy so they will want to click and learn more about your brand.
The Bottom Line
The social media marketing game is forever changing. You must keep up with the trends and experiment with your ad copies by adjusting the headline, the CTA, or other facets and then testing them to find out which version performs the best. Best of luck!