Reddit is an online community that allows users to post links to content on the web. It was founded in 2005 by Steve Huffman and Alexis Ohanian, and now has over 300 million monthly active users.
Reddit is mostly used for sharing ideas, questions, or funny pictures, videos, memes, and all other media used in every day's life. So, when there is something wrong with it, or it does not work properly, it will for sure make the users frustrated. This happens for other social networks as well, such as Instagram login issue, TikTik likes and views problems.
A number of users reported that they can't access Reddit on their mobile phone or even desktop. Here we will show you how to make sure Reddit is down, and this is not you.
How to check if Reddit is down right now
To see if Reddit is down now, check the following .
1. Check downdetector.com
My first recommendation is downdetector.com website. If you search the Reddit in this website, you would see a chart which shows the down status of Reddit. If you don't see any charts, so Reddit is not down.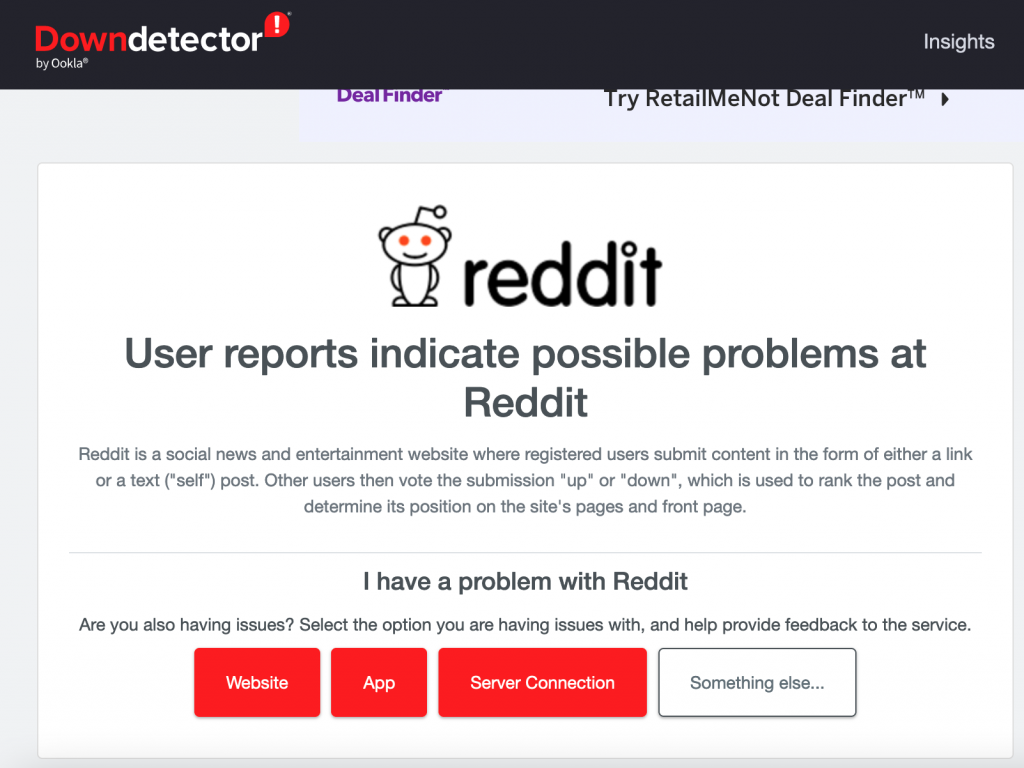 2. Check redditstatus.com
There are a couple of places in which you can check the down status of Reddit, one of them is redditstatus.com/, which shows if Reddit is down.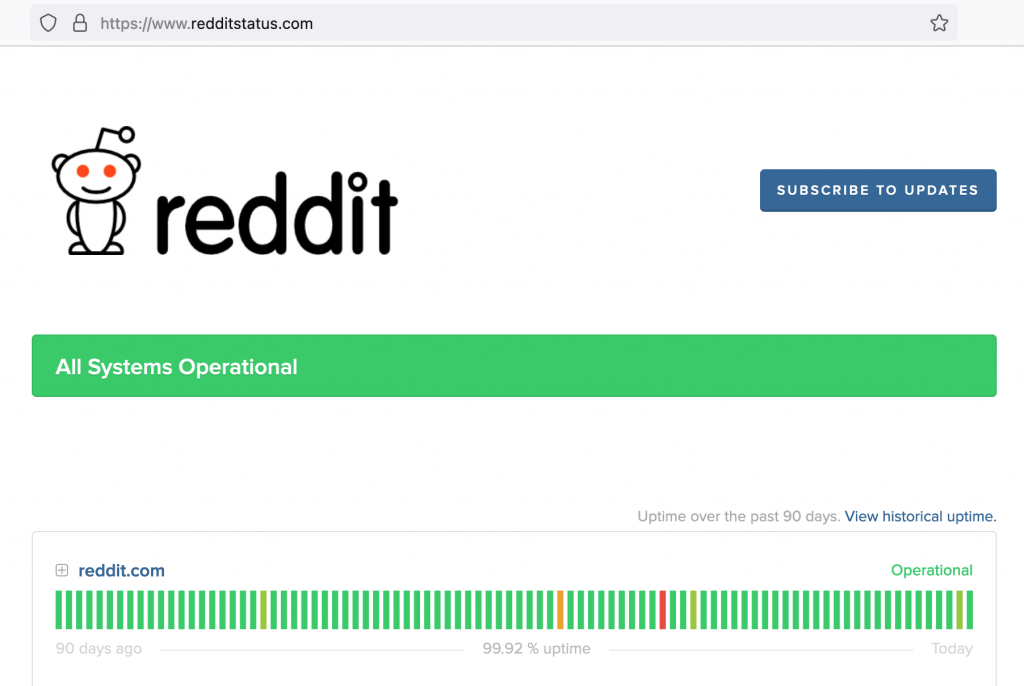 3. Check Twitter
You can check the Twitter for two signs if Reddit is down:
Look for redditstatus.com profile, and read the ir latest announcements.
Check the Twitter hashtag #redditdown
4. Log in with another account
If you have access to another accounts, or your friends and family are around, it's great if you double check with them. When all users can't access their accounts, it means Reddit is down.
5. Try a different device
If you're having trouble accessing Reddit, you can use the site's status page to see if there's any downtime. You can also try using another browser or device.
If you are using app, it's great to login on laptop or PC. Sometimes, the issues are only with the app. You can use it on PC instead. If both are not working, so Reddit is definitely is down.
6. Use another browser
Sometimes, when something goes wrong with a website, it affects more than just one user. That's why it's good to test other browsers or devices to make sure everything works as expected.
7. Switch your mobile data and WiFi
You can switch off and on your mobile data, or WiFi, it sometimes help. You can also switch to WiFi if you are using mobile data, and vice versa. some errors happen because of our Internet connection.
You should also make sure that your computer isn't infected with malware. Malware can cause slow internet speeds, so you need to clean up any infections before trying again.
8. Change the DNS server
If you use Google Chrome, Firefox, Safari, or Internet Explorer, you might notice that sometimes websites aren't loading properly. This usually happens because the site uses a different type of web browser than you do. To solve this problem, try changing your DNS settings.
Note: If you are not familiar with DNS settings, it's better not to change it, try other ways.
9. Reset your Modem
If you still aren't able to access Reddit, try resetting your modem/router. This will usually solve the problem.
10. Wait for a couple of hours
Usually if a website is down, or it's not working properly, it doesn't take too much. So, it's better to wait for a couple of hours, then try again.