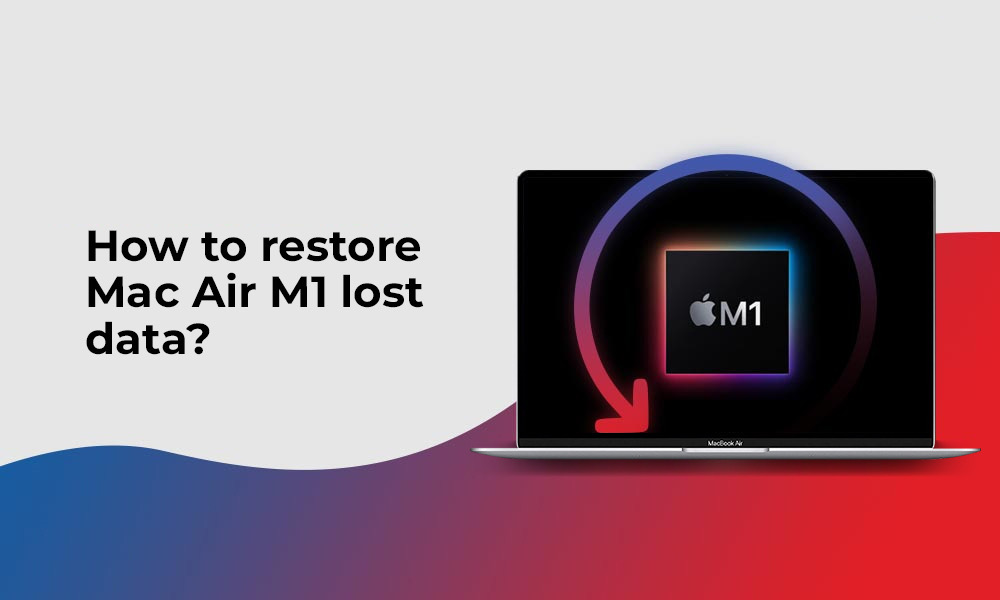 Summary: Data loss on Mac Air M1 can pose a huge problem especially due to advanced encryption technologies employed by the M1 chip. However, there is light at the end of the tunnel as professional Mac Data Recovery software can recover the lost data for you despite the advanced encryption levels.
In 2020, Apple introduced its M1 chip in the MacBook Series that was intended to deliver high-end efficiency to its users. It was a revolutionary addition in the world of computers that offered best performance coupled with air-tight security to the data and the device. But despite these benefits, the problem of accidental data loss remained persistent.
It's true! No matter how careful you are, there are always instances of accidental deletion of M1 data. But the silver lining is that there are techniques through which you can recover lost files in clicks. That is if your computer has a more generic architecture!
The situation is slightly grim in the case of the M1 chip since it has a different architecture than Intel chips. It comes with an advanced data encryption level that makes Mac data recovery from the device a bit difficult.
So then, is it impossible to restore Mac Air M1 lost data?
Well, of course not. In this blog, we're uncovering some easy ways to restore Mac Air M1 lost data without having to acquire any technical know-how. Let's get started.
How to recover Mac Air M1 lost data
1. Recover deleted files from Trash via "Put Back"
When a file is intentionally or accidentally deleted, it is moved to the Trash folder of your Mac. The deleted files remain in the Trash for a period of 30 days from the date of deletion, or until you empty the Trash folder manually.
Thus, if you haven't emptied your Mac's Trash folder, you may have the opportunity to recover deleted files via the "Put Back" command in macOS.
Here are the steps to recover deleted files from Trash in macOS:
a. Open the Trash folder on your Mac Air M1 and you will find all your recently deleted files there.
b. Choose the files you want to recover, right-click on the selection, and click on the "Put back" option to recover those files. It will return your deleted files to their original location.
2. Recover deleted files on Mac Air M1 with "Undo" option
If you accidentally delete your M1 data, you can use the Undo option to recover it easily.
All you need to do is go to the Edit option on your Apple menu and choose the "Undo" option. Alternatively you can press the Command button on keyboard + Z to undelete the files. It will undo the delete operation and put the deleted files back on Mac.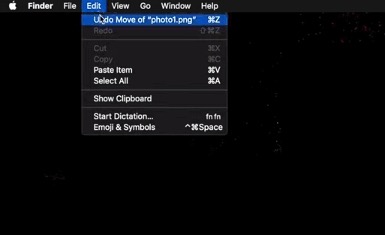 3. Restore deleted files on Mac Air M1 via Time Machine Backup
Time Machine is the inbuilt backup solution offered on Mac devices and you can use to restore Mac Air M1 lost data. This utility can help recover files even after you have emptied the Trash bin. However, you should know that this option might not work if you've never created a backup for the deleted files beforehand.
Follow these steps to use this option:
a. Launch Time Machine on your Mac Air M1 by clicking the Time Machine icon in the Apple menu. In the window that opens, you can look for files that you want to restore using the onscreen up and down option.
b. Use the Preview option to see the file before you decide to recover it.
c. After you've selected the files, click the Restore option and the deleted file will be restored to its original location.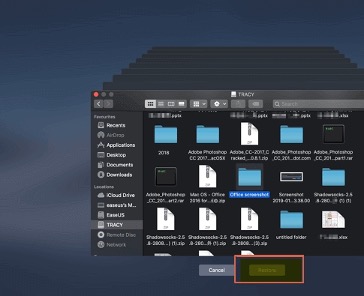 4. Recover deleted files with Stellar Data Recovery Professional for Mac
If none of the above mentioned methods has helped you to recover deleted files from Mac Air M1, Stellar Data Recovery Professional for Mac is your best bet. You can download this software from its official website, install it on your Mac Air M1 and recover your files with a few clicks. The software is easy to use and even non-tech users can recover their files with it without any assistance.
Here are steps to recover deleted files from Mac Air M1 using Stellar Mac Data Recovery Professional.
a. Download and install the software on your Mac Air M1. You can proceed with default options shown during installation.
b. Launch the software, and on the home screen, make sure the slider "Recover anything" is at 'On' position.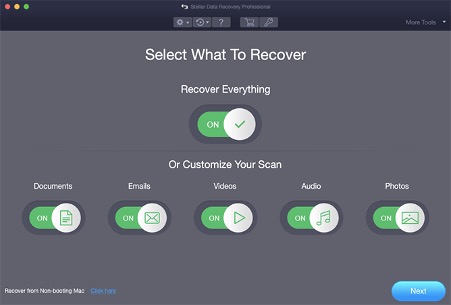 c. Below this button you will see options like Documents, emails, videos, Audio, and Photos. These options signify the type of files you want to recover.
d. You need to only choose the options that are applicable in your case. For example, if you want to recover Photos, Documents, videos, and audio, make sure the slider for these options are at On Position.
e. (Note: Choosing the right options will help save time and the recovery process is completed quickly)
f. Once you have chosen the files you want to recover, the next step requires you to select Volume where the deleted files were stored.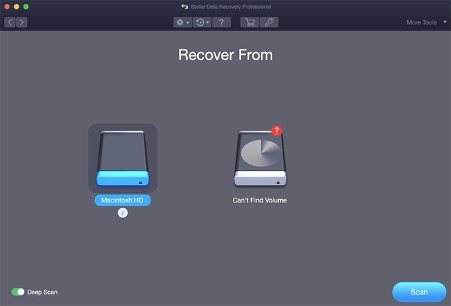 g. Click the Scan button. Wait for the process to complete
h. When the software completes the scanning process, you will see a list of files that can be recovered. You can also see the contents of the file in the Preview window.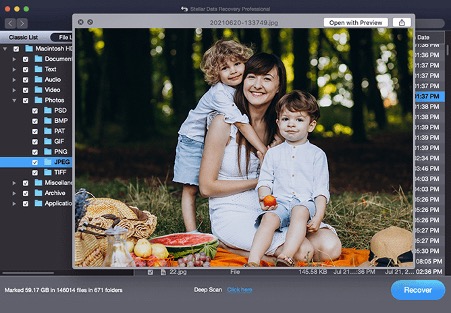 i. Every file listed in the window will have an empty checkbox beside it. Check the box for each file you want to recover. Alternatively you can recover all delete files in a volume by checking the box beside 'Volume'. It will check all items listed below in the tree format.
j. Wait for the recovery process to complete.
Wrapping Up
Data loss is common in the world of computers. You can lose your important data due to a virus attack, a failed or corrupt hard drive, accidental deletion or some other reason. But with Stellar Data Recovery Professional for Mac, you can tide over data loss and get your files back in jiffy.
So don't lose your sleep over the loss of Mac Air M1 data. Simply use the Stellar Data Recovery Professional for Mac for hassle-free and advanced Mac data recovery.
FAQs
What is the Deep Scan Option?
Once the software has finished scanning, there could be a possibility that not all deleted files you want to recover are listed in the recoverable files. In such a case, the Deep scan option forces the software to run a comprehensive scan of the volume to find all deleted files. If you do not see your deleted file after the initial scan, you should use the Deep Scan option.
Can you recover files from deleted partitions?
Yes, Stellar Data Recovery Professional for Mac can also search for deleted partitions in your Mac Air M1 and list all deleted files in that volume.
Will the software work with M2 and T2 enabled Macs?
Yes, Stellar Data Recovery Professional for Mac will also work to recover deleted files from Mac powered by M2 and T2 chips. It will also work with latest macOS Ventura 13 and lower versions.