Snapchat is different from other social networks in some ways. This program has been launched as a mobile application through which messages, photos, and videos can be sent. On this social network, everything you send to other people is statistically tracked so that it can understand what level of relationship you and other people are in.
All emojis, including the smiley face, next to your friends' names, indicate your friendship status. Snapchat decides which one to show based on your Snaps, Chats, and overall mutual activities.
Related: How to know who blocked you on Snapchat
What Are the Snapchat Emojis?
Friend Emojis are a set of emojis in the Snapchat app that distinguish your #1 bestie from other contacts. They're meant to help you keep track of your friends. And each emoji indicates a specific meaning. A yellow heart (💛), for example, shows the person with him/her you Snap and Chat the most.
Previously, you could publicly see who a Snapchatter's best friend is. But users claimed that it was a privacy concern. So, Snap Inc. introduced these private icons instead.
The Meaning of All Snapchat Emojis
💛 Yellow Heart is Your Bestie
Yellow Heart on Snapchat means you have the most interaction and engagement on Snapchat with the person that got a yellow heart emoji. So, you two are besties, and you exchange Snaps more than any other person in your contacts.
❤ Red Heart Is Your Snapchat Best Friend of Two Weeks
If you keep in touch with a Snapchatter for 14 days straight, a red heart emoji appears next to their username. It indicates that you two are potential BFFs.
💕 Two Hearts (Pink) is Your BF of Two Months
Pink hearts show up on your contact list when you keep Snapping and Chatting with a person for 60 days straight.
🔥 Fire Shows Snapstreak
If you send/receive Snaps from the same account for three consecutive days, the Snapstreak emoji (🔥) pops up in the contact list. It will also have a number next to it that keeps the count of days you two have been in touch without interruption.
Note: an hourglass icon (⏳) appears next to the fire when your Snapstreak is about to end. You need to send at least one Snap every 24h to make it go away. You might also see a 💯 icon next to the fire after one hundred Snapstreak days in a row—but that would be rare.
😊 The smiley face is not the only meaningful emoji you'd see on your account. The app has 10+ icons to imply different situations, such as possible BFF cheating, daily Snap championship, and other similar cool stuff. Here's what you need to know about these symbols.
The Smiling Face with Smiling Eyes is an emoji that appear in Snapchat when a user is one of your close friends. You two share lots of Snaps and text messages. But the interaction is not as high as it is with your best friends. If you keep interacting with a user with the smiley face, you might see a yellow, red, or pink heart next to their name. It'd indicate that you're now on your way to becoming best friends.
😎 Smiling Face with Sunglasses Shares a Mutual best friend forever (BFF) with You
A smiley face with sunglasses indicates that you and this person have a mutual bestie.
😏 Smirking Face Thinks You're Their Best Friend
The smirking smiley face on Snapchat means a user thinks you're their BFF, but you're not. They send you lots of Snaps and try to chat with you. But you are somewhat ignorant towards them and avoid interactions. (Now the smile makes sense).
😬 Grimacing Face is Your Bestie's Affair!
Seeing a grimacing face close to a Snapchat user's name means your best friend is their best friend, too. Some call it a cheating emoji because few Snapchatters are generous enough to share their BFF with others. So, heads up.
👶🏻 Baby Indicates You Two Just Met
When you and another user start becoming friends and share your first couple of Snaps, a baby icon appears next to their username. As you can guess, it implies a newborn relationship—which hopefully turns into a long-lasting one.
🎂 Birthday Cake Means You Should Say HBD
The most obvious Friend Emoji is the birthday cake. It shows a particular user's birthday, and you better have your HBD messages ready ASAP.
Red Heart Meaning on Snapchat
Red Heart on Snapchat means you and your friend Snap each other most for two weeks continuously. It starts with a Yellow Heart, and if the yellow heart remains for a period of 2 weeks, it turns to a red heart. Red Heart shows that you snap at each other the most and you both are each other's top friend.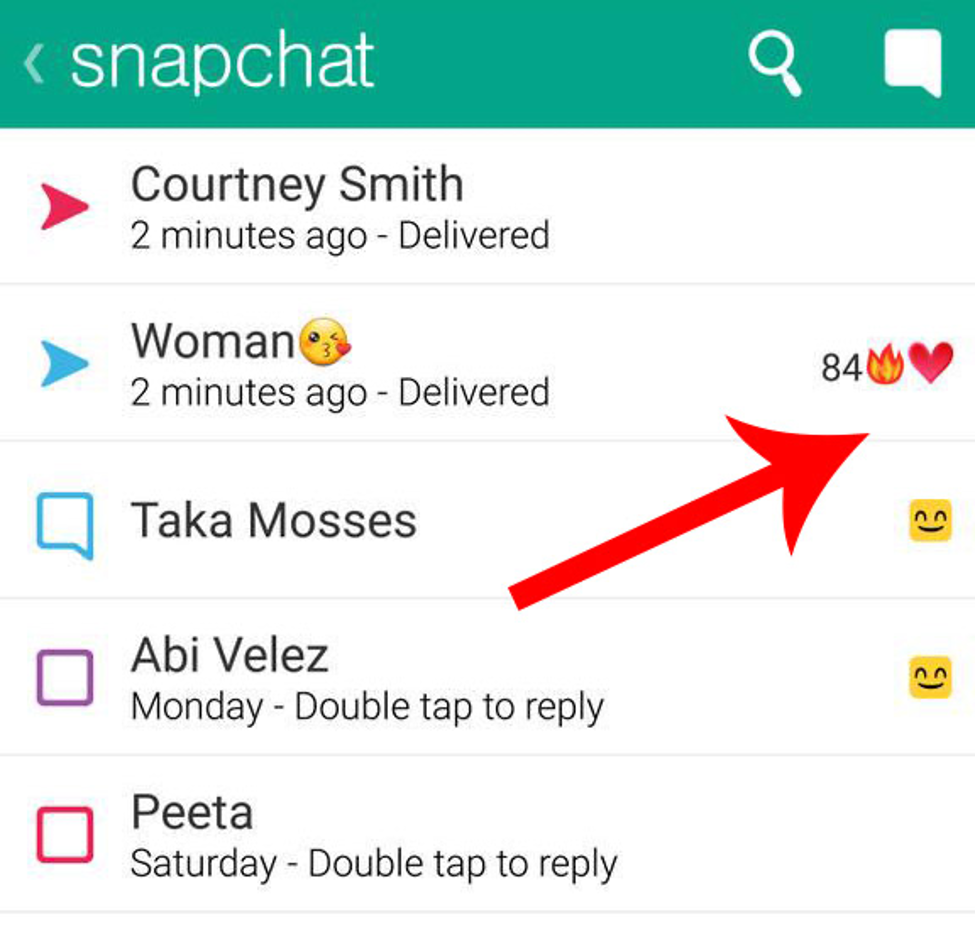 If one of your friends has received the most messages from you in the last two weeks, they will be recognized as your best friend on Snapchat and will be ranked 1st. Also, if one of your friends has sent you many messages in the last two weeks, you will be on his list of closest friends.
Of course, there are many questions about the red heart emoji. For example, how to get a red heart, why my red heart has turned yellow, or why my red heart has disappeared. In the following, we will answer these types of questions.
Why my Snapchat's red heart disappeared?
If you realised that the heart has changed the color, or your red heart disappear, here are the main reasons:
One of the reasons that a red heart is removed from your friend's name is that you have not sent a message to your friend like you did two weeks ago
You have sent more messages or snaps to someone else.
You probably haven't used Snapchat on some days in these two weeks, so another reason not to get a red heart or turn it into another emoji is a lack of in-app.
Why Snapchat red heart turned to a yellow heart
The red heart In Snapchat can become a yellow heart for a reason. When you move from the first row of your friend's close friends to the second row, and someone else takes your place on the list, the red heart turns yellow
A yellow heart means that you are still one of the person's best friends, but your intimacy has diminished.
So, if you want to get the red heart back, follow the instructions.
How to get Red Heart back on Snapchat?
If the red heart in Snapchat disappears or changes color for any reason, you can restore it effectively. Since the red heart in Snapchat shows the type of relationship you have had with the particular person in the last two weeks, to keep the heart or bring it back, it is better to send a lot of Snaps or photos and send video to your friend. That person must also reciprocate so that the red heart returns to that person's name. Do this for a few days to get results.
To be able to get a red heart emoji in Snapchat and be known as best friends, you have to exchange many Snaps or messages with the other party within two weeks.
Extra tips about red heart on Snapchat
Your recipient also has to send a lot of snaps to get a red heart emoji, so you have to do this for two consecutive weeks to get a red heart emoji.
Many users think that having a red heart in Snapchat or turning it back is easy. You should be in constant contact with your friend for two weeks, and this connection should not be interrupted for more than a few hours so that you can receive a red heart.
Of course, I do not mean to chat 24 hours a day with your friend in these two weeks. But you can do this during certain hours, such as two or three times a day, to make the red heart appear.
There is another point: if you talk to your other friends in the same two weeks or send the same snap, you will not receive a red heart for any of them. So try to focus on just one of your friends to succeed.
Snapchat Emojis in the Group Chats
Other icons only appear in the group chats. The two most common ones are glowing stars and sparkles. Here's what each of them means.
🌟 Glowing Star
When there's a star emoji next to a user's name, you know that someone has replied to their Snap in the past 24h.
✨ Sparkles
This one shows up in your contacts list, indicating you two have at least one mutual Snapchat Group Chat.
How to Customize Your Snapchat Emojis?
You can change the icons in the settings. But keep in mind that you cannot replace them with whatever emoji you want, and your options are limited.
Customizing Snapchat Friend Emojis on an iPhone:
Tap 'Settings' on the top-right of the screen. (The gear icon).
Head to 'My Profile' and go to 'Manage.'
Select 'Friend Emojis' and change them.
If you're using an Android device, do this instead:
Tap the gear icon and open 'Settings.'
Find 'Customize Emojis' and change them.
Pro Tip: You can read the official description of each symbol on the same page before changing them.
Things to Know About Snapchat Friend Emojis
The cute little symbols on the app have interestingly important meanings. And now you know all of them like a pro-Snapchatter. But you also need to know the limits and restrictions. So, here you go:
You cannot add, replace, or restore them.
You may want to manage your BFF list and decide who gets to be in it. Unfortunately, though, that's not an available option. Snapchat decides who gets what emojis, and you cannot change, customize, restore, or replace them.
You can only have up to 8 besties.
Super-social Snapchatters may be surprised to see only eight of their besties get to have the yellow heart icon. But that's currently the BFF limit on the app and, apparently, Snapchat doesn't want you to have more than eight besties. Weird.
No one can see them but you.
Snapchat Friend Emojis are private. And you are the only person who can see them.
Conclusion
Snapchat is a popular messaging application that constantly updates itself. A lot of users have been confused about a recent feature on Snapchat; the emojis that appear on a person's chat list and beside their name. In this article, we examined what each emoji means and how you can get one if you like.
As we said, Snapchat also pays attention to tracking the relationships, and the type of users' communication in the messages based on the sent Snaps and has assigned an emoji to it. One of these emojis is the red heart, given to the closest friends on this social network based on their relationships over the past two weeks.