Have you ever uploaded a video on Instagram? If so, you already know that the length of Instagram videos is 1 minute for each post and they are even shorter in  stories (15 seconds). It may cause difficulty using videos which are more than one minute. Though the problem has been moderated with Instagram new posting feature letting you post up to 10 video and photos in one post, it is still a problem with longer videos. The good news is that in its new update, Instagram has added a new feature called IGTV. This feature allows you to upload even 1-hour length videos! But IGTV is only accessible for those who use the latest version of Instagram. So, if you haven't upgraded your Instagram yet, you can update it here for Android and iOS devices. 
Now that you have access to IGTV, please follow me in this article to learn more about what IGTV is, what its purposes are and how you can use it.
What is Instagram IGTV?
IGTV is an Instagram platform which allows you to upload videos longer than 1 minute. Before IGTV, users could only upload 1-minute videos. But everything has changed by introducing this new feature. Now, you are able to upload longer videos using IGTV. Of course, the length of  videos now depends on your position on your page. For users with private accounts, the length of the permitted video is 10 minutes currently, but for celebrities and influencers with thousands of followers, this time is 1 hour.
Instagram has launched IGTV for the purpose of creating an experience like watching TV for its users, something that starts to play as soon as you turn it on. IGTV has been launched to compete with YouTube and it is anticipated to have even more potential in comparison to YouTube.
What are IGTV features?
IGTV provides you many facilities. Even if you are one of those people who never upload videos on Instagram, we suggest you read this article carefully, because IGTV will become more and more popular all around the world very soon and you would need it one day. So, it is better to know how it works. Using IGTV you can:
Upload your videos

Watch your friend's videos

Watch popular videos from tutorials to funny videos.

Control the video you are watching: forward it, pause or add it to a list to watch later.

All Instagram features such as liking, commenting, tagging someone, and sending the video as a private message is available on IGTV as well.
Where should I get IGTV?
You can use IGTV by applying 2 methods:
Method 1: As soon as upgrading your Instagram, IGTV icon will be displayed at the top of your homepage. Clicking this icon, you will enter the IGTV platform.
Method 2: Downloading IGTV as a separate application
After downloading and installing this app, you only need to enter your Instagram account information. You can even sign up using different information. After entering successfully, you will be automatically directed to the video section. You can download Instagram IGTV using the following links for Android and iOS devices.
Now I have access to IGTV. How can I watch videos?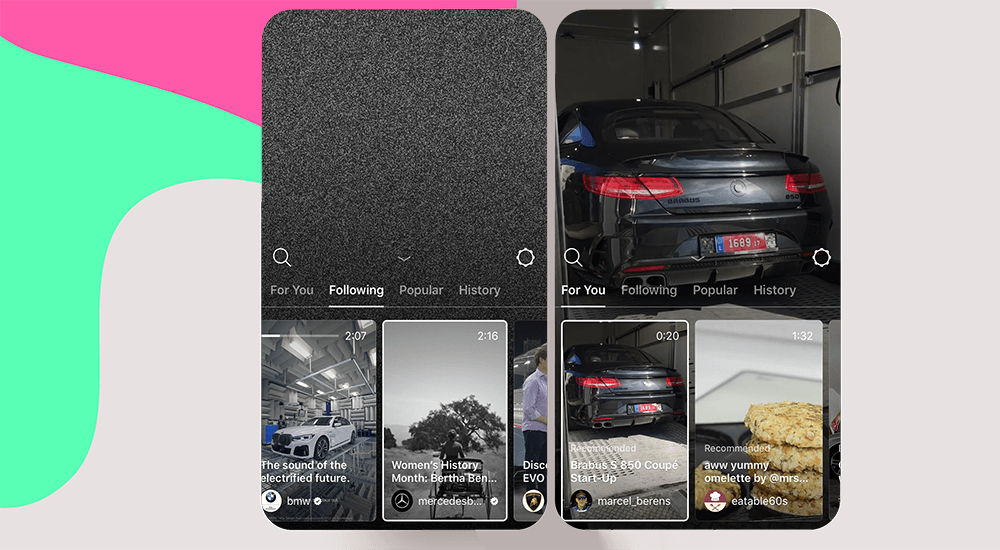 As soon as entering IGTV, you'll see a snowy screen (this snowy screen has been used purposefully by Instagram to create the sense of watching TV in its users). After that, you will see a video shared by one of your friends. Below the page, there are different tabs displaying the channels and accounts which have uploaded video. These tabs are as follow:
For you: In this section, the videos are shown which Instagram finds interesting for you based on what you've searched or watched previously.
Following: You can see the videos of people you already follow in this section.
Popular: you can watch a collection of most visited and popular videos here.
History: a history of videos you have watched in IGTV before.
Saved: a collection of videos you have saved.
In the search section (displayed with a magnifier icon), you can search the name of your favorite channels or people to see their videos.
Below each video, there are 3 Instagram options as usual: Like, Comment, Share buttons. Clicking the "Browse" button, you can see the main options of IGTV when watching a video.
What about me? How can I upload a video on IGTV?
Instagram IGTV setting may look a bit complicated at first glance. But, it is only due to its being new. We had the same feeling for Instagram when it was first introduced. Even older and simpler applications such as Yahoo Messenger seemed complicated at first! But the good news is that uploading videos on IGTV is really easy! It only requires to follow these 3 steps:
Open IGTV and after signing in to your account (or simply open it through your Instagram), click on the gear icon.

 Choose Create Channel. Your channel will be created.

To upload a video, tap on your profile picture and then click +
Tell me 4 useful tips about IGTV
 Live videos are not available on IGTV yet. You need to record and edit your videos beforehand.

Videos on IGTV are accessible in rectangular frame shapes. If you prefer to watch the videos in full-screen mode, you should tap the playing video once.

Aspect ratio is 16:9 and you can upload files up to 3.6 GB in this platform.

IGTV supports videos up to 4K resolution.
Can I download videos from IGTV?
To answer this question, I have to say yes and no! At the moment, you can't download videos directly from IGTV. But keep in mind that you can download anything on the net! To download videos from IGTV, there are various options and the fastest one is to download the video using its link. With the link, you can download anything on Instagram from photos and videos to even captions. 
What's its advantage for me?
Thanks for following me so far, by now, you know all you need about using IGTV. From now on, my audience is people who always seek new opportunities and take advantage of every possible way to promote their business. Are you one of these people? Are you thinking about earning an incredible income using Instagram? Stay with me a bit longer! 
An important fact about Instagram is its 1 billion monthly active users! The point is that most of these people gain an income with their Instagram account. Why don't you do the same? If you don't have an Instagram account for your business, you are running out of time and soon, someone else will get your position.
The new update of Instagram can be considered as the most significant update of this application. The IGTV feature and uploading longer videos would be a revolution in using the Internet without any doubts. Instagram IGTV has been created to compete with YouTube and is truly a serious rival for it! One of the most important advantages of IGTV compared to YouTube is its vertical videos. If you've worked with YouTube, you may probably have noticed that most of the videos are horizontal. But Instagram has considered the fact that how people use their phones. We normally hold it vertically and Instagram has made uploading videos easy by providing a space for uploading vertical videos. 
Now, what should I do with IGTV?
This an incredible feature will be useful for people who:
run a business and want to upload videos introducing what they do.

produce tutorials and gain income through these types of videos.

want to become an influencer on Instagram.

all players, singers, teachers and anybody who is able to convey a valuable message through a video.
As you know, succeeding on Instagram has a direct relationship with the dramatic growth of your followers. In other words, the more followers you get, the more visits you will get. Increasing the follower number has several easy, amazing ways and IGTV is one of them.