People normally tend to get rid of their Instagram accounts due to some various reasons which may vary from person to person.
Some of the reasons users want to delete an Instagram account
Can I Delete My Instagram Account Permanently?
Hence, each of the above reasons may lead users to insist on deleting their Instagram account. The answer to the question Can I Delete My Account Permanently? We should say Yes! In this world, you can destroy anything that belongs to you. It means that by reading this article you will learn how to delete an Instagram account. But my suggestion is that you do not jump into conclusions.
However, you find friends on Instagram and have the information you may need. Keep in mind that if you completely erase your Instagram account, all your information will be lost, and nothing will be on your Instagram anymore. Instead of omitting your account completely, deactivate your account. Instagram deactivation is like deleting Instagram account, with the difference that you can go back to Instagram whenever you want and resume your activity by retrieving your account. Why do you think about deactivating your Instagram?
You know, just now that you've made the decision to deactivate your Instagram, other people are making a fortune on Instagram? Before deleting your account, read our awesome article maybe you change your mind about that.
How to Delete Instagram Account on Mobile?
Make sure you have logged in to the right account, if you have multiple accounts on your phone. If you can problem log in, you should fix Instagram login problem.
Login to your Instagram account using app

Tap

https://www.instagram.com/accounts/remove/request/permanent/ (or copy and paste in into a browser on your phone)

Choose a reason you want to delete your account.

Re-enter your password

Tap Delete.
Note: You can see the username just beside the button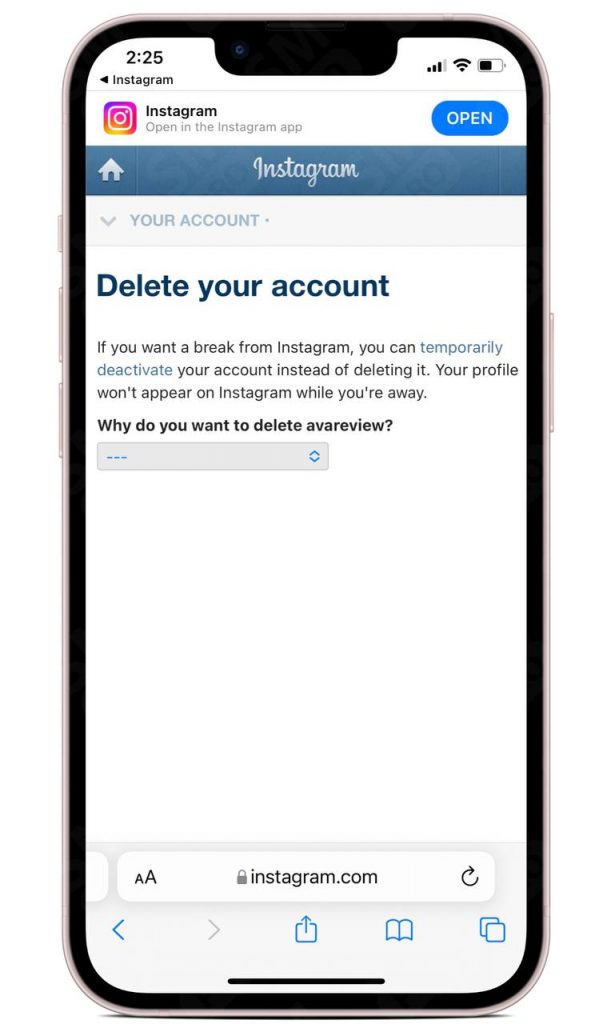 How to Delete Instagram Account on PC?
In spite of what we have said about rethinking and reconsidering deleting your account. Sometimes you need to delete your account permanently. Please pay attention to the fact that it is not possible to delete your account from your application on your mobile. It is significant that you log into your account from the web, then:
Login to your Instagram account on PC

Go to

https://www.instagram.com/accounts/remove/request/permanent/

Choose a reason you want to delete your account.

Re-enter your password

Tap Delete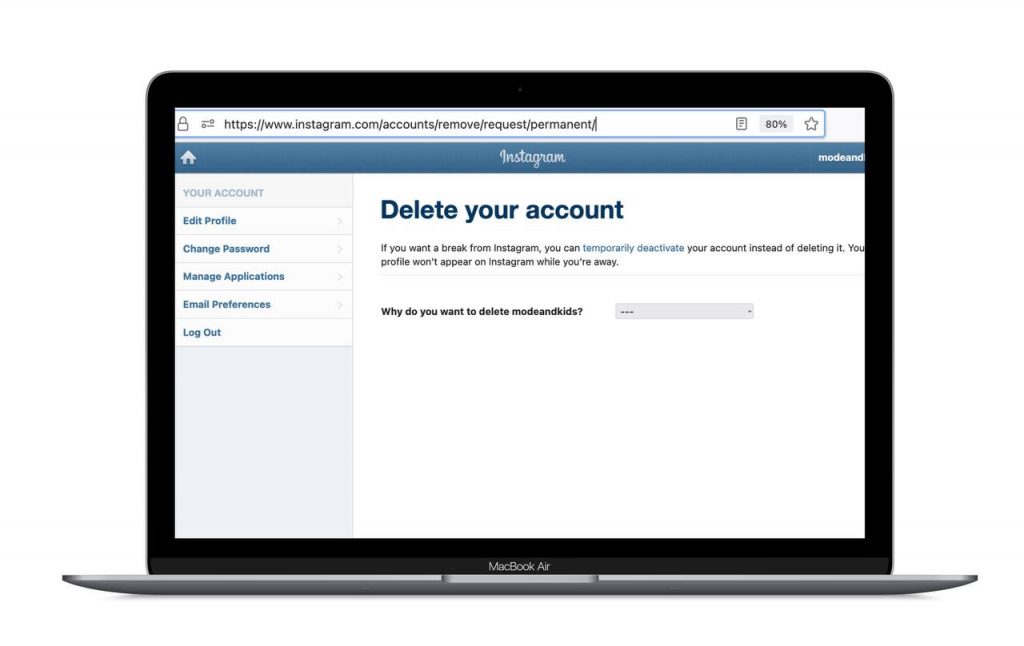 Instagram Deactivation
It has happened to all of us that we do not like to be on Instagram for a while and want to remove our Instagram for good. But Instagram knows that we will regret it after a while and decide to go back to Instagram again.
For this reason, a new feature has been added to the Instagram update, titled Deactivate Instagram, which helps us disable our Instagram for some time. Note that it is not permanent. That means you can re-activate your page at any time, and all your information will remain intact. In this article, we will teach you how to deactivate Instagram, and we'll tell you how to recover your account. That means you can re-activate your page at any time, and all your information will remain intact. In this article, I'll teach you how to deploy an Instagram deactivation, and I'll tell you what the method will be.
Why do I see "There was a problem deactivating your account. Please try again later."

Probably the main reason is that you have recently disabled your account and again activated it. If this is the reason you should know that Instagram has some rules that must be followed. For example, you can deactivate your account once a week, not more.
I've already talked about how to deactivate or disable your account in this article. However, there are times when Instagram does not allow its users to do so.
There are some reasons that this may happen. One reason is that you are not doing it correctly, so make sure to read the section about "how to deactivate my account" in this article.
Maybe you are not using your password correctly, so before you deactivate your account through the Instagram website log in to your account through the app and see if the password is correct.
If this is the case, you need to wait for a week, and then deactivate your account.
How to Deactivate Instagram Account?
To deactivate Instagram, you must visit the Instagram website. This means you cannot use your Instagram application to disable your account. It does not matter if you go to Instagram with the Mobile or with a computer. In both cases, you can disable your own account by following four steps below.
1: Go to the Instagram site and log in to your Instagram account.
2: Once you've logged into your account through the Instagram website, click on the Edit profile link in your profile.
3: Go to the bottom of the Edit profile page and click on the blue link Temporarily disable my account.
In the last step, Instagram will ask you for the reason why you want to deactivate your account and enter your password.
If for security reasons, you have decided to disable your Instagram account, you can choose from the options provided and inform Instagram. But if you do not need to do this, simply select the just need a break option.
What Will Happen When I Deactivate My Account?
Your Instagram page will be closed when your Instagram is successfully deactivated. In this case, you will get notifications that your deactivation has been successful. When your Instagram is not active, your photos and videos will not be easy for anyone to see, and they will see a blank page, your username will be changed to Instagrammer.
Note that all your photos, videos, chats, and followers will remain unchanged, and you will have access to all your information when you reactivate your page again. When your Instagram is not active, your friends will see only a blank and white page from your profile. In the case of Instagram deactivation, they will not send a message to your friends, and they will only notice if they come to visit your page and encounter a blank page called Instagrammer.
Note: Instagram will allow you to use the Instagram deactivation only once a week. That means when you re-activate your Instagram again, you'll need one week to deactivate it.
How Can I Reactivate Instagram Again?
Whenever you desire! To get back to Instagram and retrieve the Instagram Deactivated account. You do not even need to visit the Instagram site. You can also reinstall your Instagram through the Instagram app on your mobile device.
But for some users, the conditions are different. If you deactivate your account and then regret the moment and you want to go back to Instagram, you may not be able to. It takes a couple of hours for some users to re-enter Instagram to retrieve their account and return to Instagram as soon as they deactivate it. But you do not need to worry about it because the problem of restoring the Instagram account is resolved only after a few hours by Instagram.
How to Activate My Instagram Account?
To recover an account, you just need to go to the Instagram website or application and enter the Instagram application or site and enter your Instagram username and password.
So easy! When you attempt to retrieve your Instagram, your followers will receive no messages and notifications. But in rare situations it is different. Sometimes it may be that you are attempting to retrieve your account and go back to Instagram. And your friends get notifications.
These notifications are about the photos you posted in the past and tagged your friends on them. This notifies your friends again that you tag them in your photo. That's it.
For more information on different functions of Instagram click here